T-Mobile Vega Android tablet hands-on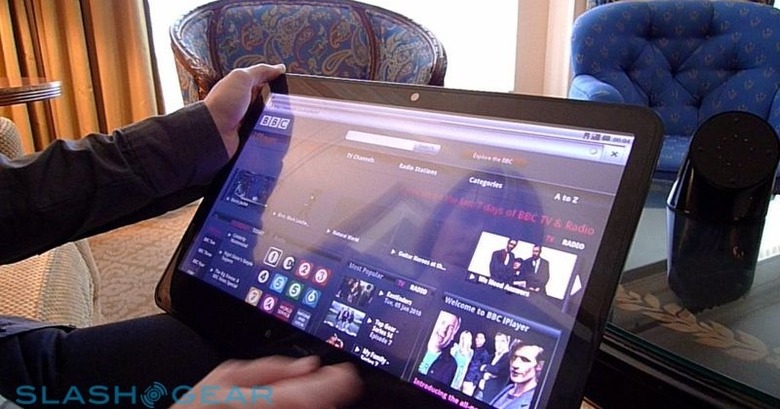 Earlier today T-Mobile and ICD announced their intention to put a 15-inch Vega tablet into every UK household that would pay for one, and we promised to sit down with the two companies for a hands-on play.   The Android-based Vega uses the Tegra 250 chipset that we now know as the NVIDIA Tegra 2, and T-Mobile are targeting the slate specifically at the "Mom" segment whom, they hope, will readily adopt it as the linchpin of their family lives.
Updated with video after the cut
Rather than slap Android 2.0 onto the Vega as-is, ICD have reworked the OS to better suit their target audience.  Perhaps most frustrating for Android geeks (and most sensible for a stable family device) is the absence of the Android Market; instead, ICD want to manage any of the applications present.  A calendar app – to which they're putting the finishing touches to, and didn't have ready in time for our demo – will be one of the main features, and will pull in shared entries from each family member.  Thanks to a SIM card and basic cellular connectivity (that means no 3G, but apparently voice calls will be possible) the Vega can then send out SMS reminders about appointments and meetings.  A web interface for the calendar means that users can check and amend it even when outside of the home.
Also in need of some final work is the accelerometer, which wasn't working on the demo device we looked at.  ICD are also considering adding a speaker or two to the included docking station, which magnetically keeps the Vega at a usable angle on an end-table or kitchen counter.  It also props the tablet up ideally for watching videos, and the Tegra 2 chipset is 1080p Full HD capable (though the 1377 x 768 screen is only HD Ready).
In all, despite the occasional rough edges it's an interesting product, and both ICD and T-Mobile seem to be sensibly resisting the urge to make it a geek's paradise and instead are staying focused on the mass-market.  That'll hopefully bring with it a suitably low price tag, too; neither the carrier or the manufacturer could tell us exactly what the Vega would cost when it goes on sale later in 2010.
Full specifications of the Vega are here, let us know what you think in the comments.
T-Mobile Vega hands-on demo:
[vms e9753913f4d435b53c30]