Verizon DROID Eris by HTC gets official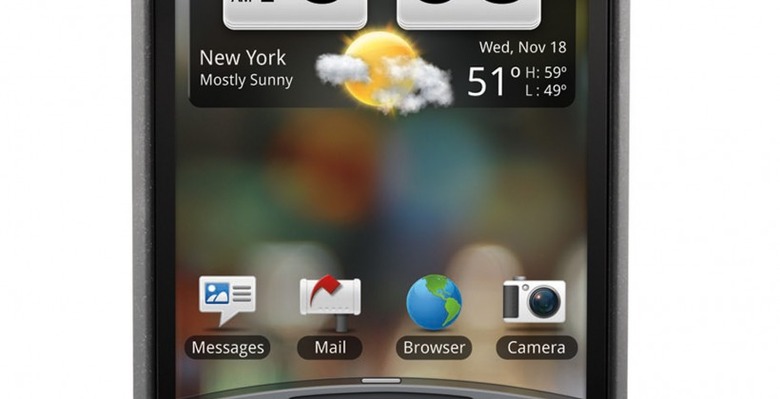 It comes as little surprise given we've already seen it unboxed and know the pricing, but Verizon Wireless have officially announced that, as of tomorrow, they'll be offering the DROID Eris by HTC.  Basically another version of the HTC Hero, the HTC DROID Eris packs a 3.2-inch capacitive touchscreen, 5-megapixel autofocus camera, EVDO Rev.A and the HTC Sense UI.
There's also a microSD slot – Verizon are popping in an 8GB card as standard – and both GPS and a digital compass.  The browser gets Flash Lite for in-page video streaming and there's all the usual Gmail, Google Maps and other standard Android applications.  No Google Maps Navigation, however, as the DROID Eris – unlike the Motorola DROID – doesn't come with Android 2.0.
As we've already heard, it's the pricing that makes the HTC DROID Eris something of a bargain.  Verizon have priced at it at $99.99 (after a $100 mail-in rebate) and presuming a new, two-year agreement.
Press Release:
BRING AN ANDROID HOME FOR THE HOLIDAYS WITH DROID ERIS BY HTC, EXCLUSIVELY FROM VERIZON WIRELESS

DROID ERIS by HTC Debuts with Verizon Wireless with HTC Sense Experience and an Ultra-Attractive $99.99 Price

BASKING RIDGE, N.J., and BELLEVUE, Wash. – Beginning Nov. 6, DROID ERIS™ by HTC will invade Verizon Wireless Communications Stores across the United States, bringing the power of the Android™ platform and the Verizon Wireless network together. DROID ERIS by HTC combines the popular Android platform with HTC Sense™, a user experience from HTC that makes it easy for customers to stay close to one another and create an individualized mobile experience tailored specifically to their needs.

DROID ERIS by HTC offers customers the opportunity to customize a seven-panel wide home screen with a wide variety of widgets designed to bring the most important information to the surface. DROID ERIS by HTC also includes the innovative "Scenes" feature, which allows customers to create multiple home screens, each with different widgets and shortcuts, to transform DROID ERIS by HTC from a "work" phone to a "play" phone with just a touch of a finger.

DROID ERIS by HTC also organizes interactions by person, which makes it possible to access text messages, e-mails, phone calls and even Flickr streams and Facebook updates from a single contact card.

The unique HTC Sense experience found on DROID ERIS by HTC is supported by an array of the latest mobile features, including:

• 3.2 inch capacitive touch screen and trackball interface

• 5.0 megapixel auto focus camera

• Expandable memory with pre-installed 8 GB microSD™ card (up to 16 GB supported)

• Supports USB mass storage

• Bluetooth®, Wi-Fi and 3.5 mm headset connectivity

• Integrated GPS and a digital compass with a sensor that enables the phone to know what direction it is facing

• Smart dialer for simplified dialing by name, number or initials

• Full HTML browser with Flash Lite capabilities

• Seamless compatibility with Google services like Google Maps, Gmail, Google Search and more

DROID ERIS by HTC will be available in Verizon Wireless Communications Stores and online at www.verizonwireless.com on Friday, Nov. 6, for $99.99 after a $100 mail-in rebate with a new two-year customer agreement on a voice plan with an e-mail feature or e-mail plan. Customers will receive the mail-in rebate in the form of a debit card; upon receipt, customers may use the card as cash anywhere debit cards are accepted.

For more information about Verizon Wireless products and services, visit a Verizon Wireless Communications Store, call 1-800-2 JOIN IN or go to www.verizonwireless.com.