Verizon BlackBerry Tour coming too: EVDO plus HSPA roaming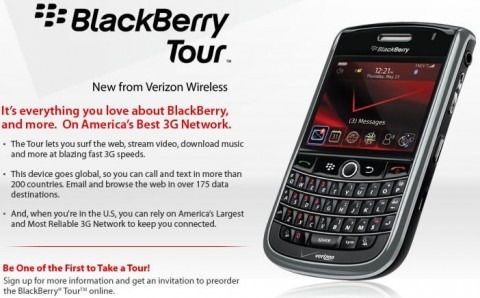 Verizon isn't letting Sprint have all the BlackBerry Tour fun, and while there's no official press release as yet the smartphone has shown up on the carrier's site.  Tipped for a Verizon launch back in May, when the smartphone was spotted in the carrier's inventory system, there's no sign of a specific release date.
When it does land, it's expected to have the same specifications as the Sprint Tour 9630, with EVDO Rev.A for everyday use but also packing 2100MHz UMTS/HSPA and quadband GSM/GPRS/EDGE for use when roaming.  Like most of Verizon's devices there's no WiFi, but you do get Bluetooth, GPS and a 3.2-megapixel autofocus camera.
There's also a microSD card slot, 3.5mm headphone jack and of course that full QWERTY keyboard and trackball.  No word on pricing, but given that Sprint's version is expected to retail at $199.99, the Verizon BlackBerry Tour is likely to show up with a similar tag.
[Thanks Tony!]