Sprint BlackBerry Tour confirmed for the Summer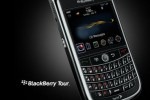 After months of leaks regarding the handset, Sprint has announced that they will be offering the BlackBerry Tour.  Packed with EVDO Rev.A and 3.2-megapixel camera with autofocus, the Tour also has 2100MHz UMTS/HSPA and quadband GSM for international roaming use; it's expected to arrive "later this summer" in the US.
Other specifications include an HVGA 480 x 360 display, microSD card slot content with up to 16GB cards, and a full QWERTY keyboard.  No WiFi, but there's Bluetooth and GPS, plus a 3.5mm headphone jack; Sprint also load the Tour with their music store, mobile TV, NFL and NASCAR apps.
There's also Facebook, MySpace and Flickr integration, IM and MMS support.  Specific release dates are yet to be confirmed, but the Sprint BlackBerry Tour will be priced at $199.99 after $150 of rebates (part mail-in, part instant).   
Press Release:
The New BlackBerry Tour Smartphone Launches on America's Most Dependable 3G Network to Create a Powerful Mobility Tool for Those on the Go

The BlackBerry Tour smartphone from Sprint offers access to America's most dependable 3G network, plus 2100 MHz UMTS/HSPA and quad-band EDGE/GPRS/GSM support for international roaming

OVERLAND PARK, Kan.–(BUSINESS WIRE)–Jun. 16, 2009– With the new BlackBerry® Tour™ smartphone from Research In Motion (RIM) (Nasdaq: RIMM; TSX: RIM) available from Sprint (NYSE: S) on America's most dependable 3G network1, staying connected won't be a worry domestically, or when you travel around the world.

The BlackBerry Tour smartphone is a powerful mobility tool that operates on Sprint's nationwide 3G (EV-DO Rev. A) network domestically. It also roams on other high-speed wireless networks around the world for reliable voice and email communication without missing a beat.

The BlackBerry Tour is a sophisticated smartphone that enables customers to be more productive and better equipped to manage both their busy personal and business lives. It is ideally suited for those who want to stay socially connected, and lets you share moments through pictures and videos via MMS and instant message on popular IM services or BlackBerry® Messenger. It also offers easy access to your favorite social networking sites like Flickr®, MySpace and Facebook®, and you get smooth integration between the BlackBerry Tour smartphone and your Facebook events and friends giving you a great view of what's happening both personally and professionally. This is the most powerful business smartphone in Sprint's line-up with instant access to emails, calendar, contacts, robust business applications and location-based services, leveraging the best performing networks both domestically and abroad.

"The BlackBerry Tour is a sophisticated and powerful smartphone that will enable customers to be more productive and better equipped to manage their busy business and personal lives; and global travelers can rest easy knowing Sprint has a solution to keep people connected wherever their travels may take them," said Kevin Packingham, senior vice president – Product Development, Sprint. "Particularly compelling for world travelers will be the performance enabled by combining the new feature-rich BlackBerry Tour with Sprint's 3G network and some of the world's other most robust voice and data networks."

No one has a larger voice calling area than Sprint. The Nationwide Sprint Network (inclusive of roaming) reaches more than 304 million people in the United States, Puerto Rico and the U.S. Virgin Islands, with a Sprint calling plan that includes roaming. Additionally, the Sprint 3G Network, the nation's most dependable 3G network, is faster in more places than AT&T's 3G network2, and Sprint has more than 20 times the coverage of T-Mobile's current 3G network, based on square miles.

The BlackBerry Tour smartphone comes with a vibrant high-resolution display (480 x 360 at 245 ppi) plus intuitive trackball navigation, a large, full-QWERTY keyboard, corporate and personal email with attachment viewing, calendar, integrated address book and up to 16 GB of expandable memory with a microSD/SDHC card.

It also includes a 3.2 MP camera with variable zoom, auto focus, flash and image stabilization able to capture crisp pictures and video. It comes pre-loaded with the Sprint Music Store, Sprint TV®, Sprint NFL Mobile Live and NASCAR Sprint Cup Mobile, and features an advanced media player for playing video and music files, plus a 3.5 mm stereo headset jack and support for the Bluetooth® stereo headsets (A2DP/AVCRP). The BlackBerry Tour smartphone also has built-in GPS and supports location-based services.

The BlackBerry Tour will be available at Sprint stores, www.sprint.com and 1-800-Sprint1 later this summer for $199.99 with a new line of service or eligible upgrade, two-year service agreement and $50 instant rebate and $100 mail-in rebate. Additional savings may be available to business customers through their Sprint account manager.

For more information on BlackBerry Tour smartphone, visit www.sprint.com/tour or www.blackberry.com/tour.

International Travel

The BlackBerry Tour operates domestically on the Sprint 3G network, and globally on 2100 MHz UMTS/HSPA and quad-band EDGE/GSM/GPRS networks where Sprint has international roaming agreements. With this handset, Sprint customers have the power to make or receive phone calls in more than 185 countries and access BlackBerry® data services including email and Web browsing in nearly 150 countries.

International Service Plans

Sprint offers clear value and simplicity with its Worldwide BlackBerry® service plan. The Worldwide BlackBerry plan gives customers unlimited BlackBerry email and Web access in the United States, Canada, Mexico, and other locations using CDMA technology, and with GSM/GPRS carriers abroad where Sprint has applicable roaming agreements. The plan is available for $69.99 per month, or just $40 per month (excluding taxes and surcharges) as an attachable to Simply EverythingSM, Everything Data, Everything Data Family or Business Essentials with Messaging and Data.

Sprint international voice roaming rates range from $0.59 to $5.99 per minute, depending on where customers are calling. Customers making frequent calls while in Canada can take advantage of a specific service plan for $2.99 per month which allows calls to be made and received at $0.20 per minute. Additional pricing plans are available exclusively to enterprise customers.

Customers also have the option of using a third-party SIM for international voice and data services.

About Sprint Nextel

Sprint Nextel offers a comprehensive range of wireless and wireline communications services bringing the freedom of mobility to consumers, businesses and government users. Sprint Nextel is widely recognized for developing, engineering and deploying innovative technologies, including two wireless networks serving nearly 49 million customers at the end of the first quarter of 2009; industry-leading mobile data services; instant national and international push-to-talk capabilities; and a global Tier 1 Internet backbone. For more information, visit www.sprint.com.

The BlackBerry and RIM families of related marks, images and symbols are the exclusive properties and trademarks of Research In Motion Limited. All other marks contained herein are the property of their respective owners.

1 Most dependable claim based on independent, third-party drive tests for 3G data connection success, session reliability and signal strength for the top 50 most populous markets from January 2008 to February 2009. Not all services available on 3G and coverage may default to separate network when 3G unavailable.

2 Speed claim based on total network size, sq. miles, multiplied by network upload/download speed capability. User's speed experience may vary.

3 Coverage comparison based on publicly available information as of 4/1/09 inclusive of Sprint roaming partners. Based on square miles."