Verizon BlackBerry Storm 9530 price leaks: from $219.99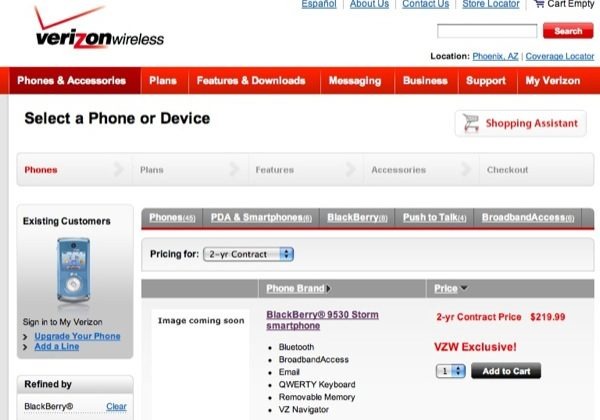 Pricing for the upcoming BlackBerry Storm 9530 on Verizon Wireless has been leaked, courtesy of the carrier's own pre-launch test site.  The touchscreen handset, the first from messaging-mavens RIM, will be priced from $219.99 with a new two-year contract.
Alternatively, Verizon will offer the smartphone with a one-year contract priced from $289.99.  The month-to-month handset price is the far more expensive $519.99, reflecting the absence of a long-term contract.
The Storm was announced early last month, and initial reviews waxed lyrical about its innovative ClickThrough touchscreen.  You can see our review roundup here.  Vodafone UK announced their UK and Irish pricing at the end of October; in the UK, the Storm will be priced from free with an eligible contract.
[via Engadget]