Vodafone BlackBerry Storm Pricing: Round Two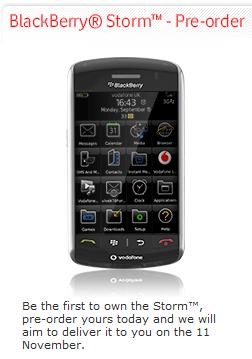 After the first pricing for the BlackBerry Storm on Vodafone was released this morning, and later shown to be for the expensive Irish market, details on the UK costs of the RIM touchscreen device have now been announced.  In keeping with the competitive UK market, the handset will be available on November 11th from free on select price plans, with 12, 18 and 24 month contracts are available.  The cheapest monthly tariff is £15 ($24) on an 18-month contract with no included minutes but unlimited SMS; the Storm is priced at £300 ($486).  The cheapest monthly contract with a free Storm is £35 (24-months, 600 inclusive minutes & unlimited SMS, mobile internet and email).
Full UK BlackBerry Storm Vodafone price plan details after the cut
That means the cheapest cost-of-ownership for a BlackBerry Storm in the UK is £570 on the 18-month, £15 plan, though that doesn't get you unlimited internet and email access.  The cheapest way to get inclusive unlimited SMS, internet and email is the 18-month, £40 plan which gets you a free Storm and 600 inclusive minutes.  That works out to £720.
Verizon are yet to announce their pricing.  We'll let you know as soon as we hear anything from the US carrier.  Full UK pricing plan details in the gallery below.