Verizon BlackBerry Q10 pre-orders now live

We found out earlier this month that the Verizon model of the BlackBerry Q10 would be hitting shelves at some point next month, but pre-orders are now live for the new handset, so you'll be able to reserve your own unit before they're available to the general public, and if it's a physical keyboard you're looking for, this is pretty much your best bet.
You can grab the Q10 from Big Red for $200 after signing a two-year contract, or you can pay full price for the new phone, which will set you back a whole $600, but at least you won't be under Verizon's control for two whole years. We think that's a pretty good way to go, but if you're wallet just isn't feeling that kind of vibe, you're most likely better off with a contract.
Of course, T-Mobile will also be carrying the Q10, and you can save yourself $20 if you go with T-Mobile, but we can't blame you if T-Mobile's new 4G LTE network just isn't cutting it for you. In fact, Verizon will have the exclusive white version of the Q10, so if black is a bit too dark for your liking, you'll be able to get something a bit more pure.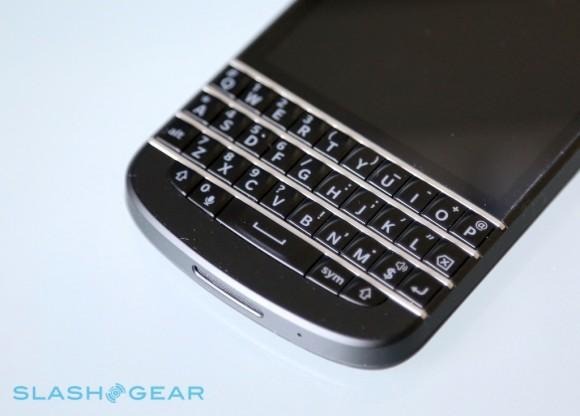 Verizon has put an estimated ship date of June 6 on the Q10, which is just a day later than T-Mobile's release date for the device. Big Red hasn't yet announced when they'll have the new device in stock at their physical locations, but we wouldn't be surprised if they started selling the Q10 on June 5 to compete with T-Mobile.
BlackBerry CEO Thorsten Heins thinks that the Q10 will be a huge seller, given the claim that tons of users will enjoy the physical keyboard as well as having access to the 3.1-inch touchscreen display. The UK's Carphone Warehouse actually sold out of all its initial stock of the Q10 in a matter of hours, proving that people really want the device in their hands.
The BlackBerry Q10 was announced back in late January along with the company's flagship Z10, as well as the new BlackBerry 10 operating system. These devices are essentially BlackBerry's attempts to try and wiggle their way back into the smartphone wars, where the company has been left behind in recent years. We'll see if they can play catch-up once we see the Z10 and Q10 out in full force.