Verizon 4G LTE Adding More Markets On August 18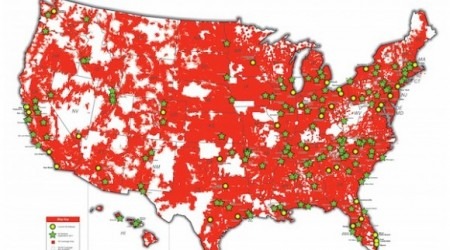 Verizon is really gobbling up the nation with its 4G LTE coverage at an unrelenting pace. After having just turned on 28 new markets a week ago, the carrier announced today that its coverage will reach several new markets on August 18. At this rate, Verizon is well on its way to meeting or even exceeding its target of 175 markets by the end of this year.
The new cities to be blanketed with 4G LTE include Council Bluffs, Iowa; Ithaca, Syracuse, and Albany, New York; Fort Collins, Colorado; Provo/Orem, Utah; Salinas, Monterey, and Bakersfield, California; Omaha, Nebraska; Altoona and Johnstown, Pennsylvania. Additionally, some markets will see expanded coverage, including Cincinnati and Columbus, Ohio, as well as Rockland County, New York, which includes Nyack, West Nyack, Orangeburg, Pearl River, and Spring Valley.
This increasing coverage will certainly encourage consumers to pick up Verizon's 4G LTE devices, which currently include the HTC Thunderbolt, Droid Charge, LG Revolution, and the upcoming Droid Bionic, Samsung Galaxy Tab 10.1 4G LTE, as well as the soon to be upgraded Motorola XOOM 4G. We've lost count by now exactly how many markets Verizon has hit, but it's looking to be around 118 after this next batch gets lit up. In comparison, rival AT&T's 4G LTE network plans to reach only 15 markets before 2012.
[via Verizon]