Verizon 4G LTE Adds 28 New Markets On July 21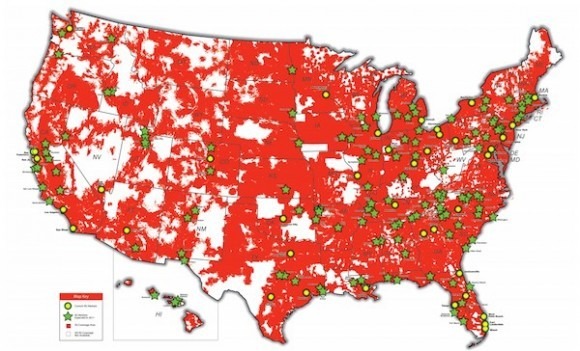 Verizon's blazing fast 4G LTE network coverage is about to spread to several new markets this week. A month ago, the company had announced rolling out 13 new markets on July 21, but now it looks like that number has been bumped up to 28 new 4G LTE markets with 8 existing markets getting expanded coverage.
The new locations to get Verizon's 4G LTE include Decatur and Huntsville, Alabama; Colorado Springs, Colorado; Lakeland and Sarasota-Bradenton, Florida; Augusta, Georgia; Hilo, Honolulu, Kahului-Wailuku and Lahaina, Hawaii; Carbondale, Illinois; Wichita, Kansas; Louisville, Kentucky; Baton Rouge and Hammond, Louisiana; Springfield, Massachusetts; Greensboro/Winston-Salem/High Point and Raleigh-Durham, North Carolina; Toledo, Ohio; Tulsa, Oklahoma; Portland, Oregon; Wilkes Barre/Scranton, Pennsylvania; Charleston, South Carolina; Chattanooga and Knoxville, Tennessee; Olympia and Tacoma, Washington; and Charleston, West Virgina.
The 8 markets to get expanded 4G LTE coverage are Phoenix, Arizona; Los Angeles and San Diego, California; Las Vegas, Nevada; Northern New Jersey; Dallas-Fort Worth and San Antonia, Texas; and Seattle, Washington. This should bring Verizon very close to the target of 175 markets by the end of this year.
Some of the current 4G LTE handsets on Verizon include the HTC Thunderbolt, the DROID Charge, the LG Revolution, and soon the Droid Bionic.
[via AndroidCommunity]