DROID BIONIC Signup Page Live at Verizon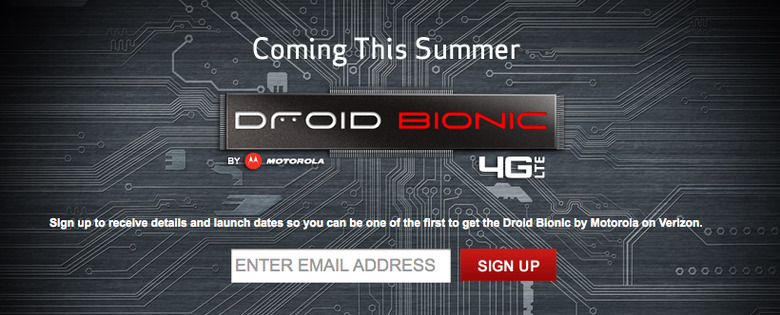 One of the most widely anticipated Android devices inside 2011 has been this lovely little animal right here, the DROID BIONIC. This will be the first Verizon 4G LTE device to be running a dual-core processor and it'll be "coming this summer" after months of delays and a near-cancellation. We've got a whole stack of newest possibly specs for this device below right below the signup page for you. Check it!
You can access this signup page right over at Verizon and be sure to tell em SlashGear sent ya! That or just enter your email and they'll send you the info right after we get it first. Sound good? Sounds good! Meanwhile, our pals at Android Community have just last night had a tip that uncovered the most recent specs for this miraculous devices. They're from China and third hand, which doesn't do a whole lot for their credibility on their own, but they're very similar and most of the time exactly the same as previous leaks of information on this device, so let's have at em!
System: Android 2.3.4 Gingerbread
Shape: Straight (aka candybar)
Display: 4.5-inches
Resolution: 640 x 960 pixels
CPU: TI OMAP 4430 dual-core 1GHz processor
GPU: SGX540 graphics processor
Mobile Band: CDMA (Telecom) 1X 800MHz , CDMA (Telecom) 1X 800/1900MHz
Phone System: CDMA , CDMA EV-DO
MicroSD: Expandable up to 32GB
Cameras: 1.3-megapixel front-facing camera, 8-megapixel back-facing camera with LED flash
Check out a bit more info over at Android Community, and note that we'll be getting this device in for review as soon as we can possibly muster it!
NOTE also that still present, and forever forward will be present below anything Verizon has the word DROID on, is the Lucasfilm trademark note, that is, the following:
DROID is a trademark of Lucasfilm, Ltd. and its related companies. Used under license. 4G LTE is a trademark of ETSI. Motorola and the stylized logo are registered in the U.S. patent and trademark office. Google, Google logo and Android Market are trademarks of Google, Inc.. Unauthorized use or duplication of these marks is strictly prohibited by law.
R2, where are you?!