Motorola XOOM 4G LTE Upgrade Confirmed For September

Motorola XOOM 3G customers who have been patiently waiting for the promised 4G LTE upgrade, have gotten a little worried in recent months as rumors emerged that the company was pushing a new tablet and leaving previous customers in the cold. Well, thankfully that's not the case and the company has just begun sending out emails to confirm with customers that the upgrade will be happening sometime in September.
DroidLife obtained an internal memo informing employees that Motorola XOOM 3G customers will be receiving an email today notifying them of the good news. The upgrade from 3G to 4G LTE will be free, but requires customers to ship in their tablets to Motorola for a couple days so that it can drop in a mini PCI module for supporting LTE speeds. Customers are warned to back up their content.
Apparently, the recent FCC filing of a 4G LTE Motorola XOOM was to get approval for the upgrade component. It was rumored to be a second-generation Motorola XOOM tablet instead, leaving many XOOM 3G customers frustrated, especially after the promised feature had been delayed for several months.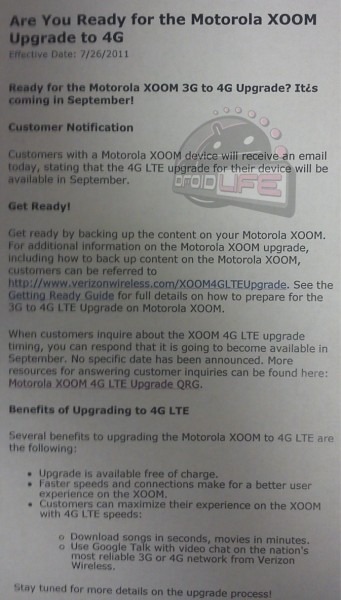 [via DroidLife]