Velocity Micro Z55, Raptor Lx665 and Lx775 get hexacore i7-980X Extreme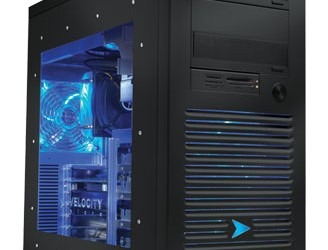 Okay, we're getting the feeling that just about every high-spec PC manufacturer plan to put Intel's new hexacore Core i7-980X Extreme processor into their gaming offering, and they they plan to tell us all about it.  Velocity Micro are the latest – following in the steps of MAINGEAR and Digital Storm – to update their range, packing the new CPU into their Edge Z55, Raptor Lx665 and Lx775 machines.
As with the other firms, the rest of the specs for each desktop don't change from before, only the CPU.  So, the Z55 remains Velocity Micro's configurable machine, priced from $1,799 normally but jumping to $2,824 when you throw in the hexacore.
Meanwhile the two Raptor PCs are preconfigured and sold through TigerDirect, at $3,599 for the Lx665 and $4,799 for the Lx775.  As you'd expect there are the usual choices for single or dual-headed graphics, HDDs and SSDs, but no sign of an overclocking option like Digital Storm are offering.
Press Release:
Velocity Micro Announces the Immediate Availability of Intel® Core™ i7-980X Processor Extreme Edition Powered PCs

Record-setting configurations featuring the ground-breaking six core processor for sale at select retailers and direct fromVelocityMicro.com

Richmond, VA—March 16, 2010— Velocity Micro, the premier independent builder of premium, high performance desktop computers, notebooks, and peripherals, announces the immediate availability of the world's first six core, twelve thread, single processor desktop PC. Powered by the Intel® Core™ i7-980X, these newly launched configurations combine the smartest, fastest processor on the planet with Velocity Micro's expert engineering for extreme power in multimedia and gaming applications, especially when multi-tasking, for the ultimate in productivity, speed, and bragging rights. Six core desktops begin at $2,825.

"With the launch of the Core i7-980X, Intel has given us the means to create a whole new level of benchmark crushing, ultra performance PCs," said Velocity Micro Vice President Chip Lowell. "By utilizing this new technology in conjunction with our meticulous craftsmanship and patented engineering methods, we're able to offer some of the most powerful, record breaking consumer desktops on the market."

The release of the Intel Core i7-980X highlights Intel's continued awesome portfolio for the extreme performance processor market. Building on the innovative Nehalem architecture, the i7-980X allows Velocity Micro to unleash an array of benchmark-crushing PCs, offering performance boosts of up to 40% on applications which utilize the i7-980X's twelve hyperthreaded virtual cores and extreme overclockability. VelocityMicro.com customers will be able to get their hands on all of that power with the fully upgradeable Edge Z55 starting $2,825 with the expertly configured Raptor Lx665 and Lx775 available at TigerDirect.com for $3,599 and $4,799 respectively.

"The Core i7-980X Extreme Edition is a massive leap ahead for microprocessor technology and for consumers as well," said CJ Bruno, VP, GM Intel Americas. "PC enthusiasts will love and greatly benefit from the performance boost that the world's first desktop six core processor offers. We are thrilled that Velocity Micro is able to offer the Core i7 980X on launch day to this performance-hungry crowd."

All Velocity Micro PCs are hand built and supported in the USA. To configure a Core i7-980X based system or another ultra performance desktop, notebook, or netbook, visit www.VelocityMicro.com. Velocity Micro products are also available from select retailers nationwide.