MAINGEAR SHIFT gets Core i7-980X hexacore CPU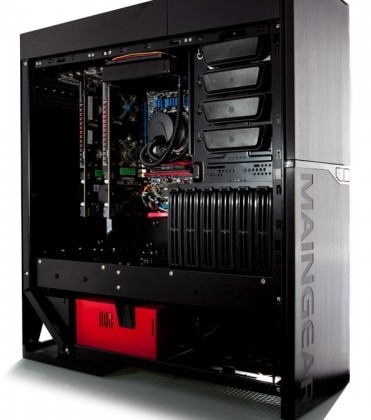 The job of a high-spec PC manufacturer is never done; just when you think your crazy gaming desktop is done and dusted, there are new processors to be slotted inside.  MAINGEAR have announced an update to their SHIFT "everyday super computer", using Intel's new Core i7-980X 3.33GHz hexacore CPU.  That goes into the mixture with Crucial's RealSSD C300 – hooked up to a SATA 6G connection, naturally – and USB 3.0.
There's also special acoustic shielding so that the noise from fans doesn't drive you screaming out of the house, and a list of video card options as long as your arm (assuming you don't have bizarrely long arms).  Various options from ATI and NVIDIA are on offer, including dual ATI Radeon HD 5970 4GB cards in CrossFireX configuration.
Up to four internal hard-drives (or SSDs) can be picked, in various RAID configs, together with Blu-ray and more.  The Intel X58 chipset based SHIFT range kicks off at $2,299 but expect significantly more if you want the new Core i7-980X.
Press Release:
MAINGEAR Updates SHIFT Everday Super Computer to Include Core i7 980X and More

SHIFT now configurable with Intel's 6 core Core i7 980X processor, SATA 6Gb, and USB 3.0, winning PC Mag's Editors' Choice Award

Union, New Jersey – March 16, 2010 – MAINGEAR Computers, award-winning builders of custom computers for PC gamers and enthusiasts, announces a hardware refresh for the SHIFT everyday supercomputer. The revamped hardware is highlighted by Intel's Core i7 980X 6 core, hyperthreaded 3.33GHz processor, giving enthusiasts the ability to run up to an astonishing 12 threads in parallel enabling your PC to execute multiple CPU intensive tasks at once. SHIFT also now boasts scorching fast SATA 6G that enables Crucial's new RealSSD C300 to reach speeds of 335 MB/s on sustained reads, which is now also available on the SHIFT.

MAINGEAR's implementation of USB 3.0 further solidifies SHIFT's high performance prowess allowing newer flash drives and external SSDs to really fly at speeds up to 5Gbps. To ensure the new state-of-the-art hardware doesn't come at the cost of added decibels, MAINGEAR integrated AcoustiPack sound dampening that keeps the system whisper quiet no matter what's going on under the hood. In their review on March 11th, PC Mag awarded this new SHIFT their coveted Editors' Choice award.

"The new Intel Core i7 980X is the fastest, smartest Desktop PC microprocessor on the planet, and it only makes sense that it's prominently featured in the masterfully hand crafted MAINGEAR SHIFT," said CJ Bruno, VP, GM Intel Americas. "The MAINGEAR SHIFT, featuring an overclocked Intel Core i7 980X, was recognized by PC Magazine as one of the fastest gaming PCs on the market today and awarded their Editors Choice."

"Our all new 2010 SHIFT is taking the pole position in the high performance consumer desktop market," said Wallace Santos, CEO and Founder of MAINGEAR. "By intelligently integrating best-of-breed hardware and supporting it with top-tier, in-house technical support by the same guys who built your system, we're delivering the best PC experience money can buy."

MAINGEAR's SHIFT rethinks the status quo of the high end PC industry with rigs that often feature an array of plastic, bling, and commoditized components and offers every day supercomputing in a sophisticated design with sublime, elegant lines, unmatched performance, optimal airflow, and limitless upgradeability. By harnessing the power of the graphics processing unit (GPU), the SHIFT can speed up everyday tasks like photo and video editing, transcoding videos for portable media devices, and upscaling standard definition video.

Consumers can purchase the Shift at MAINGEAR's Web site www.maingear.com or order by phone at (888-MAINGEAR). The base price for the Shift is $1,799 and comes with MAINGEAR's premium Lifetime Labor and Phone Support with 2 year hardware warranty and is backed by the best in-house support team in the country.