Digital Storm BlackOPS PC overclocks Core i7-980X to 4.44GHz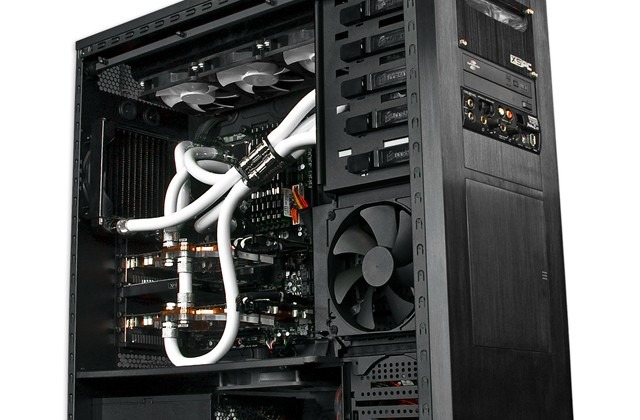 It's not only MAINGEAR playing games with Intel's latest Core i7-980X Extreme processor.  The new hexacore has found its way into Digital Storm's similarly-stonking BlackOPS desktop, but they've not seen fit to leave its 3.33GHz alone; instead, opt for their TwisterBoost overclocking package and they'll crank the Core i7 all the way up to 4.44GHz.
The "basic" package pairs the new six-core CPU with 6GB of DDR3 memory, dual ATI Radeon HD 5970 2GB video cards in CrossFireX configuration, and a silent 1,200W PSU.  It also gets a 500GB hard-drive and a liquid-cooling system for the processor, though you can choose various combinations of HDD and SSD together with a full liquid-cooling system that covers CPU, X58 chipset and up to four video cards.
Prices kick off at a considerable $5,642 and if you want the 4.44GHz overclock then you're looking at another $248 on top of that.  After that the world can get as crazy as your wallet affords; nobody ever said performance PCs were affordable.
Press Release:
Digital Storm' Black │OPS Gaming PC Integrates World's Fastest CPU at 4.4GHz

Ultimate gaming PC updated with Intel's lighting-fast Core i7 980X Extreme Edition processor

Fremont, Calif. – (March 16, 2010) – Digital Storm, the predominant name in system integration, proudly announces a hardware update to its Black|OPS gaming systems. Now gamers can configure the Black|OPS machine with Intel's first consumer hexa-core processor, the Core i7-980X Extreme Edition.

With the addition of the 32nm Core i7-980X processor, also known as Gulftown, gamers can effortlessly run up to 12 computing threads at once, a feat that was once unimaginable. Intel's' new processor features an impressive 12MB L3 cache, which helps streamline operation by limiting the number of times the CPU needs to access DDR3 memory. The Core i7-980X has a clock speed of 3.33GHz, making it as fast as any processor Intel has ever created.

"The introduction of a six core processor with hyper threading capabilities is a momentous occasion for gaming enthusiasts," remarked Rajeev Kuruppu, Digital Storm's Director of Product Development. "With our TwisterBoost overclocking package, we can overclock the i7-980X to a record breaking 4.4GHz. The results we've recorded on our test bench have been nothing short of astounding. I can honestly say that our Black OPS machines with this new CPU resulted in the most impressive gaming experience I've ever had."

Digital Storm's Black|OPS systems with Intel's Core i7-980X Extreme Edition are currently available for purchase at www.DigitalStormOnline.com. The Extreme configuration has a base price of $5,642 & each Digital Storm system comes with a 3 year parts and labor warranty, including replacement parts, and lifetime customer support.