Digital Storm BlackOPS Core i5/i7 gaming desktops debut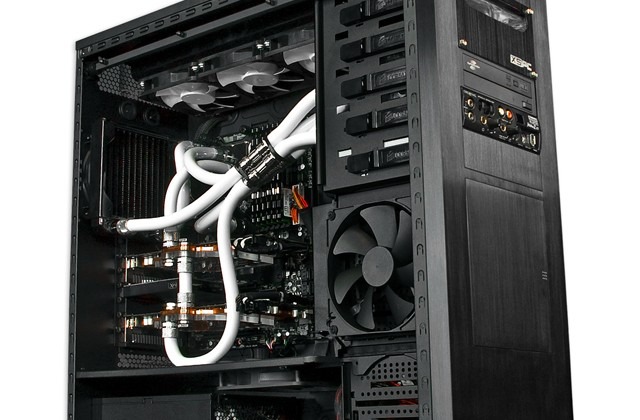 Digital Storm have launched their latest range of gaming desktops, the BlackOPS series, powered by Intel's Core i7 and i5 processors and packing a choice of ATI or NVIDIA graphics.  Three models make up the series, kicking off at Performance with a 2.66GHz Core i5-750 CPU, and ramping up to the Extreme with a 3.2GHz Core i7-960.
In the middle is the Enthusiast model, with a 2.66GHz Intel i7-920 CPU.  RAM is up to 6GB of DDR3, and video cards start out at the NVIDIA GTX 275 and top out at the ATI Radeon HD 5870 1GB.  All three get Digital Storm's liquid cooling system, which circulates around the processor, video cards and Intel X58 chipset.
There's also a noise-reduction package and you can specify that the PC is overclocked by Digital Storm before it leaves their production line, undergoing a 72-hour stress test before it arrives on your desk.  The range kicks off at $1,709 for the DigitalOPS Performance and maxes out at $3,102 for the Extreme; all are available to order now.
Press Release:
Digital Storm Unleashes the Ultimate Gaming Experience with Black │OPS Gaming PC

Custom gaming PC sets a new benchmark for extreme performance with Intel i7 + ATI, Sub-Zero Liquid Cooling, TwisterBoost Overclocking and Noise Suppression Package

Fremont, Calif. – (February 11, 2010) – Digital Storm, the predominant name in system integration, proudly unveils its most elite line of gaming PCs to date: Black|OPS. With the Black|OPS line of high-performance gaming computers, Digital Storm has elevated the standards to which gamers hold their computers to. By integrating the industry's best hardware, including the Intel i7 processor and ATI 5970 graphics card, then optimizing and overclocking these components, Digital Storm has created the ultimate gaming PC that delivers unparalleled performance.

At the core of Black|OPS gaming machines is Digital Storm's Sub-Zero Liquid Cooling System. Comprised of the industry's best known brands and components, the Sub-Zero Liquid Cooling System effectively removes performance inhibiting heat from the processor, video cards, and even the motherboard's chipset.

Digital Storm gives its customers the chance to push their Black|OPS system to the extreme with its TwisterBoost Overclocking process. TwisterBoost optimizes and overclocks the system's processor, memory, and graphic cards. After the TwisterBoost Overclocking process is completed, each machine is subjected to a strict stability test to ensure all components are completely stable. All TwisterBoost Overclocked machines, as is the case with all Digital Storm machines, are backed by the company's 3 year parts and labor warranty.

Digital Storm has upped the ante by offering its customers an industry leading Noise Suppression Package. Through the use of noise dampening material, tuning of fan speeds, adjusting chassis air-flow and analysing the system's noise signature, Digital Storm has virtually eliminated the transmission of sound emanating from the PC.

Prior to shipping to the customer, each Digital Storm system undergoes a rigorous 72-Hour Stress-Test. Digital Storm technicians stress-test and benchmark the system via industry standard testing software coupled with a proprietary testing process that detects components which can be prone to future failure.

"With Black|OPS, our engineers designed, integrated and optimized our gaming PCs from the ground up; the result is nothing less than astounding," commented Rajeev Kuruppu, Digital Storm's Director of Product Development. "Unlike other gaming PC integrators, who simply cram the latest hardware into chassis, Digital Storm's engineers select the highest quality components and ensure that every piece works in perfect unison with each other. We truly believe that our Black|OPS systems will redefine the standards that gamers hold their systems to."

Digital Storm's Black|OPS systems are currently available for purchase at www.DigitalStormOnline.com. The Extreme configuration has a base price of $3,102 & each Digital Storm system comes with a 3 year parts and labor warranty, including replacement parts, and lifetime customer support.