UK carriers band for NFC Payments joint venture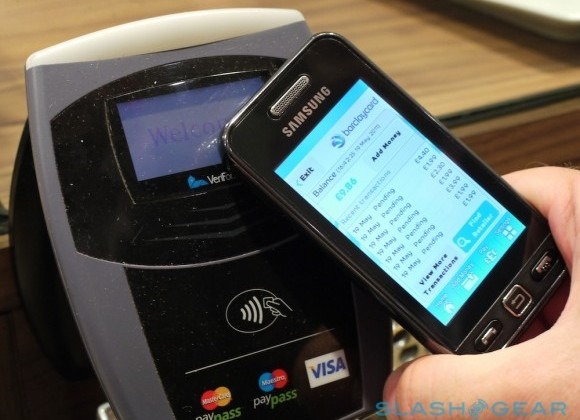 Four of the main UK carriers have banded together to work on mobile commerce, pushing
payments, digital coupons and mobile advertising. Everything Everywhere – the combined T-Mobile and Orange – along with Telefonica UK (aka O2) and Vodafone UK have formed a joint venture which will handle the sales, delivery and payment on top of which each carrier will build their individual services.
That, the quartet reckons, will mean faster deployment and easier business for retail, banking and ad partners. Like the Orange Quick Tap NFC payments system
last month, the joint venture will be pushing a combination secure SIM and NFC phone setup; that should allow users to swap their SIM between any carrier's device and, as long as it's NFC-enabled, continue making mobile payments without any hurdles.
Obviously there'll also be a promotional side, with the JV pushing targeted coupons, discounts and loyalty schemes. The exact nature of the payments system will vary between carriers too: the JV will provide the underlying platform infrastructure, which the carriers themselves will top with their own branding and services.
Assuming nobody complains about anti-competition, the carriers hope to have the JV up and running before the end of 2011. Google is kicking off a similar scheme,
.
Press Release:
Everything Everywhere, Telefonica UK and Vodafone UK to form mobile marketing and payments joint venture

Posted 16 June 2011 / Corporate

Ground breaking venture promises to accelerate the development of innovative mobile services for consumers and business customers

Creation of a single ecosystem for m-commerce helping advertisers, retailers and banks to reach consumers through their mobile phones

Consumers will be able to replace their physical wallet with a secure mobile wallet using Near Field Communications (NFC) technology to pay for goods and services

Consumers will also benefit from relevant offers and coupons, delivered direct to their phone

Everything Everywhere, Telefónica UK and Vodafone UK to provide start-up investment

Everything Everywhere, Telefónica UK and Vodafone UK today announce plans to create a standalone m-commerce joint venture (JV). The new entity, the first of its kind in the UK, will bring together the expertise and technology of the UK's leading mobile operators, enabling the rapid development and delivery of new mobile marketing and payment services.

The JV will provide a single contact for advertisers, marketing partners, retailers and banks making it far easier to create m-commerce products and services. The JV will be open and available to all industry participants, maximising benefits to consumers.

The JV is subject to competition clearance and is aiming to launch before the end of the year.

Enabling mobile payments

The JV will deliver the technology required for the speedy adoption of mobile wallet and payments. This will enable consumers to transfer their entire physical wallet into a new secure, SIM-based wallet regardless of which NFC enabled mobile device, or mobile network they are using.

Companies and organisations that provide anything from credit, debit and loyalty cards to membership cards and transport tickets will be able to create secure mobile versions of their products. Consumers will be able to use their mobiles to pay for goods, services and travel using contactless technology (NFC) with one touch of their phone, or online via mobile or PC.

Enabling brands to reach consumers on the move

The new business will also provide a single contact point for advertisers, media agencies and retailers looking to reach consumers on their mobile phones. The JV will enable them to book advertising space and create campaigns as well as provide offers, coupons and loyalty cards which can be stored on the phone and redeemed in shops. For consumers, the JV means that they will be able to receive discounts and offers from brands that are relevant to them and that they want to receive.

Everything Everywhere, Telefónica UK and Vodafone UK will continue to develop their own competing products and services tailored to their own customers, which will be based on the open platform infrastructure provided by the JV.

Tom Alexander, CEO of Everything Everywhere, commented: "This groundbreaking new business will unlock the true potential of commerce in the wire-free world.

"The benefits will be felt across the whole industry, allowing people to manage their money and make payments using their handsets, helping advertisers reach their customers on the move, and helping banks provide their clients with an easy and convenient way of making payments.

"And for partners operating in these industries, having a one-stop shop to deal with will make things quicker, easier and more efficient. This Joint Venture will further reinforce mobile as the essential 21st century device at the heart of people's daily lives."

Ronan Dunne, Chief Executive Officer of Telefónica UK, said: "We are seeing an explosion in the m-commerce market. Mobile advertising spend alone has more than doubled in two years as consumers embrace marketing on their handsets because it is now relevant to them and provides a great customer experience.

"The mobile marketing and payments market is extremely fragmented. By creating this new business we will underpin this nascent market, providing real size and scale, allowing consumers to benefit from new and innovative services, like the mobile wallet, and giving them more of the things they value, through offers and deals that are truly relevant to them. At the same time business customers will reach a vastly increased audience, utilising a single platform for sales, delivery and payment.

"This is not just something that is unique in the UK, but a JV that will create a model that many countries around the world could follow."

Guy Laurence, Chief Executive Officer of Vodafone UK, said: "Since Vodafone made the first ever call just 26 years ago, mobile phones have transformed people's lives. Along the way, the mobile phone has become the one item people really cannot be without. It is the first thing they reach for in the morning and the last thing they check at night. Over recent years it has integrated new gadgets such as digital cameras and music players as they have become popular. The new generation of smartphones is even taking on desktop PC by providing internet on the move and removing the need to be in the home or office.

"Currently people take their mobile, wallet and keys when they leave home. In the near future, people will now start leaving their wallet at home, and in the mid term their keys may also be integrated into their mobile as NFC allows the mobile to act as a digital access card. The joint venture is the next phase in realising that ambition."

ENDS

Notes to Editors

1 Customer data will not be provided to external companies, retailers, merchants or advertisers, and will only be used where customers have given their consent