Ubuntu Touch on Meizu MX4 Pro sighted, still a possibility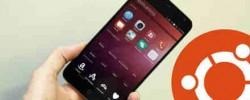 Back in February, Canonical
that its phone-centric Ubuntu Touch will be making its way to actual retail smartphones later this year. But
promises many things and with the year coming to a close, it seems that that promise might either be delayed or, worse, broken entirely. But behold, a device bearing the likeness of the Meizu MX4 but also bearing within it Ubuntu's mobile OS has just been spotted, fanning the flames of hope of a still possible Ubuntu phone soon.
has had many attempts to enter the mobile market, but none have yet so far left a lasting mark. From running on top of Android to trying, and
, to crowdfund its own Ubuntu Edge smartphone, Ubuntu's popular presence has so far been constrained on the desktop side of technology. Ubuntu Touch, which was officially and unofficially available as custom ROM for a limited number of devices, was almost fated to end up similarly, but Canonical announced one last resort, partnering with carriers and manufacturers, namely China's
and Spain's bq, but we have heard nothing again about either. That is, until today.
Meizu previously teased that it would have a new mobile OS for its fans and given the timing of product releases, it could very well be referring to Ubuntu Touch. Earlier rumors pointed to the possibility of a
variant that will be carrying the Ubuntu OS, but, considering it's still wearing the same Flyme OS clothes, there might be a different smartphone intended for Canonical's OS. The name being given to it is the MX4 Pro and it might be Pro in more than just the name. It is believed to have a 5.4-inch Quad HD screen and will run on the new Samsung Exynos 5430, the same that drives the Samsung Galaxy Alpha. RAM is set to 3 GB and no word is given on the internal storage.
If those specs are accurate, then Ubuntu Touch might have found itself a cozy smartphone to debut in. The bq Aquaris that was first rumored to also run Ubuntu Touch definitely pales in comparison. That said, a leak is just that, a leak, and there is always no assurance that it will come true and in the case of Ubuntu Touch, it is definitely something that has to be seen to be believed.
VIA: