Uber's new autonomous trucks get total upgrade amid Waymo lawsuit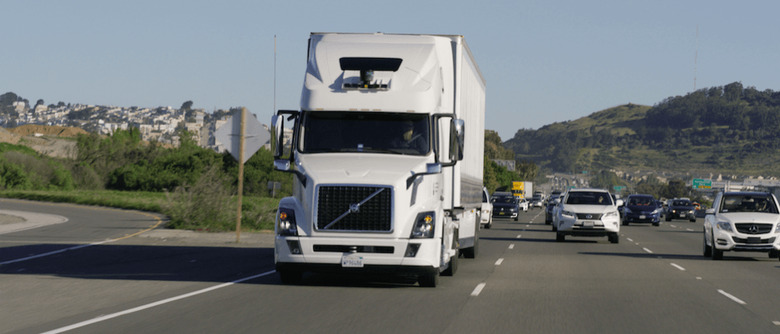 Uber has a new fleet of autonomous trucks, deploying a new version of self-driving hardware and sensors that won't be impacted by the ongoing legal battle with Alphabet's Waymo. Though the company may be best-known for its passenger ridesharing service – or, more recently, most infamously for its controversial former CEO – Uber has also been working on modernizing haulage, too. That has centered on the Otto autonomous trucks project, another aspect of the company which Uber took over after it acquired Otto last year.
The argument for self-driving semis has been a straightforward one. Since they spend most of their driving time on the highway, rather than in dense urban areas, the road environment should be more predictable. For a start, there should be less chance for pedestrians, cyclists, and unexpected roadway entries by other drivers to deal with.
Now, there's a whole new fleet of test trucks, which are currently being deployed in the San Francisco, CA area. Gone is the Otto branding, replaced by the markings of Uber's Advanced Technologies Group, under the umbrella of which the project now resides. The Otto name was quietly shelved last month, Uber confirmed to TechCrunch, primarily because of a trademark dispute with a Canadian automaker, but likely also because of the cloud lingering over the autonomous startup and allegations that it stole autonomous tech secrets from Google spin-off Waymo.
In that ongoing lawsuit, Waymo alleges that one of its former engineers, Anthony Levandowski, used a company laptop to download thousands of technical files before leaving the business. Levandowski went on to establish Otto, and then the startup was promptly acquired by Uber to form the heart of its own self-driving projects. Uber terminated Levandowski at the end of May for, among other things, refusing to sufficiently comply with the in-house legal team's defense.
According to ATG trucks product manager Alden Woodrow, however, this new test fleet of semis should stay well clear of any controversy on that front. For a start, they use a brand new, third-party sensor suite, something that, while Woodrow insists it was a separate decision from the Waymo lawsuit, certainly won't hurt matters.
"It's an off-the-shelf system from a third-party, so it's actually separate from some of the things at issue in the Waymo suit about us developing our own LiDAR, it's a totally separate product," the engineer told TechCrunch. "This is totally independent of that; it's always been part of the plan to integrate the Otto technology with the ATG technology. The Otto stack actually didn't use 64-channel LiDAR at all."
Indeed, the whole system has had an overhaul. Software, sensors, and onboard computing hardware are all new compared to the ATG team's record-setting autonomous truck of last year. That earned a Guinness World Record as "the longest continuous journey by a driverless and autonomous semitrailer truck", though Woodrow says that for regulatory and permissions purposes, Uber is arguing that the new model isn't as advanced as some self-driving prototypes already in public trials.
Indeed, Uber's suggestion is that the new trucks offer Level 2 autonomy on the SAE scale. That would make it more akin to a driver-assistance system, combining adaptive cruise control with lane-keeping, much in the manner of Tesla's Autopilot and technology commercially available from other automakers. Each truck will have a trained driver at the wheel, ready to resume control if needed.
The practicalities of greater autonomous activity on the highway rather than in cities isn't something that will only impact the haulage industry, mind. Earlier this week we took Cadillac's new Super Cruise technology for a spin, a system which allows completely hands-off driving though only on divided highways with designated entry and exit points. Cadillac had every mile of such roads in the US and Canada mapped with special LIDAR-equipped vehicles, building a high-resolution map which – in combination with onboard cameras and a higher-than-normal accuracy GPS receiver, allow the car to precisely position itself in the center of a lane. Cadillac will offer Super Cruise as an option on the 2018 CT6 luxury sedan later this year.
MORE Uber