Cadillac Super Cruise First Drive: Trusting the machine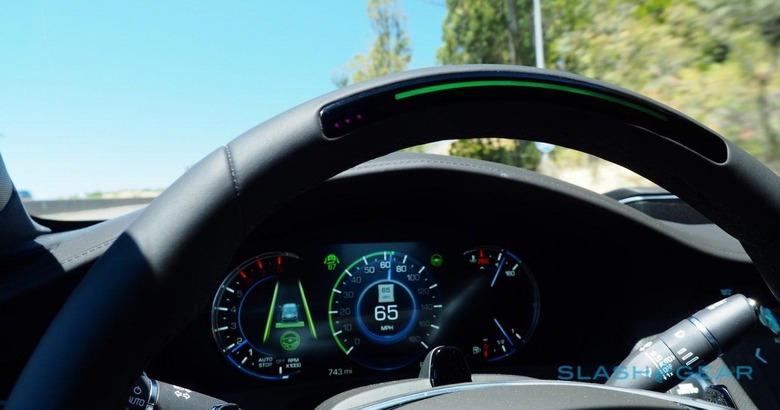 It was, conservatively, 90 seconds before I was satisfied Cadillac's Super Cruise semi-autonomous driving system wasn't going to kill me. By that point, a combination of cameras, super-accurate maps, and a fancier-than-usual GPS system were keeping me dead-center at 65 mph on California's 280, headed north toward San Francisco. As the CT6 eased its way around the corners, I spent a few moments considering that the car of the future apparently communicates not with the voice of Mr Feeny from Boy Meets World, but with a glowing green steering wheel instead.
At times, it seems like every car company – and every company tangentially related to the auto industry – is working on autonomous vehicles. If you're an car manufacturer, and you haven't set up a swish geek-lab in the Valley, you're almost guaranteed to get laughed out of whatever auto show you dare show your face at next. Self-driving cars, so the story goes, are the Next Big Thing. Your kids may as well ditch Drivers' Ed, since they won't need a license.
Problem is, while there's no shortage of hype around self-driving vehicles, there are plenty of people who aren't convinced that they're anywhere near reaching the market. The most ambitious estimates suggest some sort of retail availability by 2020 – there are plenty of naysayers about that, and other companies estimating 2025 or even later – and even then they're expected to be low-volume and limited-deployment. The tech may be getting better, but the laws and infrastructure have to catch up too.
That leaves us with semi-autonomous systems, for the most part effectively adaptive cruise control paired with active lane-keeping. Initially the preserve of expensive luxury sedans, they've begun trickling down into more affordable price brackets. Some of them – and I've tried most – are pretty darn good. That is, until they're not.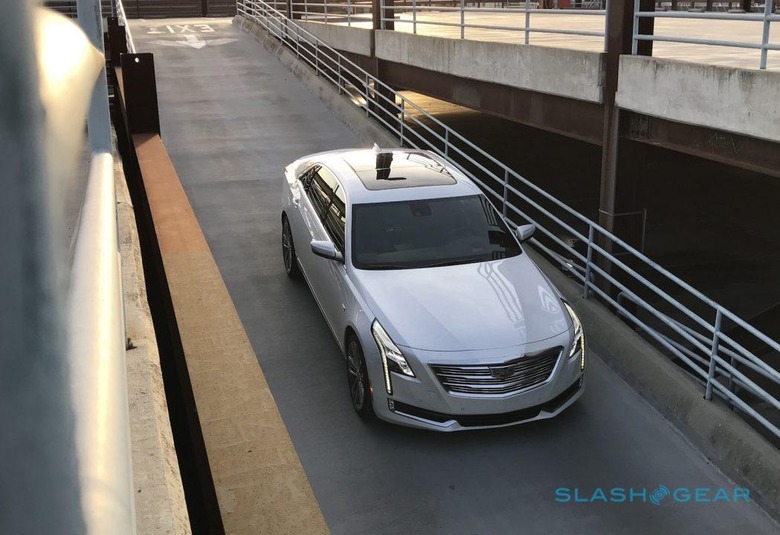 Lane-keeping that suddenly loses the lane. Radar-controlled cruise control that hee-haws and lurches as traffic moves around it. Sudden deactivations and disengagements. The momentarily bowel-loosening experience of the car deciding to give up on driving itself, and unexpected throwing the reins back to you.
I'm a geek, and a believer in the potential of autonomous driving, but I have limited patience – and trust – for most driver-assistance technology out there today. Even when they work consistently, I find it's oddly more stressful for me – my foot poised over the brake; one hand hovering near the wheel – than just driving on my own. That's why the speed at which Cadillac's system convinced me proved such a surprise.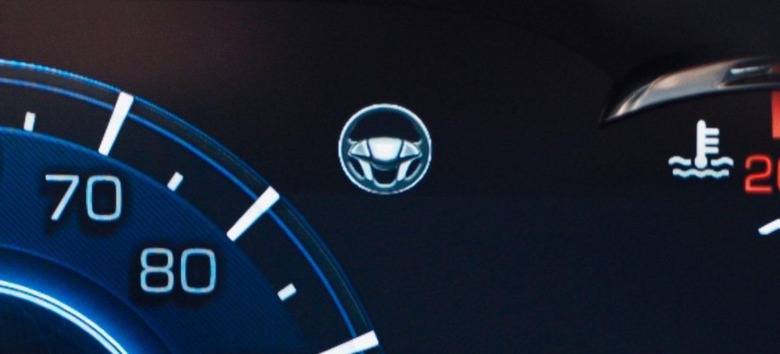 Super Cruise won't be commercially available until later in the year, but the automaker invited me down to Palo Alto to try out a pre-production version on public highways. It's been a major point of investment over the past few years for Cadillac, atop an aggressive product roadmap that, starting from the end of 2018, will see a new product launched every quarter until 2020. Once a byword for classic luxury, Cadillac's goal is to reinvent itself as "a more contemporary, progressive interpretation of luxury," Johan de Nysschen, president of the GM marque, explained.
Technology like Super Cruise "resuscitates our reputation, our heritage for innovation," de Nysschen argues. "I think that it's going to capture peoples' imagination. I think for many people, for whom Cadillac isn't at the center of their radar screen, I think it's going to open their mind as to what this brand is capable of."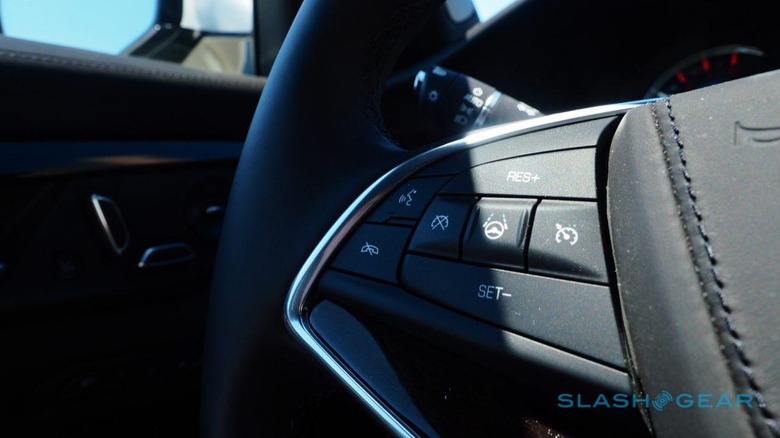 So just what is Cadillac capable of? Super Cruise starts from the existing adaptive cruise control, true, but it upgrades it to the point that the automaker – and their lawyers – are willing to describe it as "the first hands-free" system. While the adaptive cruise keeps pace with traffic ahead, Super Cruise handles the car's lateral movement within the lane.
They call it the "Blue Line" and it's basically the semi-autonomous equivalent of the groove a slot-car runs down. On the one hand, there are forward-facing cameras in the CT6 which track where the left and right lane markings are, and figure out an estimate of the center line and the car's current heading. On the other, there's a supercharged GPS sensor, 4-8x more accurate than what's typically fitted to a vehicle; that works hand-in-hand with a high-accuracy map which has details of road curvature, the number of lanes, where on- and off-ramps are, and any other pertinent information Cadillac has baked in.
Such a map didn't exist, and so Cadillac had to create it. In fact, it's had all the divided, limited-access highways with defined on- and off-ramps in the US and Canada scanned with LIDAR laser scanners, 160,000 miles down to a resolution of under 4-inches. The GPS checks the map while the cameras check the road, and if the two agree then the CT6 clings to the "Blue Line" like a train on rails.
There's an extra part to Super Cruise, though, and that's the attention tracking system. At some point, in every car with driver-assistance aids, the vehicle is going to want to check that the person behind the wheel is still paying attention. How they verify that, exactly, varies from manufacturer to manufacturer, but they usually demand the application of some sort of torque to the wheel, or contact with pressure or capacitive sensors embedded into it.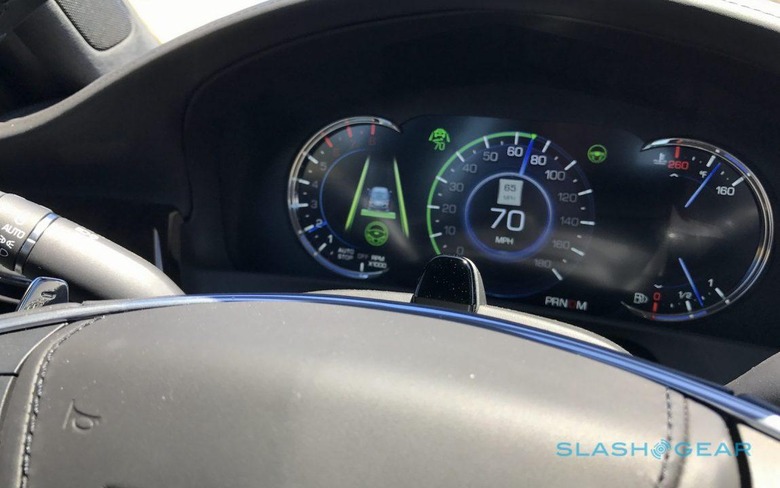 The result is an odd cycle of hover-tap-tug, as you periodically reassure the car that you are, indeed, awake and aware. In contrast, Cadillac's approach is completely hands-off. An IR camera mounted on the steering column watches the driver's face, tracking in which direction they're looking. Should you not pay sufficient attention to the road ahead, a light embedded into the upper portion of the steering wheel starts flashing. To reset that alert, all you need do is look back at the road.
"You and Super Cruise are partners," Barry Walkup, chief engineer on the project, explains, and the light bar is the system's primary method of communication. When you activate Super Cruise, it turns solid green. If you don't pay enough attention – a length of time which varies according to how fast you're going, so you get longer in stop-start traffic but less when you're cruising at speed – it flashes at you until you look. Continue to ignore the situation, and you get red flashing and a choice of seat vibration or warning chimes; eventually, Super Cruise disengages and the car coasts, albeit with the lane-keeping still active.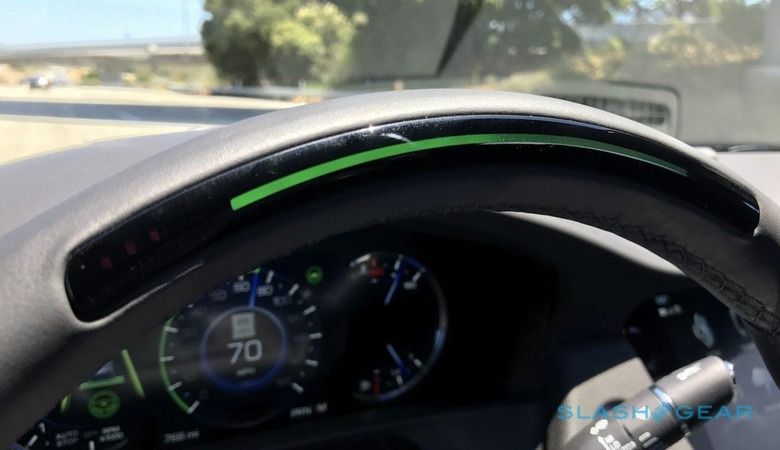 Finally – and Cadillac suggests this is most likely because of a medical or other issue which has incapacitated the driver – there's a loud, spoken "Please take control" warning and the brakes are applied. If you still don't react, the onboard OnStar connects an operator and can even provide the emergency services with the car's exact location.
Out on the road, nosing the not-inconsiderable CT6 onto Highway 280, I watch for the grey steering wheel icon in the digital instrumentation that means Super Cruise is available. It appears just as I'm pulling out of the slow lane, and when I press the Super Cruise button on the wheel, after a few seconds the light bar glows green. That's my cue to let go of the controls altogether.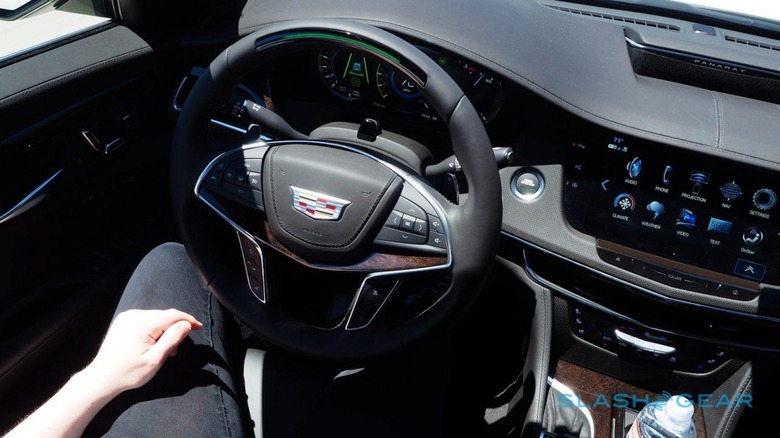 As the first corner approaches, I brace myself for the usual ping-ponging between the lines that I'm familiar with from rival semi-autonomous systems. Instead, the Cadillac simply sweeps imperiously around, dead-center in the lane. I look across to where one of Cadillac's engineers is sitting, watching my reaction, then catch the green blink of the light bar and immediately glance back at the road. My first instinct is to grab the wheel, or nudge it to prove my presence, but to Super Cruise my eyes are enough.
Less than a mile later, and I'm testing the attention-tracking system. Turns out, at 65 mph you can look away for about 5 seconds before the car demands your gaze. Later on, with the adaptive cruise set to 75 mph, I get about 4 seconds. Super Cruise will operate at speeds up to 85 mph, and in stop-go traffic at the other extreme.
However it also only works on certain roads: namely the divided, limited-access highways that Cadillac has had mapped. That's mainly down to just how predictable such roads are. There's no uncertainty around pedestrians or bicycles, and the system knows where vehicles will be entering and exiting.
It's also, Walkup says, where drivers report the most potential value is to be had. "Most customer benefit was going to be on the interstate system, particularly during their commutes," Cadillac's consumer research found. "You get some time back during your commute, and that's what people told us they want."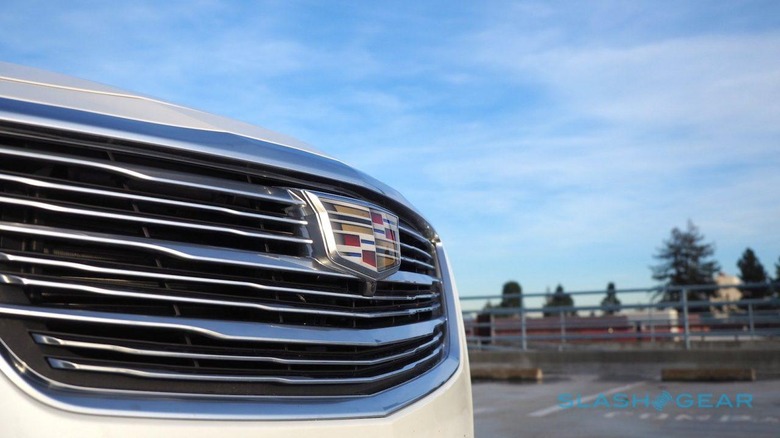 I can buy that. After the initial "the car is driving itself!" surprise, you quickly get used to the sensation, even blasé about it. I felt confident with Super Cruise in a way that I haven't with any other semi-autonomous system I've tried, and that comes down to how the car communicates its status with you, and how hands-off you can be.
The light bar – which also includes IR emitters, to light your face at night so that the attention camera can still see you – leaves you in no uncertainty as to what's going on. It's conspicuous enough that you're not searching through the instrumentation to find an icon or graphic. When you want to overtake, for instance, you take the wheel and turn; there's a little opposing torque, just to make clear you're assuming control, and the light bar turns blue. When you're safely into the right lane, after a moment's reacclimatization the bar goes green again, and you're free to let go.
"The system was designed to be hands-free, so there are mechanisms in place to make you feel comfortable letting go of the wheel," is how Pam Fletcher, Executive Chief Engineer of GM's Global Electric & Autonomous Vehicles, describes it to me. "All of these confidence factors that are in there: knowing you're on a road; knowing that this great system is capable of smooth, precise operation; knowing that if you're not checking in at a great enough frequency, it doesn't leave you to figure out 'is this working okay, am I checking in okay?'"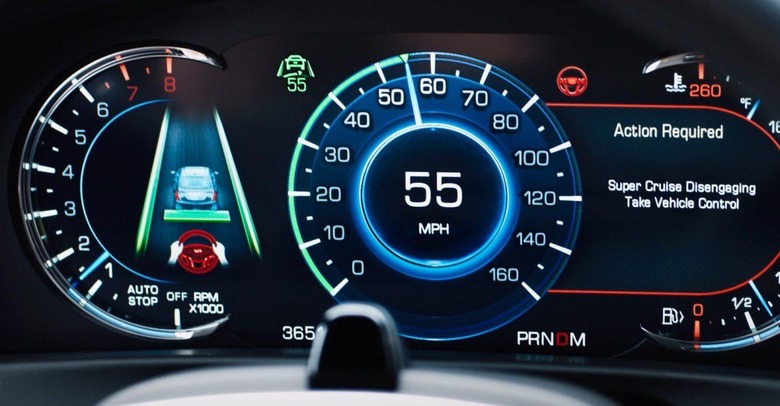 It's surprisingly liberating. During my miles on the 280, I only have one unexpected deactivation to deal with. The light bar goes red, and a warning message appears in the display notifying me I should resume control. There's an urgency to it, yes, but it's on the right side of panic. The CT6 didn't drift out of the lane, or suddenly slow. Hands back on the wheel, I wait a moment for the grey icon to reappear, then tap the Super Cruise button and the car takes over again.
If there's a system Super Cruise is reminiscent of – and will inevitably be compared to – it's Tesla's Autopilot. The two aren't exact equals: Autopilot will change lanes for you with the tap of a stalk, and can be activated outside of just highways. Cadillac, meanwhile, brings its LIDAR maps to the party, unlike Tesla which uses a combination of regular mapping and onboard sensors.
Cadillac prefers not to mention its rivals by name, but get the team talking about its relatively slow roll-out of Super Cruise and it's not hard to read between the lines. "You cannot even contemplate a scenario where you let your customers do your beta testing for you," de Nysschen says, when asked about expanding the system beyond highways. "Time will come when we're able to broaden it, but we'll decide when that time comes."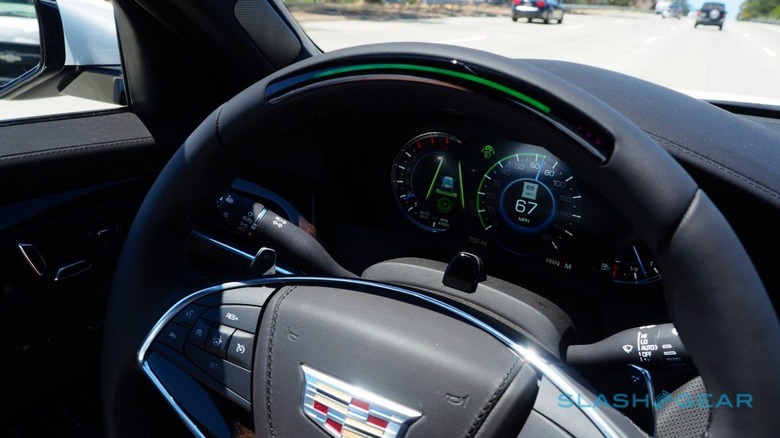 "GM is a titan in our industry. We're not a small player. And what GM does has a profound impact on changing the landscape," the Cadillac president argues. "If you are capable of changing the landscape, it also means you need to act in a responsible way. We are taking a very systematic, conservative approach to this technology. Because it's not only a matter of wanting to claim the marketing credits for innovation, but also transforming the landscape that lies ahead for full autonomy at some point in the future. Because it's not just a technological transformation, but a regulatory transformation."
Even so, Cadillac is counting on Super Cruise being a significant differentiator between it and other luxury automakers. Comprehensive dealer training is underway, making sure salespeople know just how to explain what's a fairly complex system, and the general feeling within the company is that Super Cruise is as important to the brand as a new engine might be. Meanwhile, how the technologies that enable it might also benefit GM's ongoing fully-autonomous projects is also under consideration.
"We look at this as very much a core technology, we developed this all in-house, ourselves, for our products," Fletcher points out. "With that, we continue to do what we think are the best, most intuitive systems that we can grow over time. We have a lot of autonomous projects going on."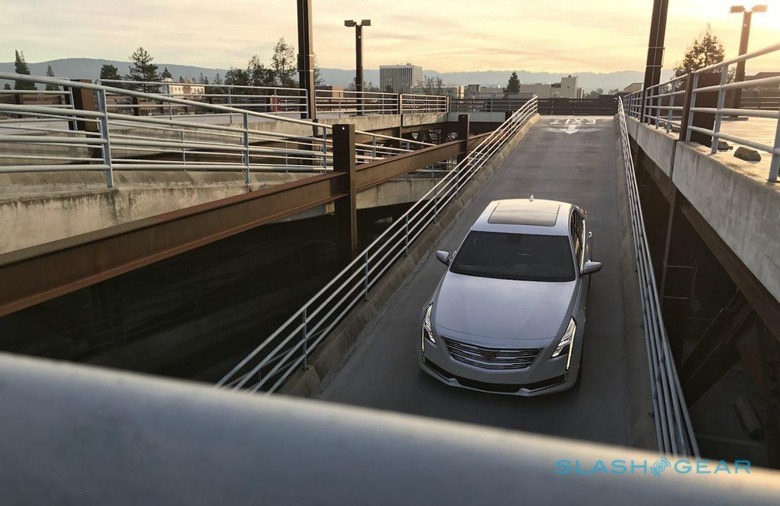 MORE: 2017 Cadillac CT6 Platinum AWD Review
Right now, one of the biggest questions remaining is just how much Super Cruise will cost. That's not been decided: it's looking likely that it'll be an option on the model year 2018 CT6, though for how much and whether it's part of an existing package are up in the air. The suggestion is that it will be well under the $5,000 that Tesla charges for Enhanced Autopilot, though, and while the CT6 is a niche model – Cadillac sold 1k of them in May 2017 – it's expected that Super Cruise will see a high take-rate among buyers.
Personally, were I in the market for a big, luxury sedan, and had a regular commute that saw me stuck on the highway for extended stretches, I suspect Super Cruise would be my pick of the driver-assistance systems. How much of a halo it'll represent for the brand depends on how well Cadillac communicates its advantages – and how many test drivers it can get behind the wheel. That'll kick off around October, when the first cars are expected to reach dealers.