2017 Cadillac CT6 Platinum AWD Review: Luxury, reinvented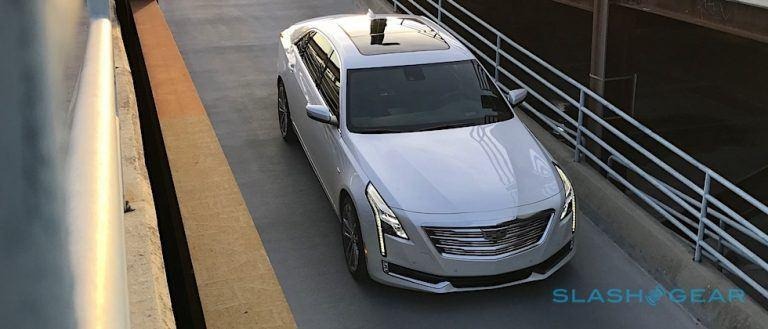 Cadillac could've followed its luxury rivals, but instead the 2017 CT6 rethinks its segment, injecting both sporting enthusiasm and style into an unabashedly tech-savvy sedan. Though GM's luxury arm has been making strides with its V Series over the past few years, charming fans of all-American muscle with potent four-door after potent four-door, the real challenge has been expanding from that niche and standing toe-to-toe with the best Germany has to offer. In top-of-the-line CT6 Platinum AWD form, they've succeeded.
The CT6 is, to my eyes anyway, the best looking car in Cadillac's current line-up. Its front is a particular success, with the broad, sculpted grille looking suitably imposing though less fussy than some earlier iterations. Cadillac's designers apparently made a conscious decision to move away from the more overt creases and slashes of previous cars; the result is something that can happily go up against the E-Class and 5 Series. Distinctive and tasteful, but sharp with it.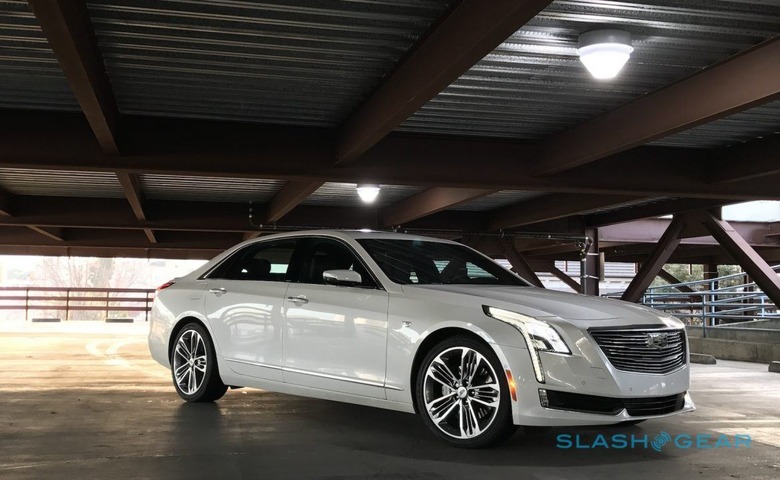 In terms of pure measurements, the CT6 actually falls somewhere in-between E- and S-Class dimensions. That's also intentional, and it adds up to more interior and trunk space than you might expect. A liberal use of aluminum keeps the curb weight down: it's less, even, than the automaker's smaller CTS.
As a result, it doesn't feel like a vast white whale on the road. Indeed, even though Cadillac eschews a V8 in favor of the 3.0-liter twin-turbo V6 – for now, at least – there's no shortage of either power (404 HP and 400 lb-ft. of torque) or refinement. In Tour mode – the CT6's take on what other cars might call "Comfort" – the magnetic ride control is supple and the engine note restrained. The eight-speed transmission slicks discreetly through its ratios, and the whole thing is quiet.
Hit the button to flip to Sport mode, mind (there's also an Ice/Snow mode, though I didn't have cause to test it) and things get much more interesting. The CT6 isn't going to impinge on Cadillac's sublime CTS-V, but things definitely get more enthusiastic. Active rear-wheel steering helps keep cornering tight – Caddy uses it instead of brake-based torque vectoring – and the transmission is eager to keep the engine away from any turbo lag. Though you never forget that this is a big, luxury vehicle, it certainly doesn't handle – or, indeed, lack the willingness to surge forward when faced with a heavy right foot – like one.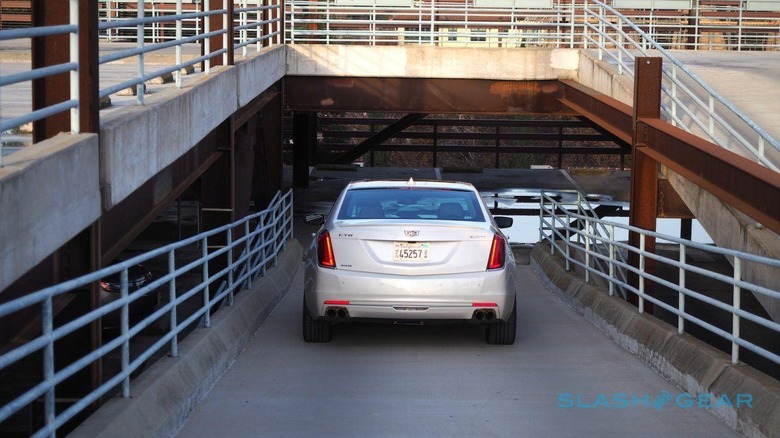 Cadillac scores serious geek points with its technology suite, too. There's the latest iteration of its CUE infotainment system splashed across a vast, 10-inch touchscreen in the dashboard, plus a separate 12-inch color display for the driver. The former supports Apple CarPlay and Android Auto, while the latter shows a variety of digital gages and, when it's dark enough, the view from the forward-facing night vision camera, complete with pedestrian detection. People on foot are automatically flagged up within warning frames, lest you miss their ghostly forms.
It's not the only extra camera, either. The interior rear view mirror is also a display – it shows a feed piped through from the rear of the car, uninterrupted by whoever might be sat in the back seats – or, with a switch underneath, you can flip back to regular mirror mode. 360-degree surround vision cameras give a birds-eye view when reversing, but can also record footage to an SD card for security. If you need help parking, the various sensors include proximity warnings and park-assist to steer you in or out of a spot.
Bose's Panaray sound system has 34 speakers – the one you notice is the motorized center speaker that lifts out of the dashboard – and sounds incredible. At the same time, two flat-panel displays rise out the front seat-backs for the rear passengers; they can play DVDs or, courtesy of an HDMI port in the rear center armrest, any other source you might want to plug in. That includes a Chromecast or Fire TV Stick, which can hook up to the CT6's 4G LTE-powered WiFi hotspot for streaming.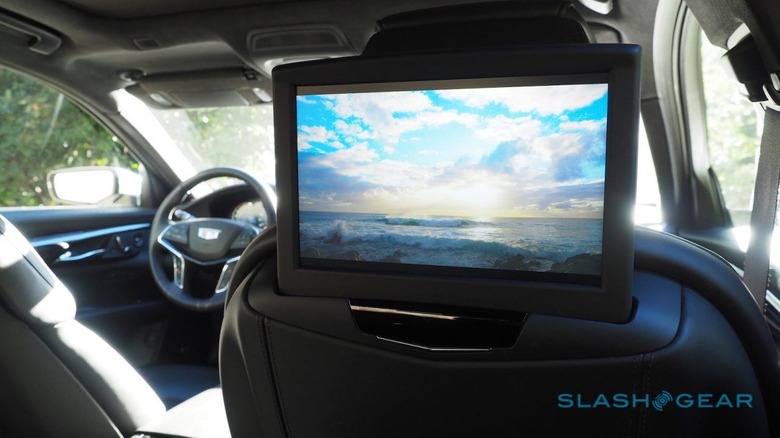 Even then the list doesn't end. The front and rear seats have power adjustment, heating, cooling, and massage; the steering wheel is heated too, and there's four-zone climate control with an ionizing air filter. Qi wireless charging for your phone is included in the front center console, and the driver gets a head-up display, lane departure assistance, blind-spot monitoring, adaptive cruise control, auto braking, and rear cross traffic alerts. USB ports for power are sprinkled liberally, and there's a regular US outlet in-between the rear seats for your laptop, too.
Of course, it'd all be for naught if the CT6 was an uncomfortable place to be, but thankfully that's nowhere near the case. Even if you ignore the surfeit of gadgetry, it's a deeply pleasant cabin, whether you're in the front or the rear. Cadillac's seats have just that right balance of support and squish, and though those in the back don't lie back fully – or indeed give you a pop-out footrest as you might find in an S-Class – they're more than flexible enough for the typical executive rump.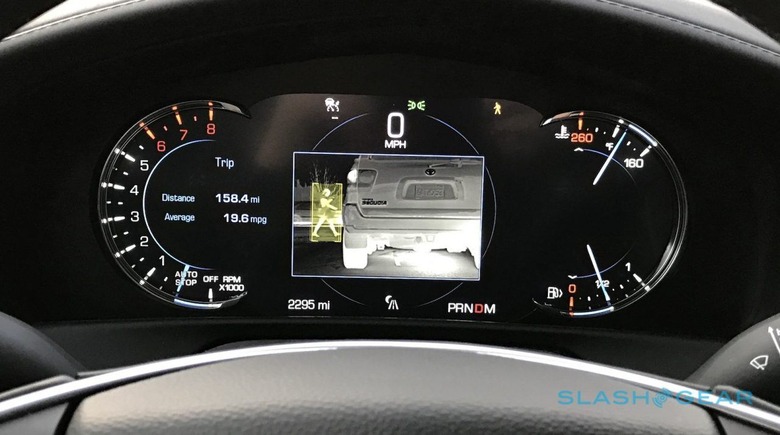 It would be a shame were the CT6 related to mere limo status, though. Its eagerness to drive and its lightweight aluminum construction place it in an interesting niche, arguably similar to where BMW positioned its sports-sedans a couple of generations ago. I'm not just talking about escaping the stereotypical Cadillac wallow, but taking the poise that enthusiasts know to expect from the V Series and making it more mainstream.
While the CT6 line-up starts at under $54k, the CT6 Platinum AWD isn't a cheap car, though all of the technology comes as standard for its $87,495 price. Indeed, the only options added to this particular example are the 20-inch "Midnight Silver" wheels – a $2,095 extra – the $500 Crystal White paint, and a $495 spoiler kit. With the $995 destination charge, you're looking at $91,580 in all.
That puts it among some well-esteemed company. An E-Class AMG E43 starts at $72,400, though the distance between the two in price quickly narrows when you try to bring the trim in line; an S550 starts just a little above the CT6, at $96,600, but figure on a healthy six-figures to spec it comparably to the Cadillac. If your tastes are more along the lines of Audi or BMW, mind, each offers several options.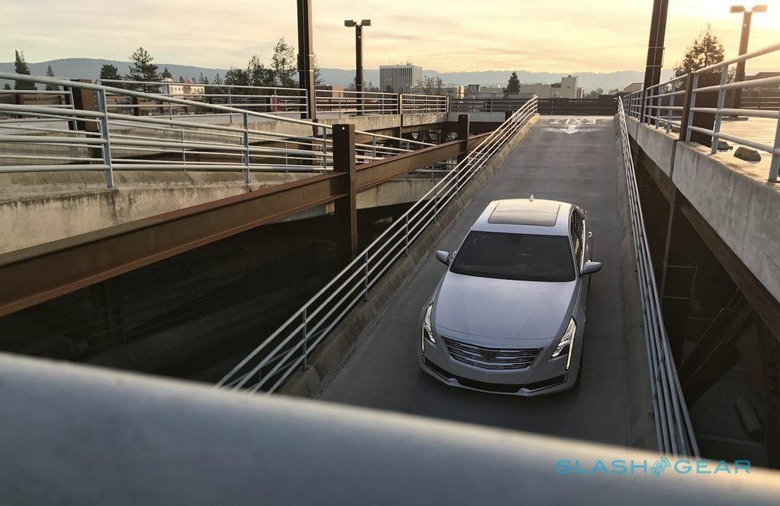 Really, though, Cadillac scores simply by virtue of being in strong contention with Germany's finest. Make no mistake, the CT6 – at least in this Platinum AWD form – punches high and strong. It'll inevitably be a fairly rare sight on the roads, too, since its more established rivals are undoubtedly going to be the first port of call (dare I say the unimaginative one?) for many buyers in the segment.
Life rewards you for thinking differently, though, and in the past couple of years we've seen some genuine alternatives to what once was the de-facto luxo-barge cohort. Much as the Volvo S90 succeeds in its niche by offering a singularly Swedish approach to luxury, the CT6 appeals in the category above because it packages sport-sedan enthusiasm with legitimately impressive technology, without compromising on cosseting in the process. Not everyone will necessarily be swayed, but enough will that it's undoubtedly another successful step on Cadillac's road to complete reinvention.