Uber and Volvo's self-driving cars are in California purgatory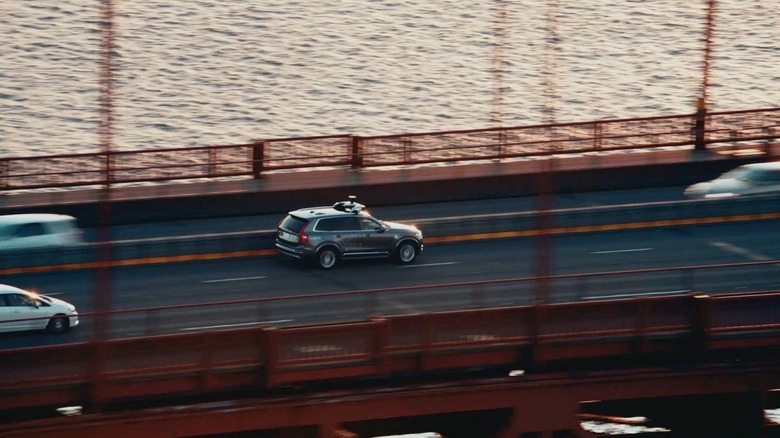 Uber's self-driving cars have been strong-armed off the road, with the California DMV yanking the vehicles' registrations after the ride-sharing firm refused to apply for proper permits. The fleet of sixteen customized Volvo XC90 SUVs had courted controversy, after Uber first set them loose in San Francisco without bothering to secure autonomous vehicle licenses, then refused to concede to the DMV's demands to freeze the trials. It leaves Uber's self-driving project – and indeed the plans Volvo has for autonomous vehicles – in potential disarray.
Uber's real-world trials were controversial from the start. Anthony Levandowski, Head of the Advanced Technology Group at Uber, announced the San Francisco phase of the project with a pre-emptive defense, indeed, of the company's decision not to go the regular route with the California DMV. That, Levandowski said, was because of the inconsistencies Uber saw between what the Department of Motor Vehicles judges to be "autonomous" and what Uber considers "self-driving."
Since Uber's fleet would be monitored and supervised by a human in the driver's seat, so the argument went, the cars wouldn't actually be fully autonomous. That, Levandowski insisted, meant it didn't need to apply for a California autonomous car permit, something twenty other companies – including Google and several mainstream automakers – have done. "[The] rules apply to cars that can drive without someone controlling or monitoring them," the engineer wrote. "For us, it's still early days and our cars are not yet ready to drive without a person monitoring them."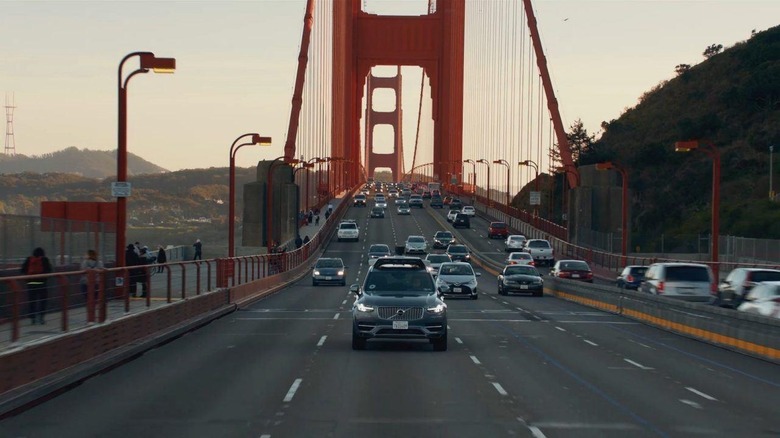 The DMV did not agree, and gave Uber an ultimatum to put the project on hold while it applied for the necessary permits. Some in the industry suggested that, rather than being a matter of not thinking the cars were covered by the licensing requirements, Uber's stance was more one of trying to maintain secrecy. Part of the DMV's demands for autonomous trials is that participants report any incident a self-driving vehicle is involved in – no matter the fault – as well as submit yearly reports detailing every case where the systems disengaged and human drivers take over.
Given, in just the first few days of activity, Uber's autonomous fleet was spotted running red lights, cutting off cyclists, and breaking other road rules, that report could have ended up being considerable. Adding weight to the calls to ground the vehicles, cycling advocates in the city alleged that Uber knowingly began the project while it was unable to safely deal with certain junctions where bike lanes were present. That, they claimed, put bike users at such risk that Uber had agreed to have the human drivers take over at every such maneuver.
Even that caution wasn't sufficient to placate the DMV, though, and the agency took the only real option it had left: tearing up Uber's registrations for the sixteen SUVs. "Consistent with the department's position that Uber's vehicles are autonomous vehicles, the DMV has taken action to revoke the registration of 16 vehicles owned by Uber," the agency said in a statement. "It was determined that the registrations were improperly issued for these vehicles because they were not properly marked as test vehicles."
Uber's next step is unclear. "Concurrently, the department invited Uber to seek a permit so their vehicles can operate legally in California," the DMV said, though it's uncertain whether that's something Uber is ready or willing to do.
"We're now looking at where we can redeploy these cars, but remain 100-percent committed to California and will be redoubling our efforts to develop workable statewide rules," an Uber spokesperson said.
It also leaves Volvo's involvement in a confusing place. When the trial initially launched, the automaker was clear to point out that the hardware and software Uber is using for the self-driving aspect of the cars is of the ride-sharing company's design; Volvo provides the "specially converted" vehicles to Uber, which installs the autonomous tech itself. Still, Volvo has a not-insignificant financial stake in the project.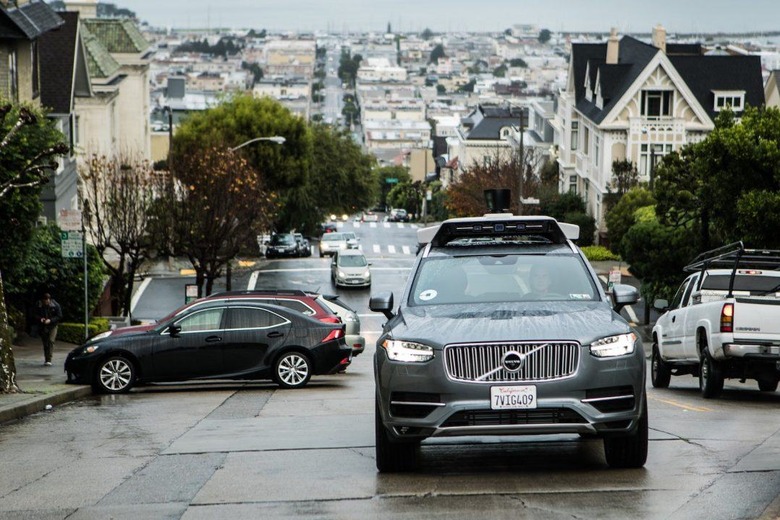 "The base vehicles are manufactured by Volvo and then purchased from Volvo by Uber," the Swedish company said at launch. "Volvo Cars and Uber are contributing a combined $300m USD to the project. Both Uber and Volvo will use the same base vehicle for the next stage of their own autonomous car strategies."
Volvo has previously said that it intends to use driver-assistance systems such as piloted driving to help end fatal accidents involving its cars by 2020. The deal with Uber was described as a way to cut development costs in co-developing a base vehicle for autonomous driving, among other advantages. Notably, Volvo is the only automaker to commit to accepting liability for autonomous accidents involving its cars running its own software and systems.
Update: Volvo's Jim Nichols, technology and product communication manager, tells us that Uber's California headaches won't have an impact on its own autonomous driving program. "Our role is in the engineering of the vehicles with Uber," Nichols says. "How and where they are tested are up to Uber, as are interactions with regulators and state agencies. Uber's interactions with CA do not have any impact on our DriveMe project, which is moving forward on schedule. We are developing our own AD software with our partnership with Autoliv, which will be used in our DriveMe project."
While Uber's Levandowski made a solid point in his original commentary about the San Francisco trial, arguing that "complex rules and requirements could have the unintended consequence of slowing innovation" in certain US states, even autonomous driving enthusiasts might find the company's gung-ho approach too risky. With so many variables in the technology – down to what's truly considered "self-driving" and what isn't – a framework to protect other road users seems essential. Without it, the route to better legislation and cross-state compliance could encounter even more roadblocks.