Twitter for Android tablets appears limited to Galaxy Note 10.1 2014 (for now)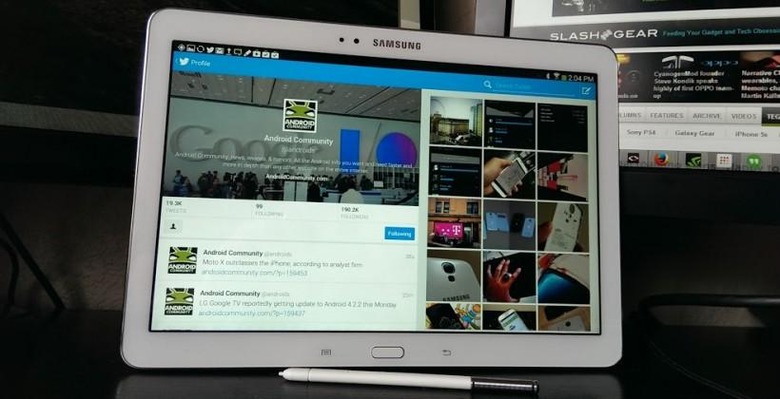 The Samsung Galaxy Note 10.1 2014 Edition is currently the subject of a score on the part of Samsung with a deal with the developers responsible for Twitter, receiving the first big Android tablet-based update to the app as an exclusive. It's unknown how long this particular update to the app will be limited to the Galaxy Note 10.1, but it's possible that it'll be out in a matter of weeks – at the moment, Twitter's release suggests it'll be out "by the end of the year."
This update allows you to work full-screen with a more optimized Twitter experience for Android than ever before. With Multi-screen view, you'll have the ability to see a browser window on one half of the screen and Twitter on the other – it's not clear at the moment if Twitter intends to somehow bring this functionality to other tablets by the end of the year, or if it'll be restricted to the unique ability set of the Galaxy Note 10.1.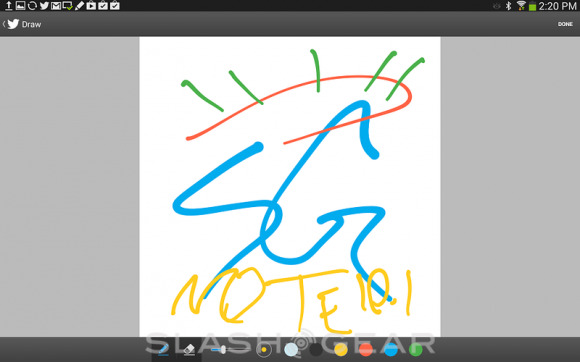 Twitter has a new ability to illustrate in Tweets, here made extra applicable with the Galaxy Note 10.1. Here you'll have super simple pen sizes and color choices and instant transmission to tweets – like what you're about to see here:
Twitter update for Android tablets coming your way. @slashgear pic.twitter.com/8GXyeBo9ro

— t_chrisburns (@t_chrisburns) October 10, 2013
There's a new Twitter Widget in the mix here, allowing you to see a "personal experience" of suggested tweets from Twitter based on your normal feed. At the moment we're seeing tweets from both people we follow and users we've never heard of before. This app opens up tweets directly to the Twitter app.
As you wait for this update to the Android app – available through the Google Play app store as soon as its ready for tablets of all kinds – you may want to have a peek at our review of the Samsung Galaxy Note 10.1 2014 Edition as well. This tablet was just released to the public today here in the United States, and this is your opportunity to get (digitally) up close and personal with it before you see it in real life.