Twitter #FirstTweet turns back clock for 8th birthday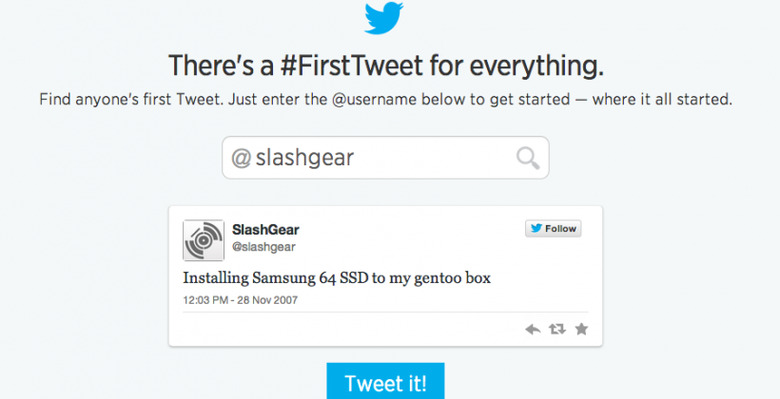 Twitter turns eight this week, and the social messaging service is going back in time to celebrate, helping users find their very first tweet. The #FirstTweet tool does one thing very easily: checks your Twitter username and then shows you the very first message you posted, giving you the opportunity to then retweet it or – if it's embarrassingly socially-naive – ignore it and hope nobody else spots it.
It's a neat trip back in time, though many messages run along the lines of "So, what's this Twitter thing all about, then?" unsurprisingly.
That confusion about the use of 140 characters has abated as Twitter reached further into the mainstream, particularly as a way for TV shows and news channels to quickly poll public opinion. Soon, there's the possibility of more control over what replies and mentions you see, with Twitter said to be looking at ways to hide certain messages.
Even with limited space for letters, there's still plenty of data to be parsed from a tweet. One service claims to be able to use Twitter as a lie-detector, figuring out whether a statement is fact or not in real-time, for instance.
Meanwhile, the amount of information people are willing to share has made Twitter's databases a potential treasure trove for governments. The company announced its latest Twitter Transparency Report back in February, detailing exactly how many requests to hand over data it had received.