Toyota Android Auto support finally arrives on these models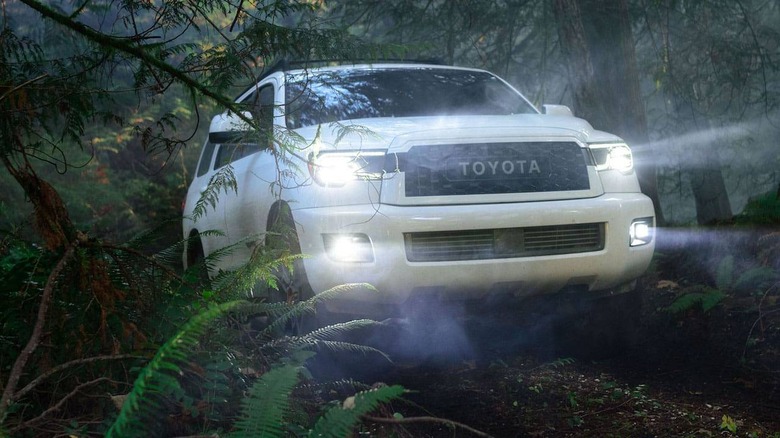 It's taken a bizarrely long length of time, but Toyota is finally adding Android Auto to its cars and trucks – assuming you have the right model, that is. The automaker made the quiet announcement alongside the far more brash reveal of the 2020 Toyota Sequoia TRD Pro at the Chicago Auto Show today, with the new utility being among the first to feature Google's smartphone projection interface.
It's fair to say that Toyota took a somewhat cautious approach to smartphone interface technologies in its vehicles. The automaker only began adding Apple CarPlay support in early 2018, with the Toyota Avalon the first to get the iPhone system.
However Android Auto remained unobtainable for Toyota drivers. The reason, execs at the automaker insisted, was that it needed extra reassurance around factors like data privacy from Google. Still, by the end of last year there were suggestions that it was all a done-deal, and Android Auto would be arriving come 2019.
Now we know that's the case, though you should give up on any hope that your existing car will get an upgrade to support projection from your Pixel 3, Galaxy Note 9, or new Motorola G7. Instead, Toyota will add Android Auto as part of a new infotainment system: the 2020 Sequoia TRD Pro will be the first to get this new, upgraded system with Android Auto, Apple CarPlay, and Amazon Alexa support.
That will be shared across the TRD Pro family, with either 7-inch or 8-inch touchscreens. In total, Toyota says today, the 2020- 4Runner, 2018- Aygo, 2020-Sequoia, 2020- Tacoma, 2020-Tundra, and the 2019- European Yaris will be getting Android Auto support.
There's likely to be additions to that list over time, of course, as Toyota updates popular models like the Corolla, Camry, and RAV4. However it seems there's no luck for those with existing Toyota cars: it'll only be new vehicles that get the functionality. As yet, there's been no news from Lexus as to which of its models might be upgraded with the new system.
It's good news, then, albeit tempered by the fact that you need to buy a new car if you want to get in on the action. Toyota hasn't confirmed pricing or availability for the 2020 Sequoia TRD Pro – or indeed the updated versions of the other members of the TRD Pro family – though we'd expect to see them filter into dealerships around spring or summer this year.