Toyota All-Wood Setsuna Concept To Appear At Milan Design Week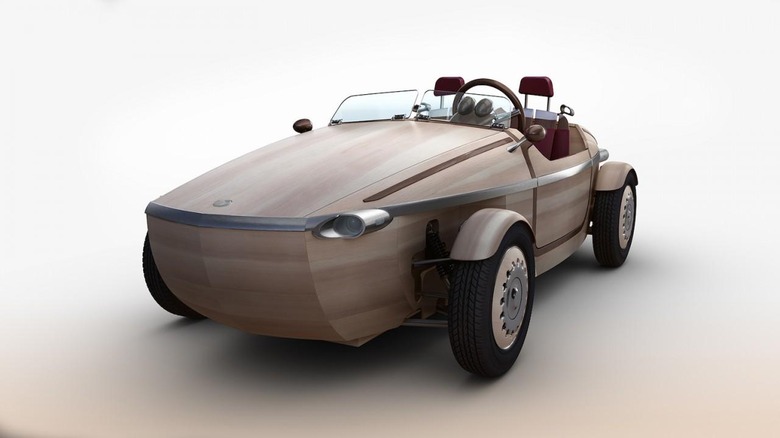 Japanese car makers have been on a roll lately with concepts or art projects that combine their vehicles with unusual materials — Lexus made a car entirely out of cardboard, then another had wheels made of ice, while Nissan went with a life-size origami model. Now it's Toyota's turn, and they're not coming up short. They've just announced their Setsuna concept, a car made from wood, which will be revealed at Milan Design Week in April.
The open top two-seater is probably not a concept in the sense that a real car will be produced with this design, but rather a piece of art meant to demonstrate Toyota's philosophy and engineering practices. And the Setsuna sure is an impressive piece of engineering.
Toyota explains that Setsuna, which means "moment" in Japanese, is meant to serve as a reflection of the fleeting moments people have with their cars. Different types of wood were used to make different parts of the car, and among the material's traits are that it will change colors and textures as time goes on, similar to how cars undergo gradual transformations.
But the aesthetics of the Setsuna go beyond just the material that was used, as the use of traditional Japanese craftsmanship is also important. Kenji Tsuji, the engineer that oversaw the project, says his team made use of the technique called okuriari, which involves joining pieces of wood without the use of nails, screws, or glue. Because of this, Toyota imagines the car could last for several generations if taken care of.
The wooden car also features an electric motor, although Toyota didn't provide specifics on things like battery range or powertrain. The exterior panels are made with Japanese cedar, while Japanese birch was used for the frame, explained Tsuji. "We evaluated various ways to express the concept and selected different lumber materials for specific applications... We also paid particular attention to the sizes and arrangements of individual parts."
Toyota will be displaying the Setsuna at next month's Milan Design Week in Italy, where hopefully we can get a better look at the concept with more photos than the single image they've released here.
SOURCE Toyota