Toshiba Thrive Review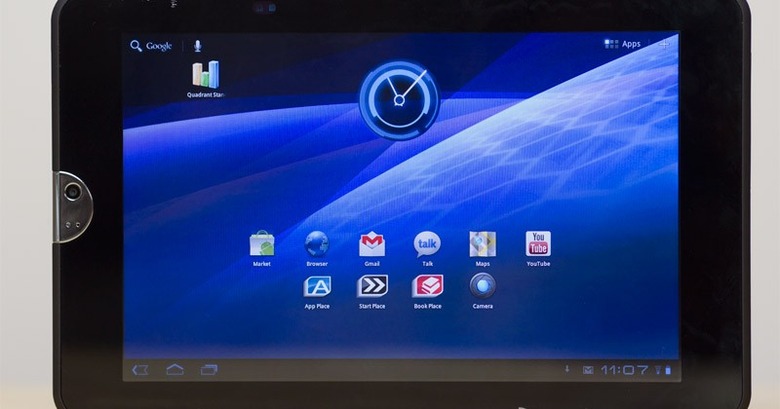 The Toshiba Thrive isn't a sexy tablet. It's plump, homely, a little bit awkward, and although smart and supportive, you won't be showing it off much to your buddies. But if you're reading this review, you probably already know that. You're considering the Toshiba Thrive because you see past a pretty exterior and a tight slender body. You want great specs inside, a good clean install of Android 3.1 Honeycomb, ample full-sized ports, and a swappable battery among other unique features.
Hardware
When most tablets are feeling the pressure to be thin and light, the Toshiba Thrive balks at the trend, choosing individuality instead with a weight of 1.66 pounds. Although this surpasses the Motorola XOOM and the HP TouchPad by just 0.06 pounds, it does put the Thrive at top of the heavyweight list. To make matters worse is the bulk. The Thrive measures 0.62 inches thick, almost double that of the Apple iPad 2 and the Samsung Galaxy Tab 10.1. However, on second thought, this thickness plus the textured rubbery backing do make it more comfortable to grip compared to even a slightly lighter tablet with a much slimmer profile.
The Thrive has a 10.1-inch display with a 1280 x 800 resolution and a 16:10 aspect ratio. This makes it just a tad narrower than the iPad 2 and a bit longer. Display quality is excellent with wide viewing angles as you'd expect from an IPS panel. In landscape orientation, the widescreen works nicely for viewing movies but makes it a bit unwieldy when attempting to hold in one hand and navigate the interface with the other. But more often than not, it'll be spending time on your lap, on the table, or on a stand, unless you're intentionally trying to give your hands and wrists a good workout.
Inside, the Thrive has a 1GHz NVIDIA Tegra 2 dual-core processor, 1GB of RAM, and three options for onboard flash memory: 8GB, 16GB, and 32GB. This brings us to one of the Thrive's strengths, which is the full-sized SD card slot that supports SD, SDHC, and SDXC, meaning storage is expandable by up to 128GB. That's especially convenient if you already own several SD cards used for your digital cameras. Transferring photos on a vacation would mean simply plugging in your SD card to the Thrive eliminating the need for a card reader or to haul your laptop.
The Thrive sports camera specs similar to the Motorola XOOM with a 2-megapixel front-facing camera and a 5-megapixel rear-facing camera capable of 720p HD video capture. However, unlike the Motorola XOOM, the Thrive lacks the dual-LED flash, or any flash for that matter, rendering its cameras useless in low light conditions.
Some annoyances with the Thrive besides the bulk are the three LED indicator lights on the front for power, battery level, and Wi-Fi connection. They are rather unnecessary and distracting. Sound quality is average, slightly tinny, and on the quiet side despite the stereo speakers—not deserving its own paragraph of praise that's for sure. The power button and volume rocker are a bit hard to press, although this helps prevent accidental impressions.
Below is the unboxing and hands-on video posted previously.
[vms 4874304911625ac34321]
Connectivity and Battery
The Thrive's connectivity and battery is where it really shines. Like no other tablet, it throws in a full-sized HDMI-out and a full-sized USB 2.0 port in addition to the common mini-USB port. The full-sized USB port gives the Thrive an almost laptop-like functionality allowing you to attach hard drives, flash drives, keyboards, and other accessories you normally wouldn't be able to on a tablet. It also has the standard support for Wi-Fi and Bluetooth.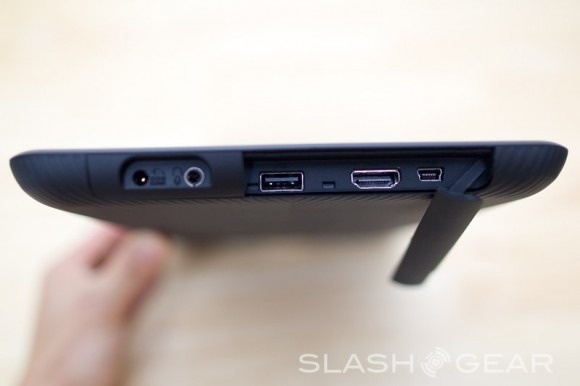 The swappable battery is another standout feature that allows you to replace the battery yourself if needed or to keep an extra in tow. You can purchase an additional 2030mAh battery from Toshiba for $80. It's rated for up to 11 hours, although our usage alotted us about 6 hours.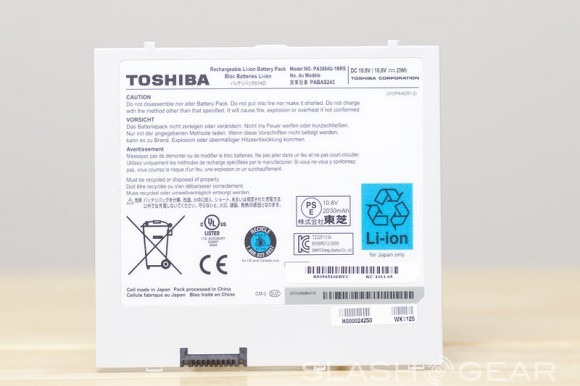 The Thrive can also run without the battery when it's plugged in. Its power cable, however, is reminiscent of a laptop cable complete with a power brick that will surely be a pain to travel with and is quite the opposite from the lightweight charging cables we're used to seeing with other tablets.
To get to the battery, you will have to remove the back cover, which is a bit tricky. On the top edge of the tablet there is a locking switch for the cover. Once unlocked, the best way to pry it free is to dig your nails into the two speaker slots, using your thumbs and forefingers to separate.
The removable back cover can also be swapped for 5 other color options, including Silvery Sky, Blue Moon, Raspberry Fusion, Lavender Bliss, and Green Apple. They retail for $20 each.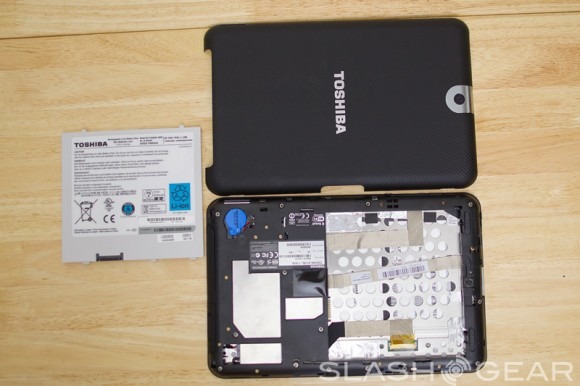 Software & Performance
The Thrive gets extra points for having stock Android 3.1 Honeycomb without any customized Toshiba interface running on top. This not only means unhindered Android performance, but also faster updates in the future. You can check out our Android 3.1 Honeycomb review to learn more about what you can expect from this version of the platform.
We ran the Vellamo Mobile Web Benchmark, which tests browser performance and stability in the areas of JavaScript, rendering, networking, and user experience using pixel manipulation, blending, page download, reload, cache performance, WebKit, SunSpider, and the V8 benchmarking kit from Google. For user interface and experience, it uses multiple scrolling tests and sample web pages. The Thrive scored a 968, putting it just ahead of the Samsung Galaxy Tab 10.1 also running Android 3.1 Honeycomb. In particular, the Thrive performed better in the areas of rendering and networking.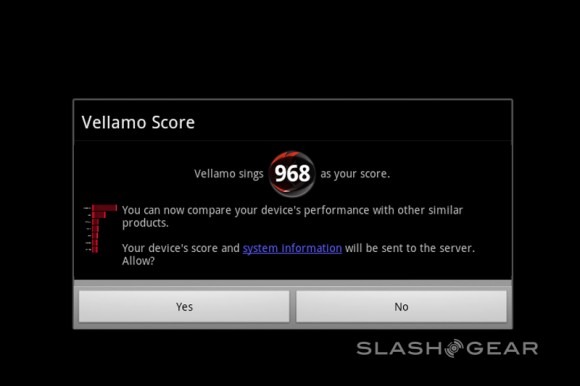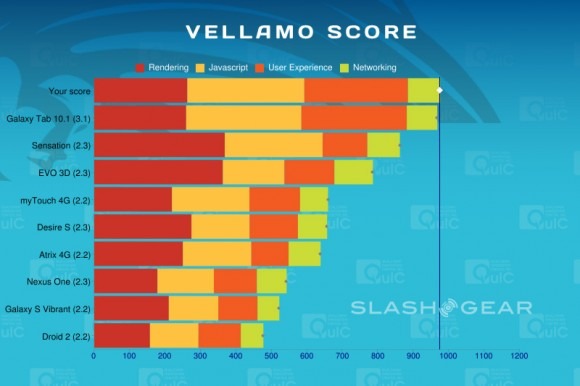 We also did an additional Quadrant benchmark for good measure, although the lack of a tablet in the comparison results isn't quite as informative. Perhaps more useful is the SmartBench results below that also include the stats for other Android 3.1 Honeycomb tablets such as the ASUS Eee Pad Transformer and the Samsung Galaxy Tab 10.1.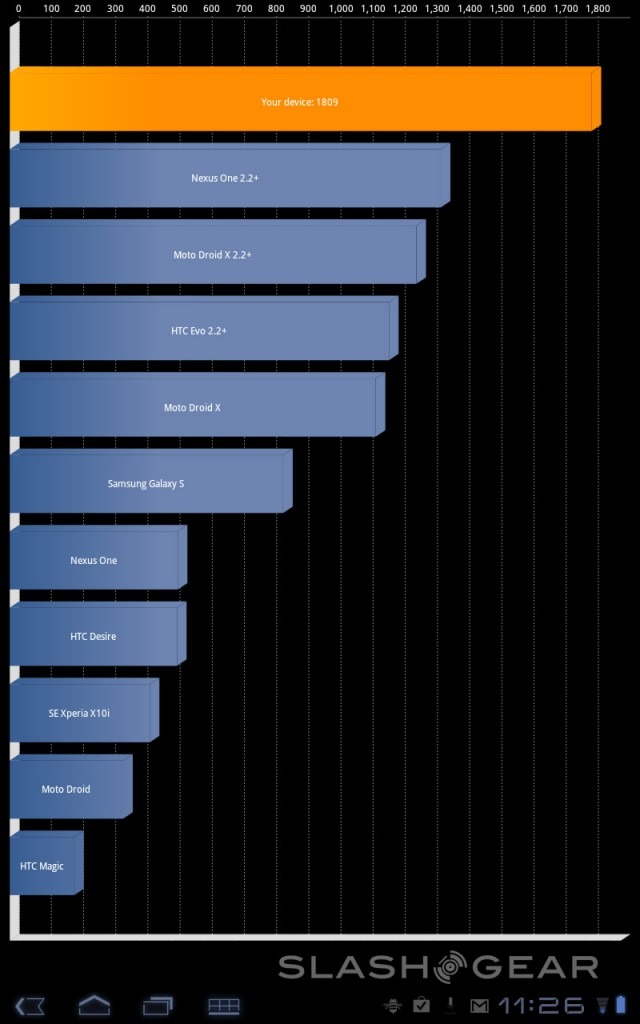 The Thrive does come with some custom Toshiba apps including a Toshiba File Manager, which is an intuitive and convenient Windows-style file management system that lets you see and access all your files in one location. You can easily switch between viewing files on the Thrive from those on the inserted SD card or those on an attached USB device. Moving single or multiple files from one storage location to another is also very simple. Below is a quick demo.
[vms 69b1c6bc8a07e38e78fa]
Wrap-Up
If you're considering the Toshiba Thrive, you must really desire some full-sized HDMI and USB ports along with a full-sized SD card slot and a swappable battery on a tablet form factor because that's what sets this slate apart and makes up for the extra bulkiness. Another reason you may be interested in the Thrive is that you can get an Android 3.1 Honeycomb tablet with premium specs at a very competitive price. The 8GB model retails for $429.99, the 16GB model for $479.99, and the 32GB model for $579.99.
Its obvious weakness is the bulk but its design choices don't help either. Chrome accents around the camera are a bit tacky and the LED status indicators were better left behind for its laptop cousins. The back cover design is sort of neat with a rubbery feel, interchangeable colors, and a groovy pattern. But at the same time, it makes the tablet feel plasticky.
Futhermore, it seems as though the Toshiba Thrive is, in its own strange way, attempting to straddle the line between a laptop and a tablet. But is it the best or worst of both worlds?
It delivers the connectivity options and battery replaceability of a laptop, but also the undesirable chunkiness and brick-style power cable. Productivity-wise, it's still not nearly as functional as a small laptop if you seriously plan on getting some work done. Laptops are also less awkward to use with screens held up by hinges, creating less strain and fatigue on your hands and wrists. But then if the Thrive is used as just a tablet for media consumption, it's too unwieldy and unnecessarily bloated.
Either way, the Thrive is a unique option when it comes to your tablet purchase and will have a warm place for some of you out there. It reminds us of what's nice about the Android platform, and that's options. You can have the sexy runway Samsung Galaxy Tab 10.1 starved of ports or the homely Toshiba Thrive ready to support more of your needs.
[device id=567]