Toshiba TG01 official launch on July 9th: SlashGear will be there!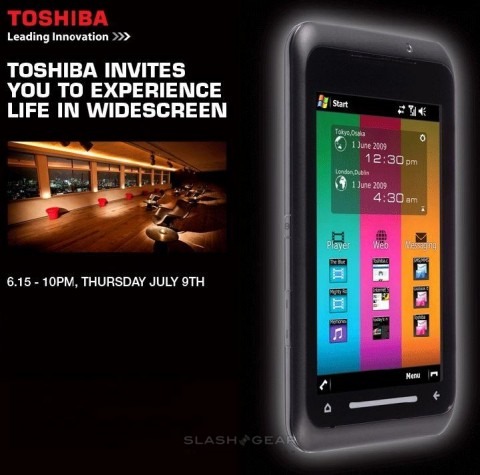 It's been almost five months since Toshiba first revealed their TG01 Windows Mobile smartphone, and now the company has invited us back to London on Thursday July 9th for what we're assuming is the handset's official release.  Set to go on sale in Germany and Japan imminently, the TG01 has a vast 4.1-inch WVGA 800 x 480 touchscreen, 3G UMTS/HSPA, WiFi, A-GPS and Qualcomm's 1GHz Snapdragon chipset running the show.
Despite all that, it measures just 9.9mm thick, something of a record for Windows Mobile devices.  Toshiba have created their own UI to sit on top of WM6.1, but the TG01 will also be compatible with Windows Mobile 6.5 when that's released.
You can find our hands-on gallery here, together with our video demo of the TG01 here.  Toshiba promised availability over the Summer, which certainly fits in with both this event, so we're also hoping to hear just how expensive the TG01 will end up being.  Join us on Thursday July 9th for all the news; the show kicks off at 6.15pm London time (1.15pm New York; 10.15am San Francisco).
Toshiba TG01 video demo:
[vms 6fa44e1ed0ff613f563b]