Toshiba AC100 gets played with: hardware good, Android lacking [Video]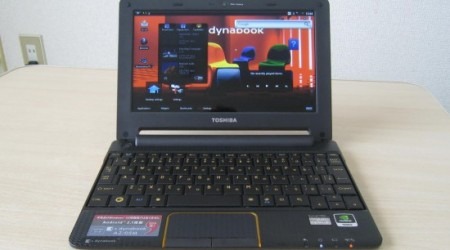 Having been spotted in-stock and up for sale in Europe yesterday, the Toshiba AC100 has now made an appearance in Taipei.  Netbooknews got the Japanese version – launching there as the Dynabook AZ – and have mixed impressions; as reviewers found with the HP Compaq Airlife 100, Android simply isn't really ready for netbook-style implementations.
Video demos after the cut
Unlike the Airlife 100, the Tegra 2 based AC100 doesn't have a touchscreen and relies instead on the trackpad; however Android 2.1 doesn't give you scrollbars or any link-hovering information or tips.  You can't tab through text boxes, and the standard browser lacks Flash support or any mouse enhancements.  Opera Mobile, preloaded, does support Flash, though sites generally default to their mobile versions which means you get things like shoddy YouTube quality (intended for a relatively small smartphone display, not the 10.1-inches of the AC100).
It's a shame, as both hardware and build quality are praised (though there are still issues with what USB devices Android will or won't recognize).  Next up is testing battery life – Toshiba reckon 7hrs solid use; until then, check out their first impressions and unboxing in the videos below.