Toshiba 7-inch budget tablet leaks ahead of CES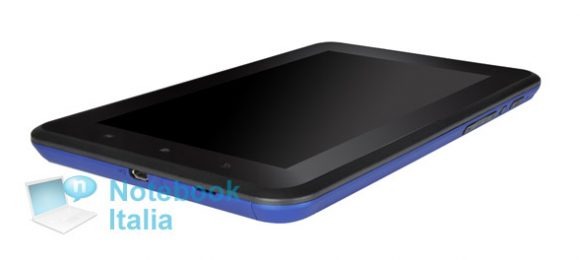 Toshiba has made some big promises for its CES reveal next week, including the "world's thinnest and lightest" 10.1-inch tablet, but it's a new 7-incher that has leaked out today. The new model, currently unnamed, is expected to be a budget option, NotebookItalia reports, running an unspecified Qualcomm Snapdragon chipset and a 1024 x 600 touchscreen.
Those budget ambitions means this is unlikely to be the OLED display toting tablet Toshiba has also been teasing, which is likely to carry a more premium price tag when it arrives. Connectivity for the cheaper model includes WiFi, Bluetooth, microSD and microUSB – no surprises there – and there's a rear camera but no LED flash.
In contrast to September's Thrive 7, the new model is slightly longer and apparently slightly thinner, too, though it's also likely to be less powerful than the Thrive 7's Tegra 2 chipset and, of course, runs at a lower resolution than the earlier slate's 1280 x 800.
On this sort of device, pricing is everything: Toshiba will be up against low-cost options like the $249 NOOK Tablet after all, while you can pick up the Samsung Galaxy Tab 7.0 Plus for around $340. We'll know full details at CES next week.