Toshiba 4k2k glasses-free 3D TV hits volume production ahead of Q1 US debut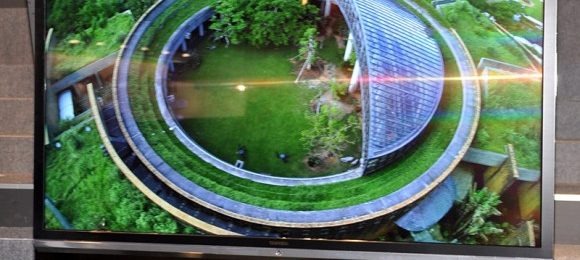 Mass production of Toshiba's 55-inch glasses-free 4k2k 3D TV has already begun, according to supply chain tipsters, with the pixel-plentiful panels at the heart of the oversized sets already winging their way from display specialists AUO. The new TV is expected to launch sometime this quarter, Toshiba has said, and it's AU Optronics supplying the panel rather than a homegrown Toshiba LCD, according to Chinese language press as DigiTimes reports.
Toshiba launched the 3D HDTV in Japan last November, with limited availability, as the 55X3. The screen itself is a 3850 x 2160 panel – that's Quad Full High Definition – and uses 240-zone intelligent backlighting. Toshiba has implemented a face tracking system for the glasses-free 3D, using a lenticular sheet placed across the panel, and up to nine viewers are supported simultaneously.
2D to 3D conversion is also possible, though only at 1,280 x 720 resolution. If you're not interested in 3D, then it's likely to be the 4k2k resolution that's most interesting: although projectors supporting that sort of detail are reasonably broadly available, 4k2k TVs are less common.
Still unclear is price. In Japan, the 55X3 comes in at roughly $10,000, which means the set is likely to be similarly expensive when it arrives in North America.