Tim Cook reaffirms no future hybrid Apple products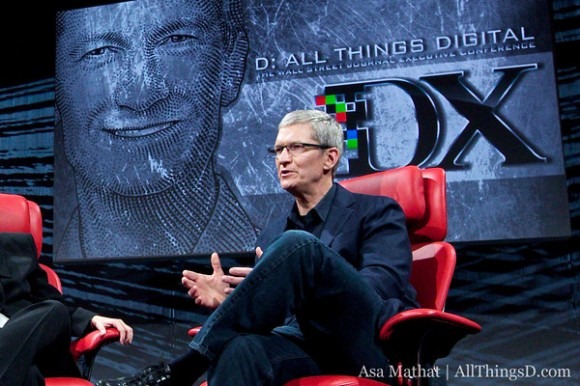 Speaking this week with Kara Swisher and Walt Mossberg of All Things D at the D10 conference in his first-ever interview with the pair, Tim Cook was asked why Microsoft's approach with Windows 8 was wrong. Asked specifically by Mossberg why Microsoft's approach of putting a single operating system on tablets, PCs, and devices that are a hybrid of the two (touchscreen notebooks, for example) is the wrong way to go, Cook took the opportunity (again) to tear the two devices apart in Apple's eyes once more.
Speaking in response to Mossberg's simple "what's wrong with that?", Cook spoke up: "In my view the tablet and the PC are different. You can do things with the tablet if you are not encumbered by the legacy of the PC." Without a doubt, this pair of sentences alone should let you know that no touch-screen MacBooks will be popping up at this year's WWDC. That said, Cook wasn't letting any clues slip as to what WOULD be there. When asked what was "on tap" for Apple's developer conference, Cook replied simply:
"That's a great question. I'm not going to answer it." – Cook
He did, on the other hand, let it be known that "people will like it" of course. Cook noted that he used his iPad a lot more than he used his notebook, but that he also loved his Mac at the same time. He noted that there "[isn't just] one way to do tablets" but that Apple's approach "doesn't require all that."
"We didn't invent the tablet market. It was there. We invented the modern tablet." – Cook
Cook continued that Microsoft's merger of a tablet and a notebook is something like merging a toaster and a refridgerator and a tablet. Cook went on to say that even though Windows 8 is being promised by Microsoft to be a "no-compromise" operating system, that if you merge a PC and a tablet, "the PC isn't as good as it can be, nor is the tablet."
He also confirmed that such a hybrid product would not be presented by Apple ever, much less next week. Stay tuned as we report on what Apple WILL reveal next week right here on SlashGear.