This is the flying taxi Hyundai is building for Uber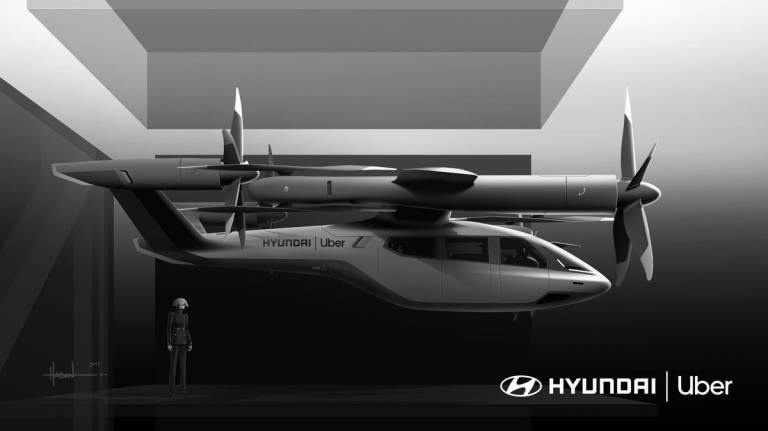 Hyundai and Uber are working on a flying taxi, promising to transport up to five people through city skies, and eventually one day ditch the human pilot, too. It's part of Hyundai's Urban Air Mobility (UAM) vision, with a so-called Personal Air Vehicle (PAV) using vertical take-off and electric motors to alleviate road congestion.
It's something Hyundai has been talking about for some time, though – as you'd expect from an automaker – it won't do away with cars altogether. Instead, the UAM would have a network of landing hubs dotted around urban areas, described as general mobility spaces.
Those hubs would act as places for PAVs to land, as well as for passengers and cargo to congregate. A purpose-built vehicle, or PBV, would be used to transport people or items to the hub, and dock in its peripheral spokes. It's designed to be flexible according to the individual requirements of its task, with separate lower and upper body sections, and a range of sizes from 13 to 20 feet. As with the PAV, it would be electric powered, and the eventual goal is to make it autonomous and capable of intelligently forming into ad-hoc road-train platoons.

At the center of the hub would be a lounge and staging area. PAVs would take off from the Skyport on top, and shuttle passengers around the city. At the other end, another PBV would be able to take them to their final destination, or link to other transit options.
In swoops Uber
For CES 2020, Hyundai and Uber are revealing the flying car they've co-developed. Dubbed the S-A1, it's a concept right now, but previews a future eVTOL (electric vertical takeoff and landing) aircraft. Initially, it would be piloted by a human at the controls, the two companies say; however the goal is to "enable autonomous operation once the relevant technologies are developed."

Hyundai will be responsible for manufacturing S-A1. It's expected to have multiple rotors – for efficiency and safety – and a parachute deployment system should the worst happen. It'll also be developed with low noise in mind, so as to hopefully avoid disturbing the urban areas in which eVTOL aircraft are expected to operate.

Uber, meanwhile, will handle the operations, under the Uber Elevate brand. "Hyundai is our first vehicle partner with experience of manufacturing passenger cars on a global scale," Eric Allison, Head of Uber Elevate, explained at CES today. "We believe Hyundai has the potential to build Uber Air vehicles at rates unseen in the current aerospace industry, producing high quality, reliable aircraft at high volumes to drive down passenger costs per trip. Combining Hyundai's manufacturing muscle with Uber's technology platform represents a giant leap forward for launching a vibrant air taxi network in coming years."
When that will happen exactly is unclear. Uber says that it's aiming for a launch in 2023, though that will depend on both technological and regulatory hurdles getting crossed first.