Uber Elevate aims for the future of urban air transportation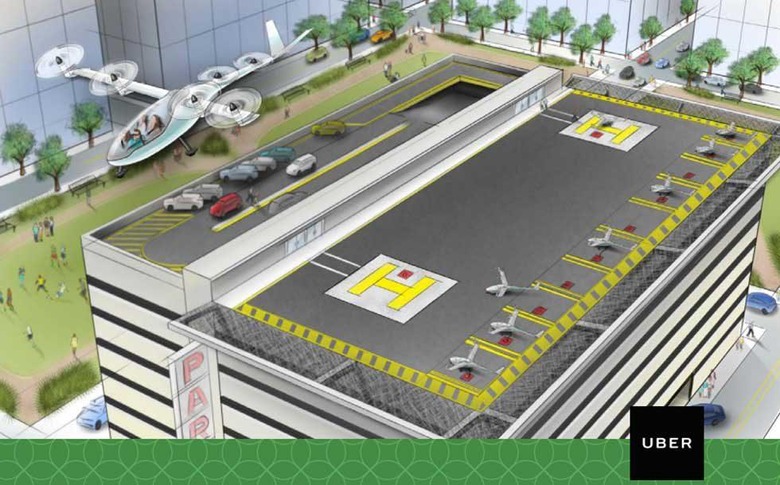 Say the name Uber and most think of the fleet of cars and drivers that will come and take you wherever you need to go. Uber is working on an autonomous future that will eliminate the need for those drivers. Autonomous autos isn't all Uber has up its sleeves.
Uber is talking up what it calls Uber Elevate. This is the future of VTOL urban mobility in the skies. Uber says that Elevate will allow people to go from the San Francisco Marina to downtown San Jose in 15 minutes. The drive to and from the same place would take two hours.
Uber Elevate is on-demand aviation that wants to improve urban mobility and return all the time to people that is lost in daily commutes and traffic. To enable this urban air mobility, Uber Elevate aims to use vertical take-off and landing aircraft. It will develop an infrastructure to support its VTOL network and says that this infrastructure will have significant cost savings compared to roads, rail, bridges, and tunnels.
The infrastructure could take advantage of existing helipads and unused land surrounding highway interchanges to build vertiports and single aircraft vertistops. Route congestion won't be an issue even as use of Uber elevate increases because various routes to the destination can be used. Uber says that it thinks in the long-term VTOLs will be an affordable form of transportation for the masses and could be less expensive than owning a car.
It stops short of saying exactly how much it would cost to use the Elevate system. Uber Elevate still needs to build out its aircraft and meet FAA regulations. Battery tech also needs to be designed to support aircraft and has fast charging. The aircraft Uber is eying aren't autonomous, it says that lots of pilots will be needed, but pilot augmentation could shorten training times.
SOURCE: Uber