These Note 10 features just arrived for Galaxy S10 [UPDATE]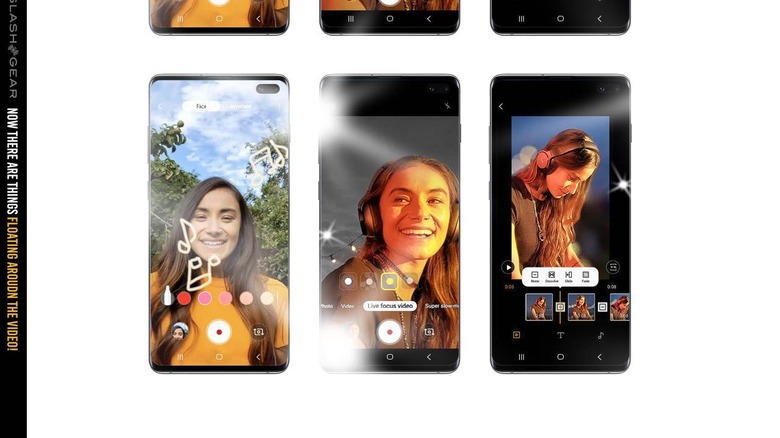 Samsung announced a set of features coming to the Samsung Galaxy S10 soon, by way of the Galaxy Note 10. The new features include three previously-exclusive abilities/iterations of abilities. There's Live Focus video for both front and back cameras, there's AR Doodle, and there's the latest in Samsung DeX for PC.
A few small items are added to the Galaxy S10 update coming this week – as early as today. This update has a slightly simpler process made available for the Samsung Pass set-up. With this version of Samsung Pass, users of the Galaxy S10 will be able to "log-in to apps and websites" using fingerprint scanners and other biometric means.
The Messages app was also updated EVER so slightly. Now the app has "new icons for adding photos and videos" all positioned to the left of the text. That's so you can "effortlessly access the files you need," per Samsung.
One of the odder updates that Galaxy S10 users have missed out on thus far – since the Galaxy Note 10 was launched with the same feature – is AR Doodle. This system allows users to add augmented reality drawings and messages in videos. I suggest you give it a whirl at some point, even if you're not the sort of person that'd normally film a video in the first place.
This update brings Live Focus video to the Galaxy S10 for already-filmed videos. It's likely this won't work on ALL videos that were filmed before the update, but all videos filmed after should work fine.
There's a new "improved" Super steady for stabilizing video footage, too, if you actually ARE a person who captures video regularly. The front-facing camera gets an update with expanded Night Mode, and there's a new Link to Windows integration right out the gate. This is different from the Android 10 Beta program with One UI 2.0 released earlier this year.
Previous updates to the Samsung Galaxy S10 brought DeX and similar options to what we'll get here, but this is the full shebang. With this update, the Galaxy S10 gets the full "Samsung DeX for PC" – which will still need the special app from SamsungDex.com for PC or Mac. This update also includes "Link to Windows" so the Galaxy S10 can connect with and easily interact with notifications on a Windows 10 PC.
NOTE: This is not the same as the now-dead Linux on DeX. That's a different situation entirely.UPDATE: The update is out now for some. Head to Settings and go to what's nearly the bottom of the list of buttons. There you'll find "System Updates," and you'll find out there if you're able to get in on the action now, or if you'll need to wait a bit longer.