The Surface Laptop is a laser-focused attack on Apple's MacBook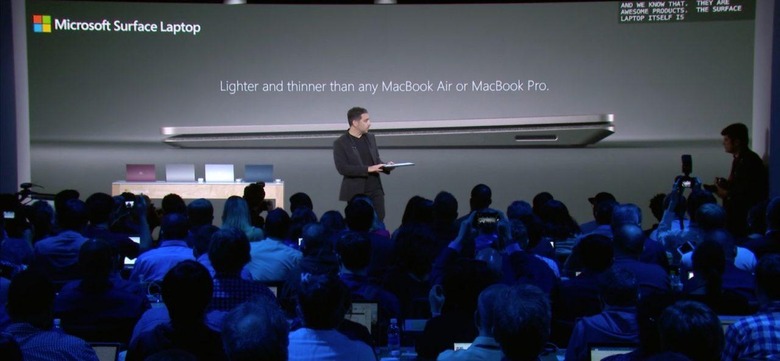 "This is the laptop that starts to reset the category," Microsoft's Panos Panay says of the new Surface Laptop, and it's abundantly clear he has Apple in his sights. The brand new Windows 10 S notebook was unveiled in New York City this morning, as part of the MicrosoftEDU event. While Panay wasn't shy about talking up the new notebook's abilities, he also didn't hold back when it came to MacBook comparisons.
As he did when Microsoft unveiled the Surface Book, Panay did give Apple credit for the MacBook Air and MacBook Pro designs. "Lots of students use the MacBook Air and MacBook Pro, we know that," he pointed out. However – and hardly surprising – it was clear where his loyalties lie.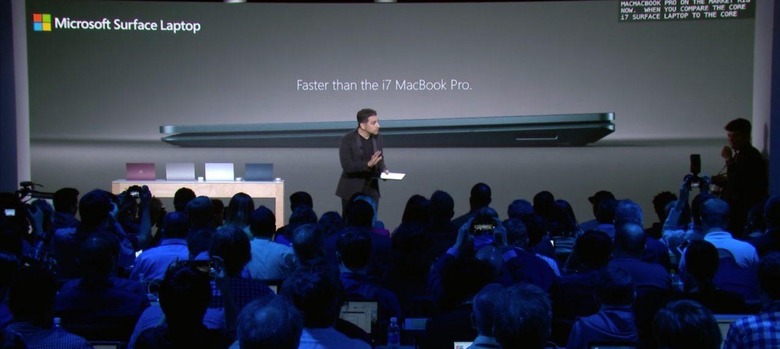 At first glance, it's with good reason. The new Surface Laptop is both lighter and thinner than any model of MacBook Air or MacBook Pro on the market. It's also, with its Core i5 or Core i7 processors, 50-percent faster than the MacBook Air.
Indeed, in the right configuration, Microsoft's new notebook is actually faster than the 13-inch MacBook Pro with Core i7. Now, it obviously depends on how much cash you throw at Microsoft's configurator (and how much you would've sent in Apple's direction in comparison), but that's still impressive given the 14.5mm thick chassis and 2.76 pound weight.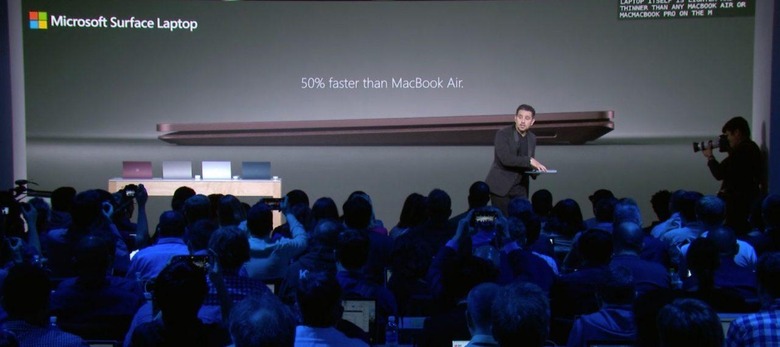 However it's battery life where Microsoft might sway the most potential buyers. Battery life on the latest MacBook Pro with Touch Bar models has been a controversial topic for Apple, with early criticisms that real-world use didn't come close to the ten hours of average longevity that was promised on the spec sheet. The MacBook Air promises up to twelve hours of iTunes movie playback, meanwhile, though its processor options aren't as potent.
According to Microsoft, the Surface Laptop should last for 14.5 hours of video playback. Now, real-world use – which can be a little more intensive than just playing video, after all – is likely to differ, and we'll need to see exactly how the Surface Laptop holds up in practice. Still, if it can hold on from morning through to evening, as Panay suggests, that's likely to convince quite a few people.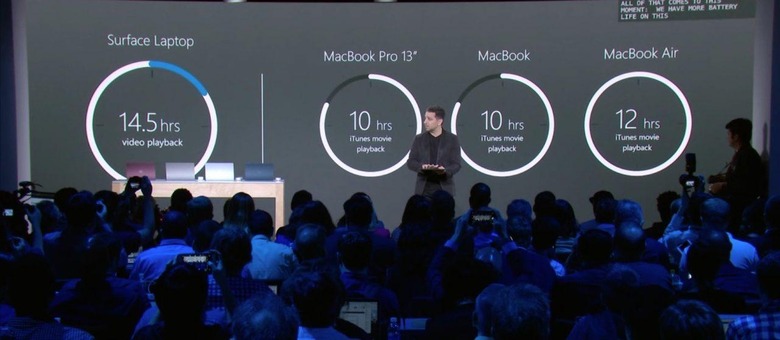 NOW READ: This is Windows 10 S – what you should know
As for the price, Surface Laptop will fall somewhere in-between the MacBook Air and the MacBook Pro. The entry-level model will be $999 for a Core i5 processor; $500 cheaper than the entry-level 13-inch MacBook Pro, and the same as the entry-level MacBook Air. Again, we'll need to do side-by-side comparisons to see just how the various configurations hold up, but Surface Laptop's 3.4m pixel 13.5-inch touchscreen and Surface Pen support is already making the MacBook Air's display seem humdrum. Then again, if you want USB-C, you'll need to stick with Apple's ecosystem as Surface Laptop repeats the Surface Book with Performance Base's sins and doesn't embrace the new port type.
The best part? Even if you're not interested in Windows 10 S, Microsoft's new education-focused version of Windows, you don't have to give up on the Surface Laptop. There'll be the option to unlock it to full Windows 10 Pro if you want to be able to install apps from outside of the Windows Store, for instance.