This is Windows 10 S: What you need to know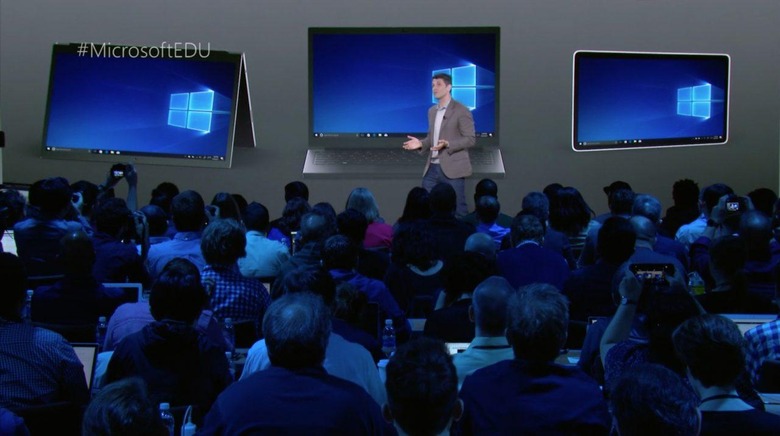 Microsoft kicked off its education-centric event today by introducing the world to a new version of Windows 10. Dubbed Windows 10 S, Microsoft Executive Vice President Terry Myerson took the stage to show off this pared-back version of Windows. There are a few features in Windows 10 S that make it useful not just in classroom settings, but perhaps for personal use as well.
Myseron calls Windows 10 S "the soul of today's Windows," pointing to the operating system's controlled environment. Windows 10 S will run any application that's available on the Windows Store, but beyond that, you won't be able to install applications from other sources without having an administrator switch to Windows 10 Pro first. Instead, whenever a user tries to install an application from another source, a dialog box will pop up with a suggestion for a similar app from the Windows Store.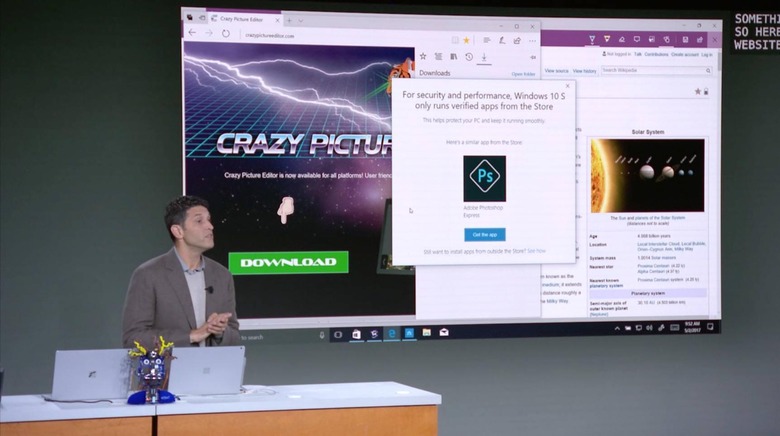 This, in turn, helps protect systems from getting bogged down by applications. Myerson says that Windows 10 S will run just as smoothly at the end of the school year as it did on day one, thanks to the restrictions Microsoft has put in place with this new OS. This, as some of you will know, can be something of an issue on underpowered hardware we often find in schools, so the introduction of Windows 10 S will hopefully keep things running well in that regard.
Managing applications is only one part of the Windows 10 S equation, though. Microsoft has designed Windows 10 S to run on any Windows hardware – Myerson showed the operating system on a Surface Book, but he ensures that the entry-level hardware present in a lot of schools will be enough to handle Windows 10 S as well. In addition, Windows 10 S will be compatible with the full Windows peripheral system, so teachers and administrators won't need to make any sacrifices in that area to begin using Windows 10 S.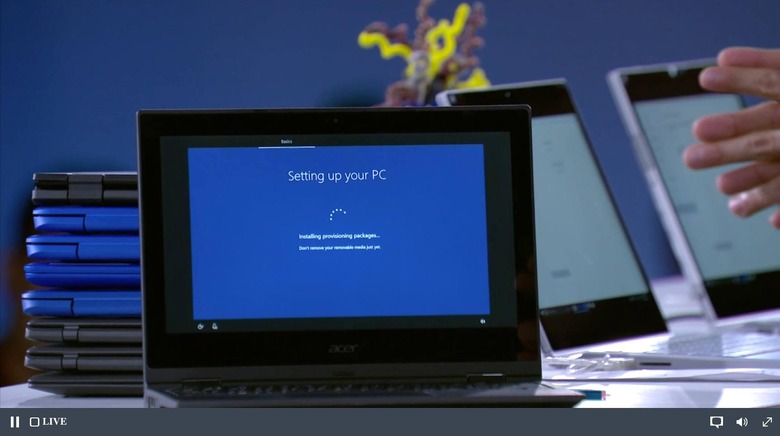 Microsoft has also streamlined the setup process with Windows 10 S. Myerson gave us an example of this streamlined process, using a setup wizard on one PC to generate a profile of settings that can be shared with other computers. The wizard generates a key on a USB drive that can then be plugged into all of the other computers that need to be set up – once the USB drive is plugged in, Windows automatically pulls all of the settings from the key, allowing for a relatively fast and simple set up process.
Ultimately, Myseron says that Microsoft's goal with Windows 10 S is to "simply to magnify." Microsoft believes that if Windows 10 S allows schools to spend less time on set up and management, students will ultimately have more time to create and learn. "The biggest raw, untapped, creative potential resides in our schools," he said. "The makers of tomorrow are sitting our classrooms today."
Microsoft will offer Windows 10 S free to all schools that are currently running Windows 10 on their hardware. On the other hand, if you purchase Windows 10 S machine and decide later that you'd like the full functionality of Windows 10 Pro, you can upgrade for a $50 fee. Microsoft's partners like Acer, ASUS, Dell, Fujitsu, Samsung, Toshiba, and HP will begin offering Windows 10 S hardware later this year, with those PCs starting at $189. It would seem that we have some Chromebook competitors on the way.
Beyond that, Microsoft will be offering free subscriptions to Minecraft: Education Edition for new Windows 10 education PCs, along with free copies of Microsoft Office 365 for Education through Microsoft Teams. Windows 10 S will be ready to go later this summer, in time for the new school year to begin.
UPDATE: It turns out the $50 upgrade fee is to go from Windows 10 S to Windows 10 Pro, not the other way around. This has been confirmed by GlobalData's Avi Greengart and the article has been updated to reflect this.