Surface Laptop with Windows 10 S is too good just for class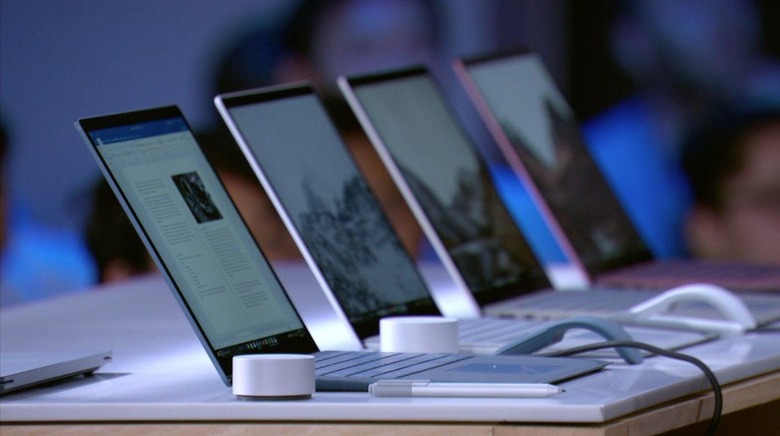 Today Microsoft revealed the Surface Laptop, what Microsoft describes as a new more "personal" vision of a personal computer. This notebook computer works with the Surface Pen, it works with the Surface Dial, and it works with the Surface Mouse. It also has a touchpad and a touchscreen, too. Basically this is what Apple originally marketed as the MacBook Air, but here it comes with a bit more functionality and a different approach with materials.
"As my Dad would say, If you put everything you had into this product, you'd get everything you want back out of it," said Microsoft's Panos Panay, explaining how his father taught him to put together a television. Continuing in on Surface, Panay explained what Microsoft was doing in the present: "from the materials, to the science, to the architecture, every bit of our experience had to come to life."
Panos revealed the Surface Laptop in four colors: Platinum, Burgundy, Cobalt Blue, and Graphite Gold. Each of these machines will have a fully Alcantara-covered keyboard. That means material that's never been on a notebook before – not at this scale, anyway.
The keyboard is unique – not because it has backlit keys or comes in the colors of the notebook itself. Because it's made in a unique way, and the experience in using the keyboard and the touchpad are unique. Each key has 1.5mm of travel, and as Panay suggested, "it's warm, it's not cold, it invites you in."
"You see perfect lines, a perfect flow of energy," said Panay. "It's meant to be silent to the eyes. ... It's a product that draws you in." The display is 13.5-inches large, while sizes on the entire unit are 9.9mm to 14.47mm thick, with a weight of 2.76 pounds.
Around the edges are a Surface Connect port, USB 3 (USB-C), and miniDisplayPort. As well as a standard headphone jack, thank god. Inside is a battery that Microsoft suggests will give users 14.5-hours of uptime. While Microsoft will be running the peripherals game like Apple with their MacBook and MacBook Pro, they'll be pushing battery life so good there's no need to bring the charger with – not that that's something we'll be doing or anything.
This device will be part of the launch for Windows 10 S but won't likely be targeted at students as most of the rest of the Windows 10 S family. Inside this computer is Microsoft's vision for the future of their Windows ecosystem. Stick around our more news and updates on this surprisingly traditional piece of hardware in our new Windows 10 S tag portal!
UPDATE: The Microsoft Surface Laptop will be made available for pre-order starting on May 2nd, 2017. This notebook will be available in a more general manner starting on June 15th, 2017. It'll cost a cool $999 USD starting right this minute.