The LEGO Movie Review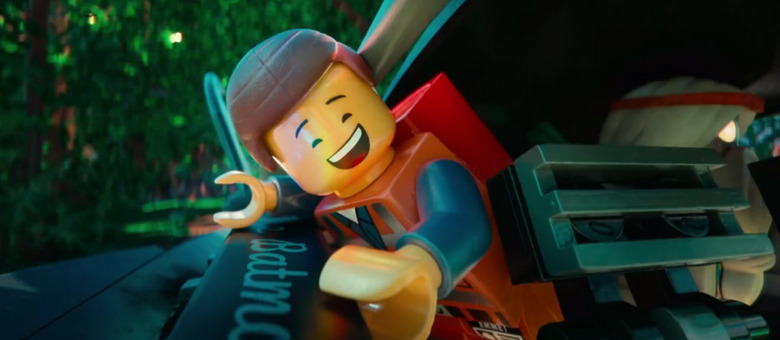 I took my 3-year-old daughter to The LEGO Movie this week and she sat through the entire 100-minute film in quiet reverence. End of review. I'm an adult male who grew up with LEGO and, with my daughter, continue to play with and enjoy the creative building toy today – and I was entertained by the movie from start to finish. My daughter and I are two of the types of audience members the creators of this movie appear to have aimed for directly.NOTE: While we previously considered this article to be Spoiler-free, its been brought to our attention that there may be a level of reveal between Spoiler and non-Spoiler that we've hit here. If you don't want to know details about the movie other than what's revealed in the trailer(s), please just stick with the first paragraph and know that we're all about the movie – then come back after you've seen it to read the rest!
The LEGO Movie is about a LEGO figure named Emmet, voiced by the brilliant Chris Pratt. You'll likely know Pratt for his role as Andy Dwyer in the TV series Parks and Recreation – he's also going to be in Guardians of the Galaxy and Jurassic World sooner than later. Have a quick peek at a run-down of what Emmet is all about in this trailer:
Pratt's ability to play a lovable goofball plays extremely well throughout the film. In fact, every big-name recognizable actor in this film plays to their strengths:
Elizabeth Banks – *Wyldstyle: smart-talking hero with a relatively short temperWill Arnet – *Batman: laughably self-centered, "dark", quippyAlison Brie – *Unikitty: super-cute, secret rage problemMorgan Freeman – *Vitruvius: all-knowing wizard of wisdomLiam Neeson – Bad Cop/Good Cop: bad-guy hunter of our heroShaquille O'Neal – Shaquille O'Neal LEGO figure: duhNick Offerman – Metal Beard: masculine alpha-male pirateCharlie Day – *Benny the Astronaut: helpful buddy who LOSES HIS MIND with excitement or frustration throughout the movie*Pictured in this friendly huddle: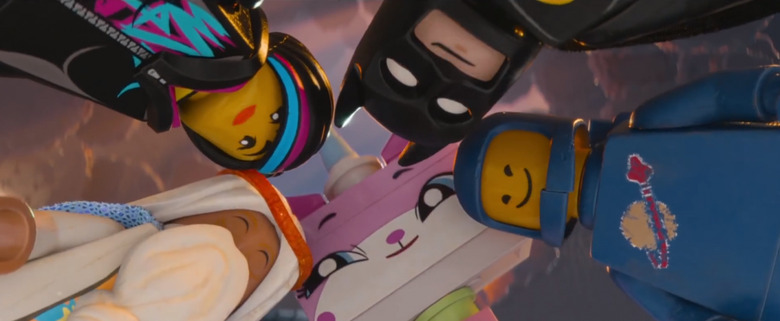 Then there's Will Ferrell, who somehow manages to anchor the film on his brand of unbreakable absurd delivery of jokes without drowning out the rest of the cast. Those responsible for selling this film to the public could very easily have pushed the film as Will Ferrell-centric, but they've (wisely) decided to have the rest of this all-star crew play equal roles.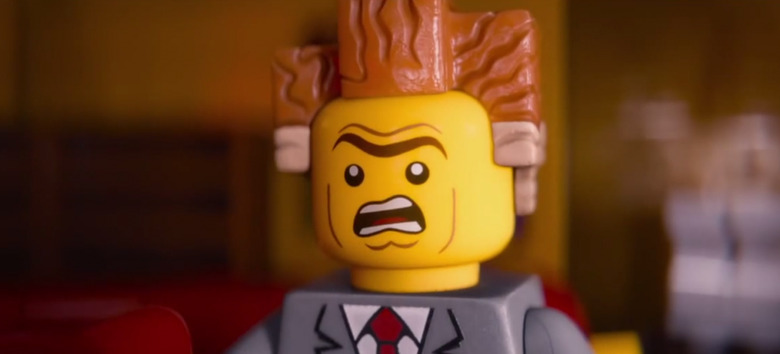 Consider this cast – major cast members from some of the most major comedy shows from the past several years: Community, It's Always Sunny in Philadelphia, Arrested Development, Parks and Recreation, and Saturday Night Live (SNL) – plus there's a sort of "special appearance" by some Star Wars cast members playing their original characters as well.
We'll not spoil that Star Wars bit for you, but you should know that Billy Dee Williams and Anthony Daniels reprising their roles from A long time ago in a galaxy far, far away isn't just something they do for any random film. It had to be a big deal!
The film is about the LEGO universe – a unique universe owned by President Business, Will Ferrell's character. His evil plan is to destroy the world with the KRAGLE, aka a tube of KRAzy GLuE with bits of its name scratched out. This sort of joke about the LEGO characters not knowing of the existence of humans (and their "relics") rolls through the whole film, too, resulting in a theme that'll appeal to both those that've played with the toys their whole loves and those that love the idea of living toys in our human world.
"The poh-leesh remover of nai-EEL!" – President Business, referring to a bottle of nail polish remover he's about to use for evil
The jokes are consistent, the action is constant enough to keep the attention of a 3-year-old, and the plotline holds up well enough to set you up for a moral. There is indeed a moral to this story.
If this film is a tale aiming to instill a lesson, it's got a lot to do with creativity. While it could – for some especially finicky viewers – seem to end up suggesting that LEGO is fun and that everyone has the ability to enjoy playing with LEGOs, we're planted firmly in the camp that still wants more, regardless of the (obvious) post-viewing LEGO sales possibilities.
Star Wars is a film franchise made to sell action figures. LEGO toys came before the LEGO Movie, and the LEGO Movie may make us want to buy more LEGOs, but we're totally OK with that. The "we" is my daughter and me, and we're currently working on spaceship while we wait for the Blu-ray release of this movie so we can watch it again.