Microsoft currently has a bunch of Xbox One bundles for sale – as is generally the case – so we took a look at which bundles were best. Our ranking system is different from most, as we take into account the value of the game that comes with the Xbox, the model Xbox we're considering, and the customizations done to the console (or complete lack thereof). Here we decide which bundle is best for you at the tail end of 2019.
Note that some of these console bundles are available for Xbox One X and for Xbox One S. For the average user, the differences between these consoles are few and far between. There's also the all-digital Xbox One S console situation of which you'll want to be aware. If you're purchasing an Xbox One as a gift, make sure you know which version (standard or all-digital) your gift-getter will want – this can make all the difference!
3. Xbox One X Star Wars: Jedi Fallen Order Bundle
You MAY want to wait until this game is released before you buy this one, just in case it's terrible – but for this entry we'll just go ahead and assume it's amazing. This bundle includes a bunch of unique bonuses in in-game content. You'll get an Orange Lightsaber Blade Color, a Mygeeto Campaign Hilt, an Umbaran Campaign Hilt, a BEE D-1 Skin (yellowy and worn, very cool), 1-month of EA Access, and Star Wars Jedi: Fallen Order Deluxe Edition.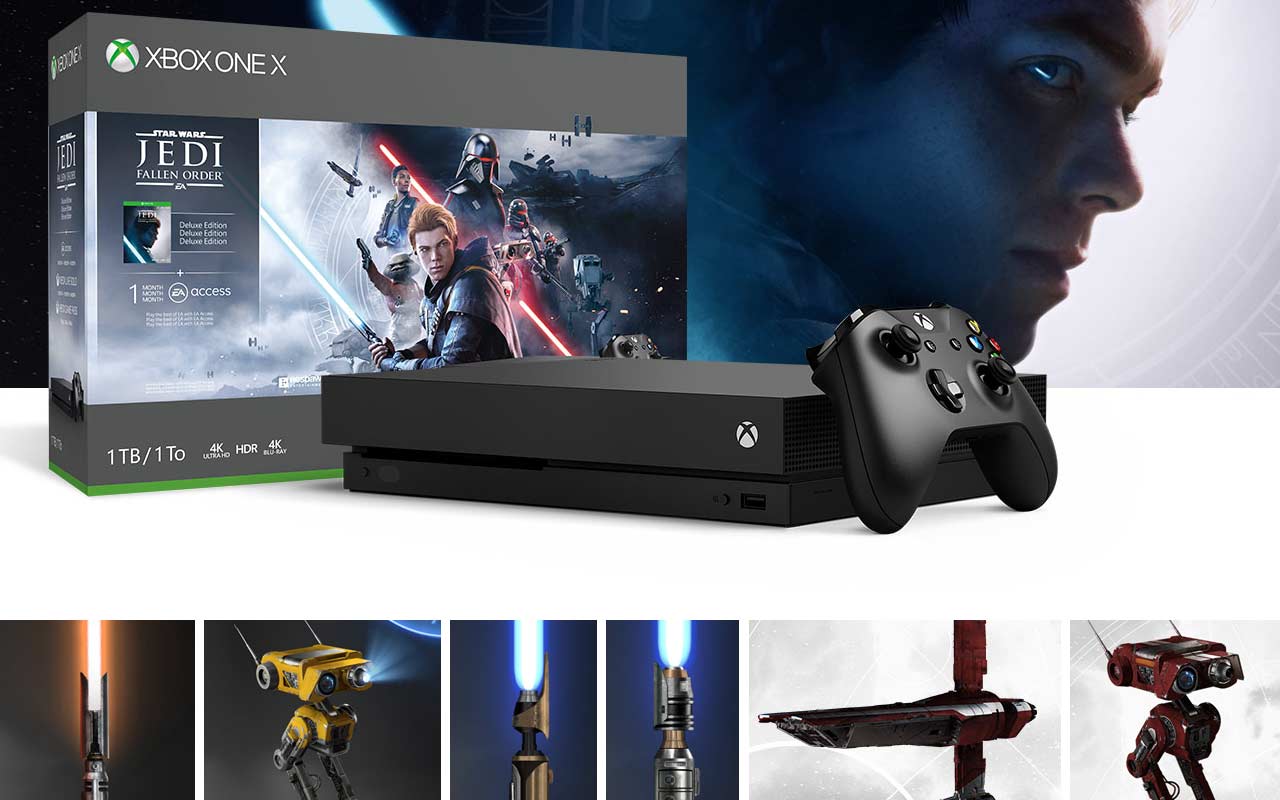 You can also purchase the Deluxe Edition of the game separately, mind you – and regardless of if you get the bundle, so long as you get the Deluxe Edition, you get a few more bonuses. You'll get a Crimson BD-1 Skin, a Crimson Mantis Skin (ship), a Digital Art Book, and access to "Directors Cut" Behind-The-Scenes Videos for the game.
Again, this Star Wars bundle is the newest on the block, so you won't be able to pick one up until November 15, 2019. The console is just plain black, the controller is just plain black. There must be a good reason for this, because the potential for customization with this title (not to mention this universe) is immense. Imagine a Crimson edition, or a BEE D-1 Skin version – it could've been so awesome!
2. Purple Fortnite Bundle
Fortnite is one of the most popular games in the world right now – for good reason. It's super fun, simple, and visually spectacular. The bundle that's third on our list right now is also visually explosive – which is right on-message with the game with which it's delivered.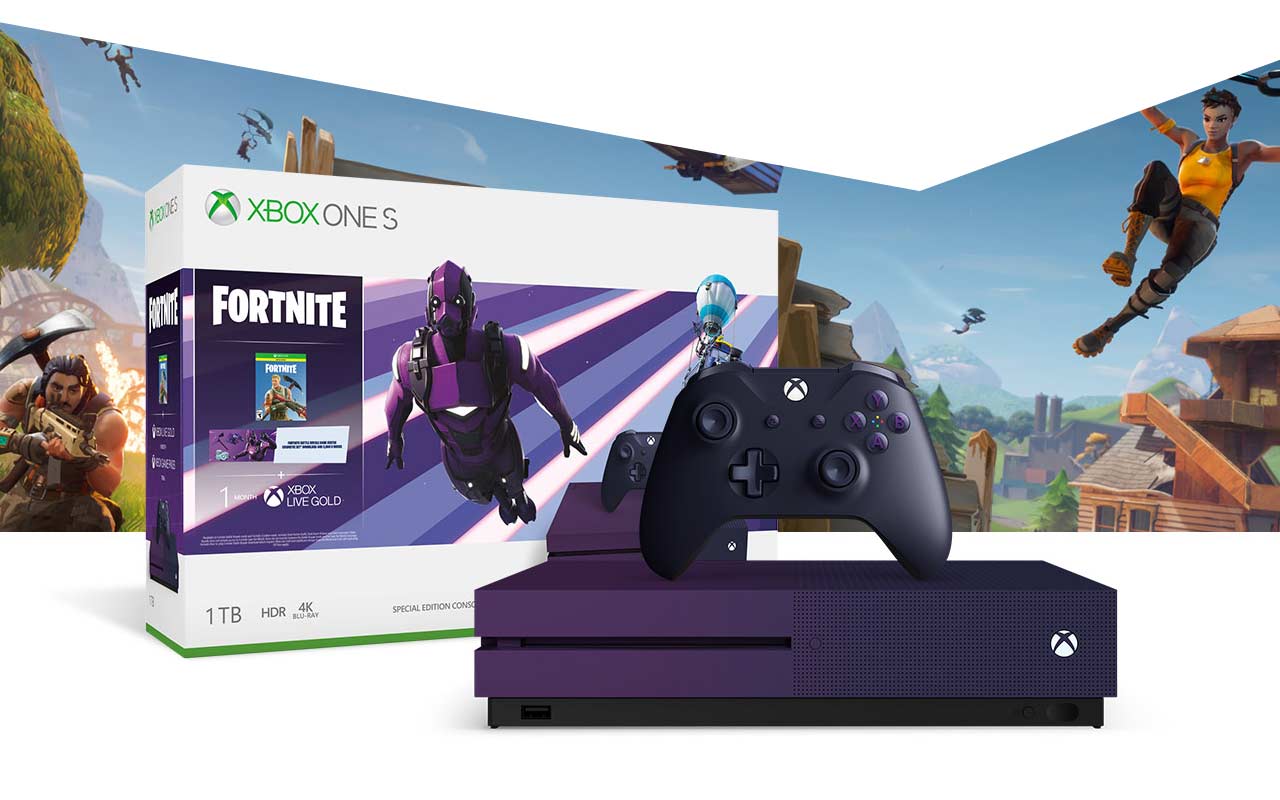 The Xbox One S Fortnite Battle Royale Special Edition Bundle (1TB) includes a "Gradient purple Xbox One S console" as well as a Purple Xbox Wireless controller. In-game bonuses include a Dark Vertex Cosmetic Set download and 2000 V-Bucks.
Fortnite is a "free" game, so buying this console to GET the game doesn't actually make sense. But the in-game bonuses and the fact that the console is a unique shade of purple makes this THE Xbox to get for that unique Fortnite-addicted person in your life.
1. Gears 5!
This bundle includes the Xbox One X Gears 5 Limited Edition 1TB console, the Kait Diaz Limited Edition Xbox Wireless controller, and the game Gears 5 Ultimate Edition. That also includes Gears of War 2, 3, and 4!
Much like our (BONUS) best on the list below, this version of the Xbox is ACTUALLY customized, unlike most of Microsoft's current offerings. The people who are responsible for the Gears of War console bundles know what it means to make a custom console look great – and this one looks amazing!
The only thing, here – much like most other games in bundles – is that Gears of War 5 is not an all-ages game. If you're buying an Xbox for your 6-year-old nephew, this probably isn't the best one to consider. If you're buying this console for yourself, Gears 5 is amazing!
BONUS: Re-sales and secondhand winner
The most awesome Microsoft-made custom Xbox One S remains the Xbox One S Gears of War 4 bundle in blood red. This version of the console was first sold all the way back in the year 2016, so you won't likely find it on store shelves.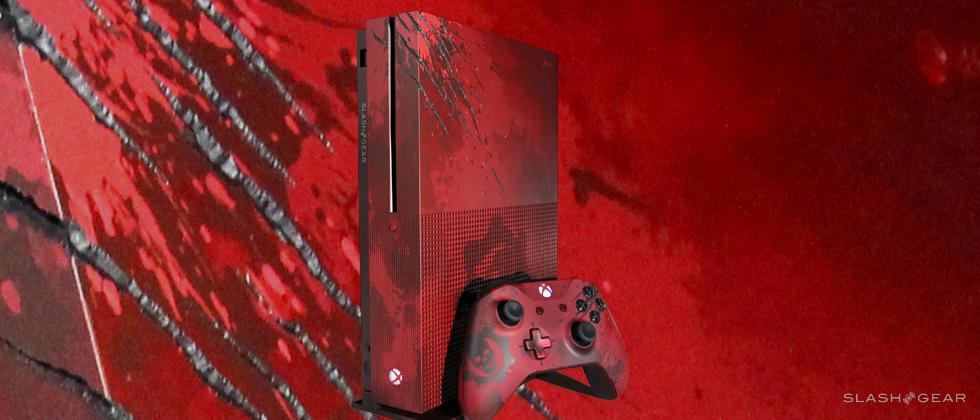 It was made for Gears of War 4, but the markings are universal. Brutal blood-spattered coloring and 3D-cut scratch marks make this easily one of the most awesome "official" customizations of all time. If you can find this console secondhand, get it!