Tesla's entire 2018 Model 3 production is almost all taken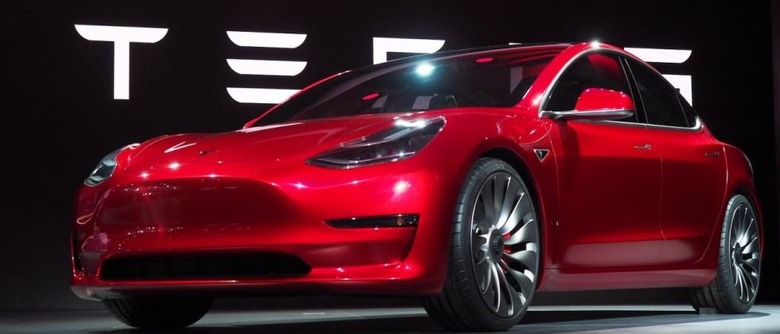 Affordable sedans don't typically find themselves on the "covet" side of the supply/demand curve, but it's looking like the Tesla Model 3 will buck that trend. The most affordable model in the automaker's all-electric line-up has already seen record reservations, and now CEO Elon Musk is warning that those who don't stake a place in line may be forced to wait even longer than initially expected.
The first Model 3 deliveries are pencilled in for the end of 2017, but according to Musk today, right now Tesla is looking at its entire production for 2018 being reserved too. If you want a 2018 delivery, the outspoken CEO says, you should reserve your Model 3 "soon".
Tesla has already said it plans to ramp up production to try to meet the greater-than-anticipated demand for the Model 3, though even that might not be enough to sate interest in the car.
Of course, that's assuming that every person who reserves a Model 3 goes on to place an actual order, and a lot can change between now and when the order books open for real. Tesla is taking a $1,000 deposit as part of the reservations process, but since that's fully-refundable there's not much of a downside to holding a space but leaving the flexibility to pick a different car in the meantime.
There should be a few interesting options to choose between, too, what with Chevrolet likely to make a big deal about the upcoming Bolt EV. That's going to beat Tesla to market by a considerable margin, with sales of the hatchback kicking off later in 2016.
Tesla hasn't made any public estimates around how many of the 400,000+ reservations will drop off before placing a full order.
NOW READ: Riding Tesla's Model 3
To help avoid line-squatters, reservations can't be sold or exchanged, only refunded. Still, when the initial Model 3 cars finally do roll off the production line, their keys are likely to be in high demand and there's almost certain to be a lot of cash changing hands from those wanting to jump the queue and with pockets deep enough to do that.
Tesla is increasing the production ramp as fast as possible, but I'd recommend ordering a Model 3 soon if you want 2018 delivery

— Elon Musk (@elonmusk) May 5, 2016