Tesla Model Y reveal: What we know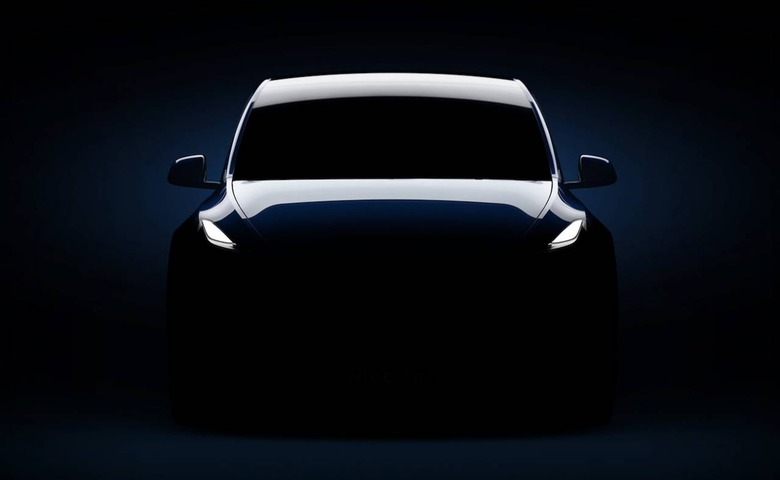 Tesla's family is about to grow again, with the Model Y SUV set to make its official debut later this week. Slotting in between the Model 3 and the larger, more expensive Model S and Model X, the all-electric crossover could well be Tesla's most popular car so far.
Model Y will be closer to the Model 3 than the Model X
The two easiest approaches for the Model Y that Tesla could've taken would either involve shrinking or growing some of its existing models. On the one hand, the Model X SUV could be made smaller; on the other, the Model 3 could be made bigger. Tesla, it seems, took the latter strategy.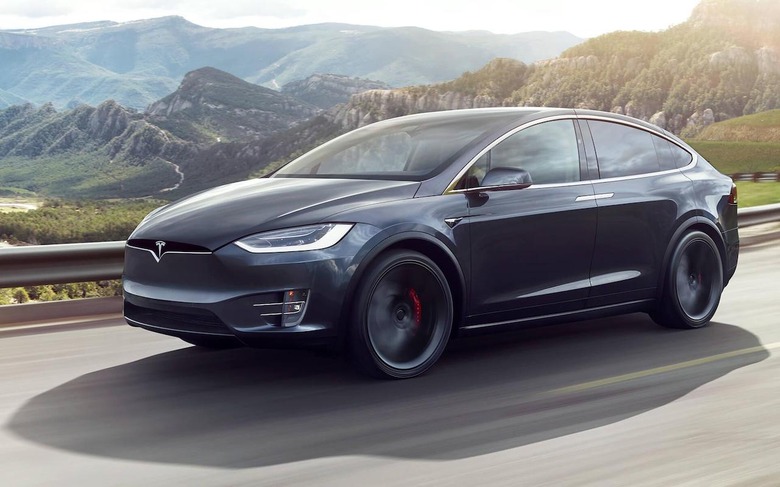 In fact, according to Elon Musk, the Model Y will be around 10-percent larger than the Model 3. The design, from what we've seen in the preview images, bears a strong resemblance to the smallest Tesla, too. The heavily sculpted front fenders match, as do the squinting headlamp shape.
However, it's clearly going to be a taller vehicle, looking like it has been stretched up compared to the Model 3. That includes taller side mirrors with thicker arms, compared to the slender metal stems of the Model 3's mirrors.
What it won't have is the "Falcon Wing" door system of the Model X. That may have initially been on the roadmap for the Model Y, but Tesla appears to have thought again, and opted to go for more traditional doors instead. It's probably a wise decision, too: the automaker had prolonged issues with the upward-swinging doors when it first launched the Model X.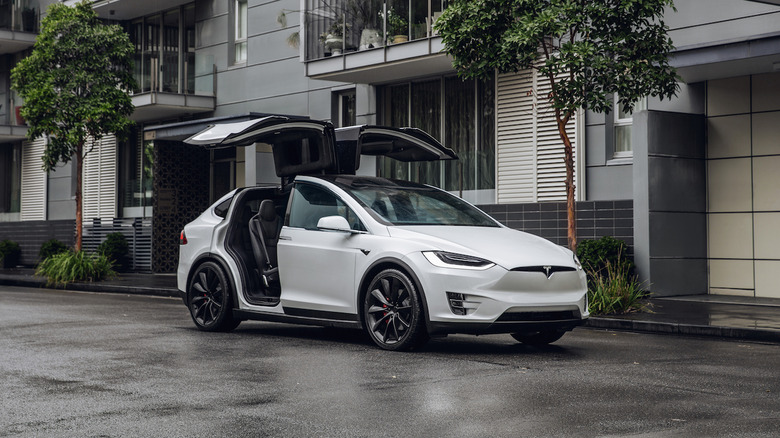 Tesla Model Y pricing is already roughly known
Tesla has only just got the long-anticipated $35,000 Model 3 up for order, but we already have a good idea of how much the Model Y will set us back. Elon Musk confirmed that, as well as being roughly 10-percent larger than the Model 3, the new crossover SUV will also be about 10-percent more expensive. That's the sort of easy math we can get behind.
So, we'd expect a roughly $39,000 starting price for the most affordable Model Y, before any incentives and other savings. That will likely come with rear-wheel drive, the shortest range, and the most basic interior. If you want something more luxurious, and with all-wheel drive, we'd expect that to start at around $52,000.
Expect a streamlined Tesla Model Y at first
Complexity has been the thorn in Tesla's side for much of its time building electric vehicles. Indeed, many of the automaker's strategy changes over the past few years have involved paring back the number of options and variants it offers buyers, all in the name of streamlining manufacturing.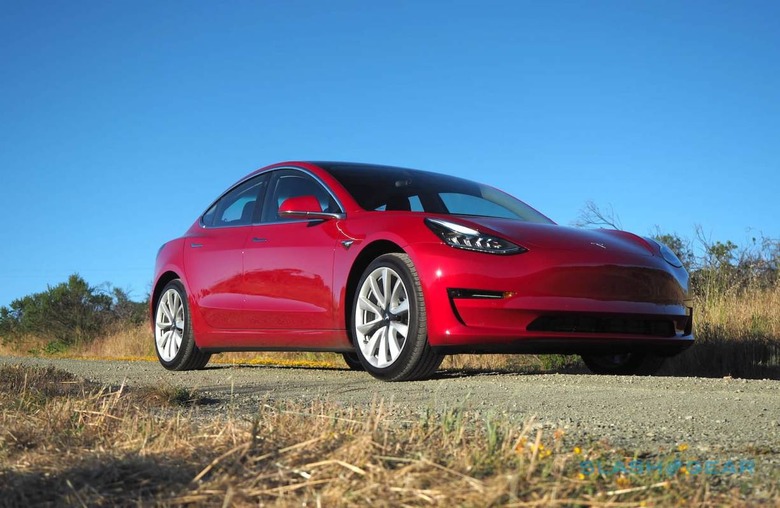 That has seen options lists for its cars' interiors cut back, fewer configurations of drivetrain and battery, and a shorter list of paint finishes, among other things. After all, reducing the list of possible combinations means production can be made easier. It's a strategy Tesla is likely to stick to as closely as it can for the Model Y.
So, it's unlikely that there'll be a wide range of options for the Model Y from the very outset. Indeed if Tesla follows the same strategy as it did for the Model 3, it will focus on getting its highest-spending buyers through the process at the earliest. When the Model 3 first went on sale, you could only get it with the premium interior and the long-distance battery pack. It was only later on that more affordable variations on the car began to be offered.
Tesla Model Y range will be a compromise
A standard range Model 3 will take you approximately 220 miles, according to Tesla's EPA figures; the long range car will go for up to 325 miles. In-between, there's the mid range Model 3, which is rated for 264 miles.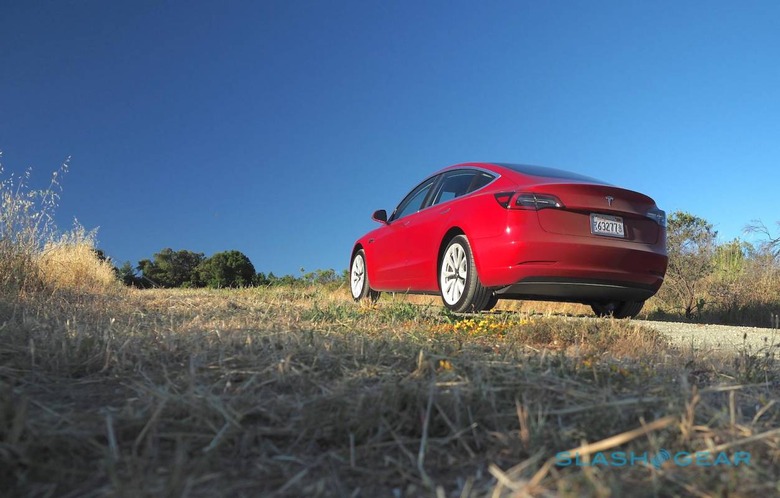 All Musk will say on Model Y range for now is that, given that it's an SUV, it will have "slightly less range for [the] same battery." That makes sense, of course: a bigger car will be heavier, and thus require more power.
It's an inexact science, but we can get an idea of just what sort of range compromise there might be through comparing Model S with Model X. The Model S long range is rated for 335 miles of driving; the Model X long range for 295 miles. Again, there are many factors which contribute to that 40 miles difference, but it's not hard to imagine an entry-level Model Y standard range clocking in at 200 miles or thereabouts.
Model Y will be just as tech-savvy
Tesla's cars have built a reputation for being some of the most high-tech on the market. From the touchscreen-focused dashboards, that eschew most traditional controls in favor of infinitely-flexible digital displays, to features like Autopilot and Autopark, the EVs make great use of cutting edge sensors and more. Even how the cars are updated is industry-shaking, with over-the-air software keeping Tesla owners away from service centers while still making sure they have the cutting-edge features.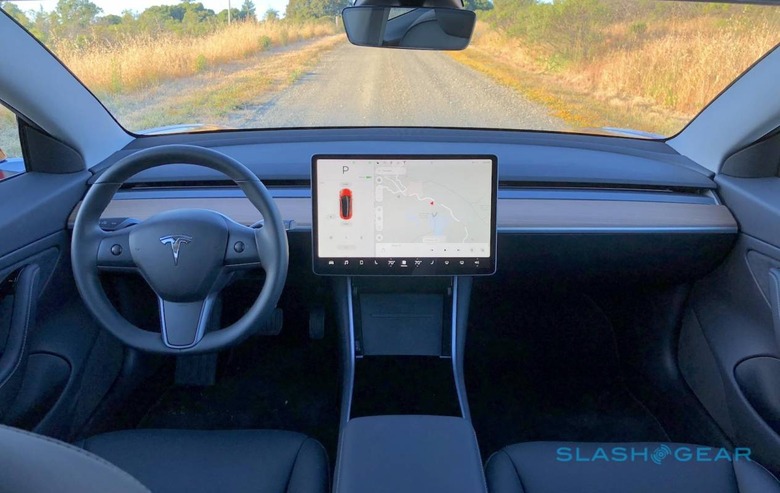 The Model Y will undoubtedly follow this same strategy. Tesla is yet to release any images from the cabin, not even teasers, but it seems fairly likely that the Model 3 will be the blueprint there. That has a wide, uninterrupted swathe of dashboard – with hidden vents – topped with a large, landscape-orientation touchscreen. From there, Tesla's various driver-assistance features, multimedia, range settings, and more are accessed.
Like the Model 3, Tesla will probably offer a choice of Autopilot functionality on the Model Y. Currently, Autopilot – which combines adaptive cruise control and lane-keeping – is a $3,000 option on the Model 3. The "Full Self-Driving Capability" package is a further $5,000; it adds Navigate on Autopilot, Autopark, and Summon. Later in 2019, Tesla promises, the system should also be able to drive automatically on city streets, including recognizing and responding to traffic lights and stop signs.
If you thought Model 3 was popular, this could blow it away
The fact that the Model 3 has been such a success is, in broader automotive industry terms, actually something of a surprise. Drivers have been abandoning the traditional sedans they used to buy, and are instead flocking to crossovers and SUVs. A combination of raised ride height, an increase in safety – whether it's simply perceived or actually real – and greater flexibility has seen the segment bloom.
That Model 3 demand has been so strong, therefore, is a testament to Tesla's appeal and, more specifically, the appetite for a more affordable EV that doesn't sacrifice on premium feel. The Model Y will add to that a body style that's significantly more popular – in North America, at the very least – than the small sedan that the Model 3 is. Tesla's platform is also perfectly set up to deliver what crossover customers are opting for.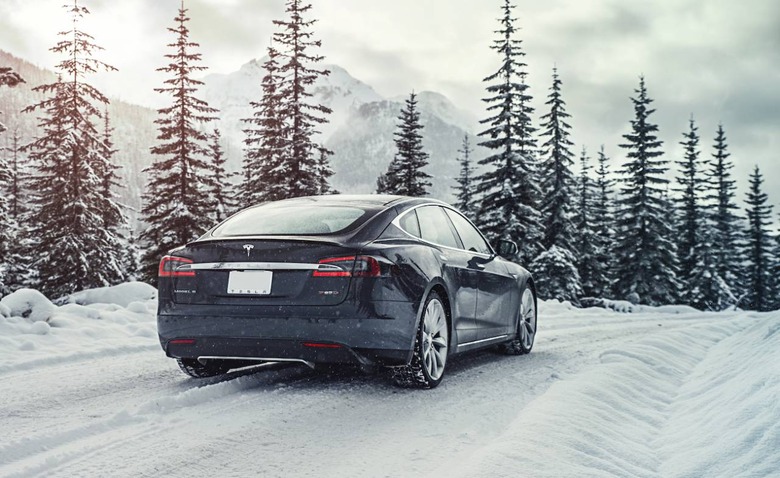 It's typical for crossovers to come in either two- or all-wheel drive. The former – usually with the front wheels being driven – are invariably more affordable; the latter tend to be popular in states where inclement weather like snow and ice are commonplace. Tesla's electric motors are unexpectedly potent in such conditions, even in rear-wheel drive form alone, in no small part because of the fact that they deliver all their torque from the get-go.
We'll know more on Thursday, March 14
There's not long to wait – at least to find out more details, and see the Model Y for the first time. Tesla is holding an event to reveal the EV crossover SUV at its LA design studio on March 14. It'll kick off at 8pm PT, the automaker says.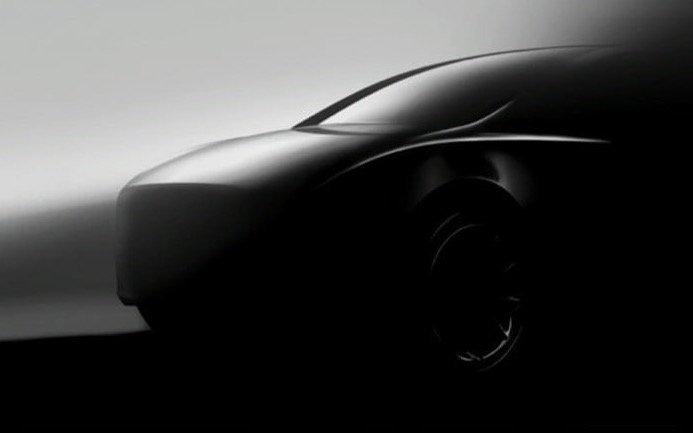 There, we're expecting to hear the details on power, range, price, and packaging. Elon Musk promised test drives, too, or at least test rides, so we should get some early feedback about how the experience inside the Model Y compares to the Model 3 and Tesla's other cars. However, even if preorders open after the grand unveil, the car itself probably won't arrive for a while.
Indeed we're not expecting production of the Tesla Model Y to begin until late 2020. That gives the automaker plenty of time to finish ramping up Model 3 production – and to get a healthy number of Model Y reservations on the books, which always helps keep investors happy. We'll have all the news on Thursday as it happens, so join us on March 14 for all the Tesla Model Y information you need!