The $35,000 Tesla Model 3 Standard is now available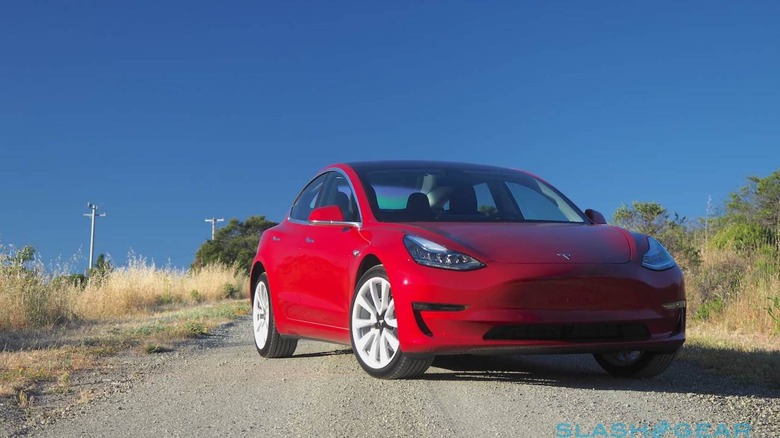 The standard Tesla Model 3 is now available to order, the most affordable – and long-anticipated – version of the electric car, priced from $35,000. Tesla added the new option to its online store on Thursday afternoon, along with a second version of the standard Model 3 with more range and a more luxurious cabin.
Your $35,000 gets you 220 miles of range in the standard Model 3, along with a 0-60 mph time of 5.6 seconds. It also has a top speed of 130 mph. It's rear-wheel drive, and is not currently available in all-wheel drive form like the more expensive Model 3 configurations.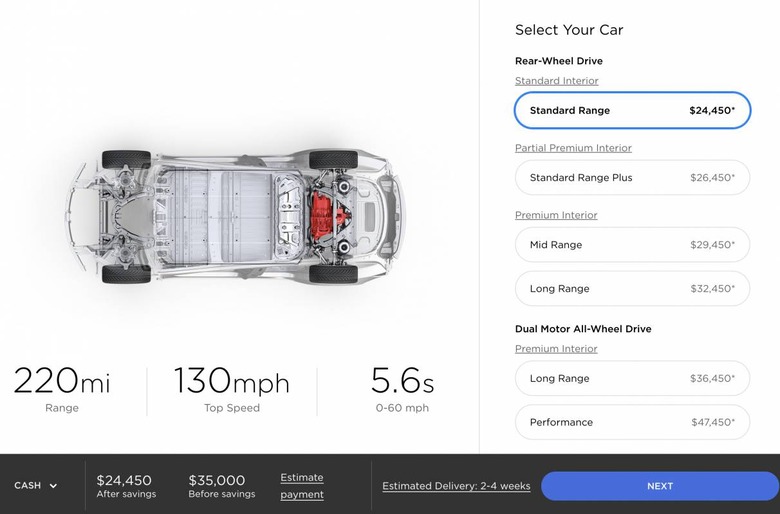 As for the Model 3 Standard Range Plus, that bumps the range up to 240 miles on a full charge. The top speed increases, too, to 140 mph. 0-60 is cut by three tenths of a second, to 5.3 seconds. The interior, too, gets an upgrade; Tesla describes it as "partial premium," carrying some of the enhancements of the more expensive models.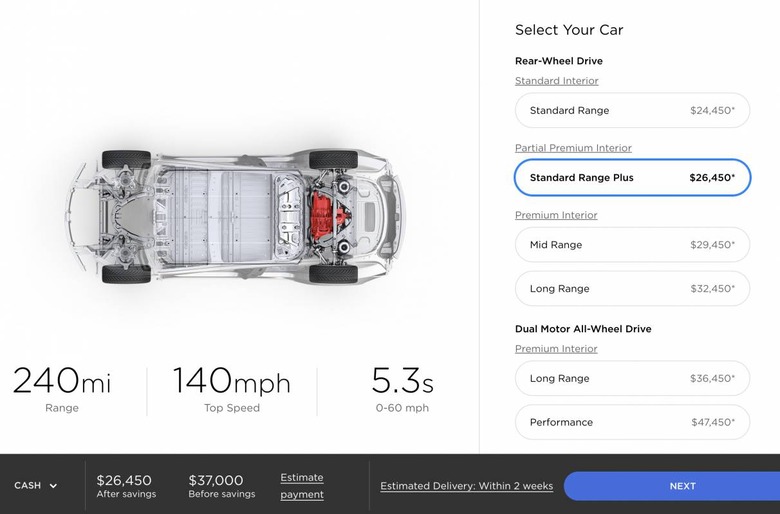 The new cars join, rather than replace, the existing Model 3 configurations. That means the Model 3 Mid Range, Long Range All-Wheel Drive, and Model 3 Performance with the Premium Interior package. Returning to the line-up, meanwhile, is the Model 3 Long Range Rear-Wheel Drive, in the US at least, with the Premium Interior. That had been removed from the options around the time of the all-wheel drive Model 3.
Standard across all Model 3 trims will be the tinted glass roof, with ultraviolet and infrared protection. Auto dimming, power folding, and heated side mirrors will also be standard. Driver profiles, selected via the central touchscreen in the cabin, will also be standard.
However Autopilot is changing somewhat. Across all three of Tesla's cars – the Model 3, Model S, and Model X – there'll now be two Autopilot packages available.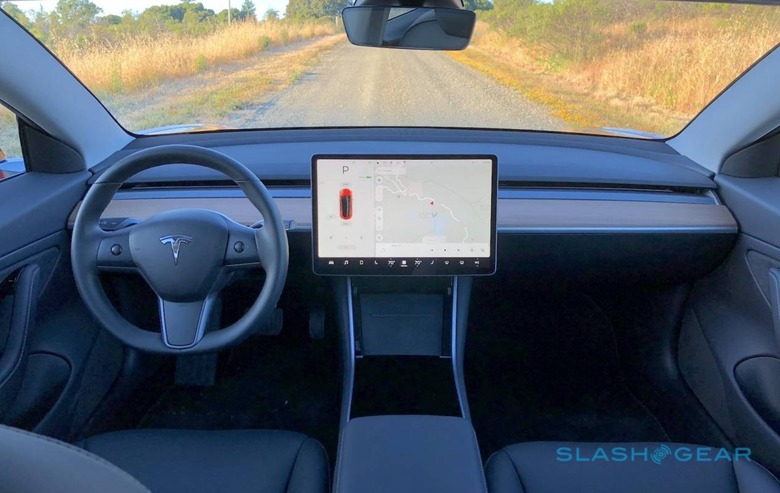 Autopilot will be $3,000 if ordered before the car's delivery, or $4,000 as an upgrade later on. That will include Autosteer and Traffic Aware Cruise Control. However, it won't have some of the more advanced features.
They'll be saved for the Full Self-Driving Capability package. Priced at $5,000 if ordered before the EV's delivery, or $7,000 if ordered afterwards as an upgrade, it will include the Autopilot package. It'll also add Summon, Autopark, Navigate on Autopilot, and other features that Tesla says will be announced later in the year.
Full Self-Driving – as in, hands off the wheel, with the car not requiring driver supervision – is still not available. Tesla says it's still a work-in-progress. Automatic Emergency Braking, Lane Departure Warning, Forward and Side Collision Warning, and blind spot warning will remain standard on all trims, even without Autopilot added.
Meanwhile, Tesla says it will be pushing out firmware updates to existing Model 3 cars on the road. That will boost range and performance: the Long Range Rear-Wheel Drive Model 3 range will rise to 325 miles, while the top speed of the Model 3 Performance will climb to 162 mph. All Model 3 cars will get an approximately 5-percent peak power boost.
The Tesla Model 3 Standard is expected to ship in 2-4 weeks if ordered today. It's $35,000 before any federal and state incentives. The Model 3 Standard Range Plus is $37,000 before incentives, and is expected to ship in two weeks.