Tesla makes Spotify the Model S' magic jukebox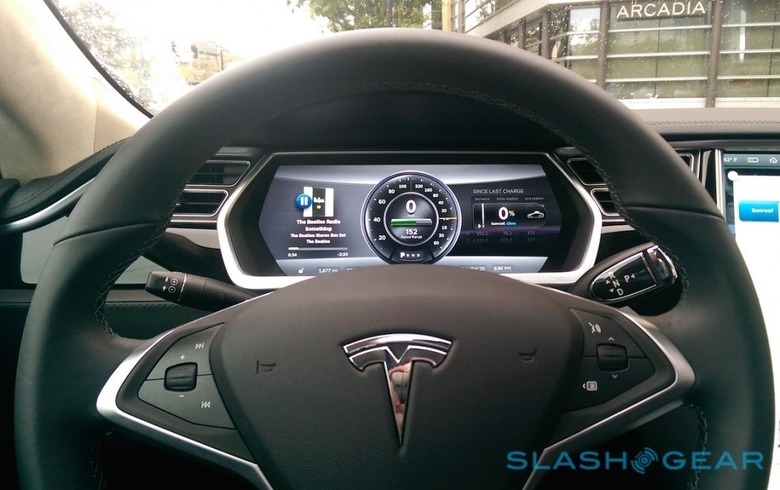 Tesla has inked a deal with Spotify to include premium music streaming for the Model S, direct from the huge in-dash touchscreen. The agreement will affect cars in Europe, Hong Kong, and Australia, which until now have used Rdio's streaming service for their media playback.
In the Model S, that's allowed for a huge cloud-based jukebox of tracks to be accessed through a voice search system.
For US customers, it's provided by Slacker, but in other geographies Tesla cut a deal with Rdio back in 2014. Unfortunately, Rdio has since gone bankrupt, with Pandora swooping in to pick up its assets but without any intention of maintaining its streaming.
Rdio's service will cease on December 22nd, therefore, it's been confirmed.
That would've left Tesla drivers without music, hence the new deal. However, it sounds like Elon Musk & Co. were shopping around for an alternative for some time; the partnership had been a topic of discussion for "many months," senior manager for Automotive Business Development Jonathan Tarlton of Spotify told the Telegraph.
The service itself will be a Spotify premium account, offering commercial-free playback and on-demand access to roughly 30 million tracks. However it will be locked to the car, not to the driver, so won't be available from their phone or tablet.
Those with an existing Spotify premium account will be able to link that with their Model S and thus gain access to any existing playlists or radio stations.
An OTA firmware update pushed out from today will bring Spotify to eligible Model S cars, sneaking in just before Rdio's shut-down.
SOURCE Telegraph