So it's Christmas day (or something similar here at the tail end of 2011) and you've just received a fine Android tablet or smartphone to get you started on your way to smart device heaven: what do you do? You first take a look at the apps you've already got, realize there's not just one whole heck of a lot of fun stuff there, then head to the Android Market. Your device likely has a little white bag icon with an Android head on it in green titled "Market" – this is where you want to go to get the goods. In this post you'll find a find handfull of apps I suggest to you to pick up immediately.
Minecraft
A cult-classic game which only recently came to the mobile world, here on Android tablets and smartphones alike looking fantastic and bringing a whole new level of fun to the game. All you do in Minecraft is explore a pixelated world of blocks that you can either add to with your own or destroy by holding down on your display. Digging tunnels is the best! Beware though: you might never come back out of your bedroom, as this game is pretty dern addicting. There's a demo version you can get for free to try out as well as a premium edition if you can't get enough. [Minecraft – Pocket Edition / Pocket Edition DEMO on Android Market] $6.99 USD / FREE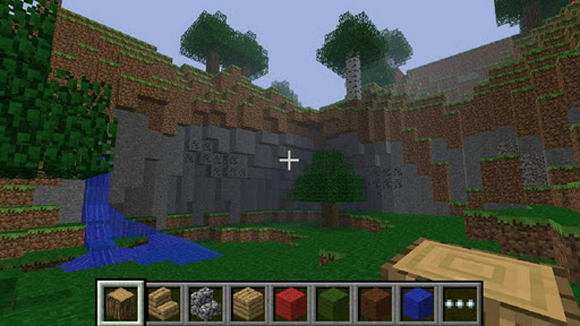 Riptide GP
It's the premiere water-style racing game on the mobile platform, you blasting through the tracks with your jetski of ultimate supremacy. Turn your tablet or smartphone back and forth like a steering wheel and do fabulous tricks in the air after you hit a jump, thus is the extent of awesomeness in Riptide GP. This is the game I personally use to show off graphics for new hardware, the water effects showing the goodness (or lack thereof) of new machines without mercy. [Riptide GP on Android Market] $2.99 USD
[vms 767cffec0e513ae886df]
Google Currents
Google's newest app effort is a news reader that allows you a perfectly readable and aesthetically lovely way to go through your favorite blogs. Check out SlashGear as a featured partner of Google Currents here in the Tech section and tap away! [Google Currents on Android Market] FREE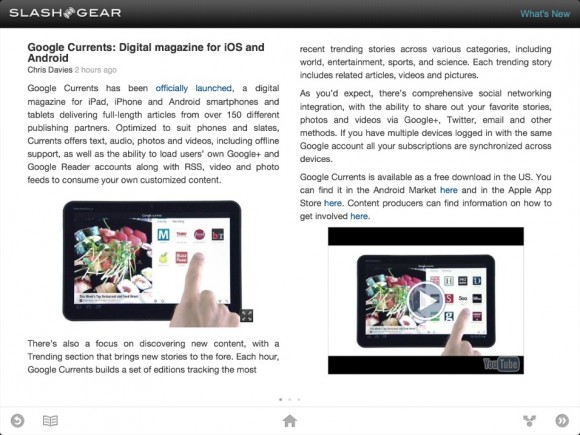 Shadowgun
If there's one third-party shooter for the Android platform that's worth playing, this is it. The folks who made Shadowgun knew exactly how to design an interface compatible with your two thumbs, simple enough to be worked with your fingers but able to have you picking up new guns and blasting grubby monsters in the head with the greatest of ease. Again beware though, this game is just challenging enough to keep you playing from start to finish: graphics, gameplay, and storyline included. There are two versions: both look fantastic, but the THD version is made to blow your mind just a BIT more if you've got an NVIDIA Tegra processor. Read the Pinball HD text for more information on that. [Shadowgun and Shadowgun THD on Android Market] $4.99 USD
Pinball HD
This is an app you'll only now be able to get if you've got a tablet or smartphone with an NVIDIA Tegra 2 dual-core processor inside. The list of tablets that have a Tegra processor reads like this: Acer Iconia Tab A500, A501, A100, ASUS Eee Pad Transformer (and Transformer Prime), Dell Streak 7, Lenovo IdeaPad K1, Lenovo ThinkPad Tablet, Motorola XOOM, Samsung Galaxy Tab 10.1, Samsung Galaxy Tab 8.9, Sony Tablet P, Sony Tablet S, T-Mobile G-Slate (LG), and the Toshiba Thrive. For smartphones, that's Motorola Photon 4G, Motorola Electrify, Motorola Droid X2, T-Mobile G2x, Motorola Atrix 4G, Samsung Captivate Glide. If you're not sure one of these matches up with your tablet or smartphone, just take a quick look in the Android Market for this app with your device – if you can't see it, you can't play it! Good luck! For those of you WITH a Tegra 2 processor, Pinball HD is quite simply the best pinball game for the mobile platform, no holds barred: high definition pinball for the win. [Pinball HD for Tegra on the Android Market] $2.99 USD
[vms 6b02f93d894415e6bfa0]
Asphalt 6 : Adrenaline HD
Though not yet available on every single Android device, likely any new top-tier tablet or smartphone you get will be able to run this best-in-class racing game. Check your compatibility by attempting to locate Asphalt 6 : Adrenaline HD in the Android Market on your device – if it's there, it'll work! You'll be rolling out in a vast collection of massively impressive high-powered vehicles from the real world that you'll be able and encouraged to smash into your opponents, full adrenaline included! [Asphalt 6: Adrenaline HD on Android Market] $6.99 USD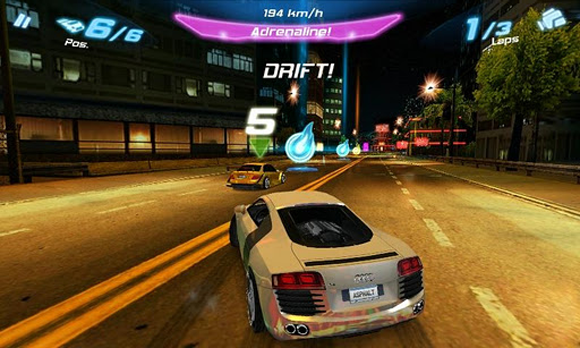 Android Community
Just as any fabulous Android device should, you've got an unending source of news, tips, and hands-on demonstrations from none other than our very own sister site Android Community. This site has its own application for Android devices and allows you portals to both the main news feed and the forums where you can ask questions, get answers, and chat the night away! [Android Community on Android Market] FREE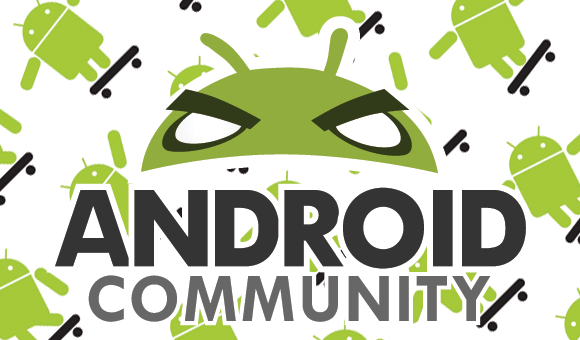 SlashGear
Your favorite source for news and reviews of everything tech and gadget related is also represented on your Android tablet or smartphone! You can download the app which brings you the SlashGear content of your dreams in ultra-quick mobile form. Just like the Android Community app, this one's FREE as well! [SlashGear on Android Market] FREE

Swiftkey
There are a few different iterations of Swiftkey out there in the wild right now, all of them made officially by the developers at TouchType. What Swiftkey represents is the most advanced 3rd party on-screen keyboard solution you can get. This means that if you don't like the keyboard you're working with right now on your tablet or smartphone, Swiftkey is your best bet. [Swiftkey family on Android Market] $4.99 USD, $2.99 USD, FREE
[vms d9846c5e994be2a91baf]
AirDroid
Beyond simple to activate and utilize, AirDroid is the newest and best way for you to access your Android device from your desktop or laptop computer. Connect both to the same Wi-fi signal and pop your Android device open with a web browser. It's as simple as that. And surprisingly, the whole thing is free! [AirDroid on Android Market] FREE
The Android Market also has a special [Features Android Apps for Tablets] section if you want to dip into their suggestions too – grab em all!