Target is finally selling some Android tablets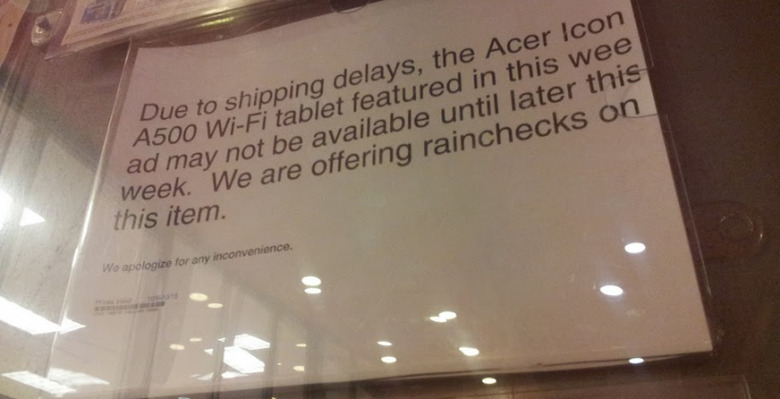 If you've been following along with the epic telling of Target Superstore's future in the Mobile business with your humble narrator, you know that they're certainly having an interesting time selling Android tablets. Amid the Apple's iPad 2 sitting always at least one aisle away from the Android selection in a MUCH nicer showing than the Android tablets have ever had and the smartphone wall being dominated by two iPhone displays three times the size of any other smartphone, one would think that Apple would be dominating. As it turns out, one Android tablet in particular may be jumping off the shelves.
It's the Acer Iconia Tab A500 (aka the Wi-fi version of the A501, available carried by AT&T) that we've got a tip on here, the photos above and below coming from none other than the Roseville, Minnesota Target location, also known for being the first Target store on earth. The sign you see above shows that this tablet, though featured in this week's ad, is low on stock, even after having been sitting on the shelves for months and months. Does this mean that Android tablet sales are finally picking up?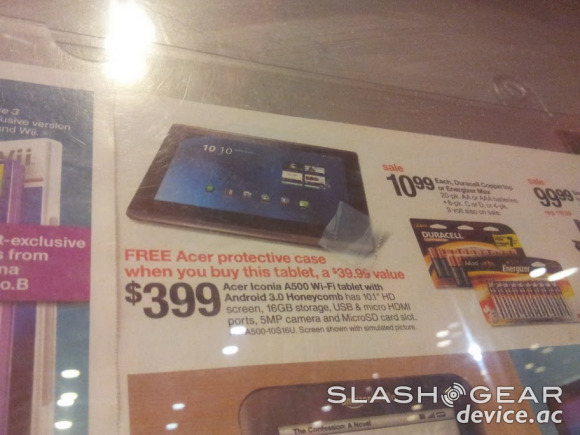 Maybe it has something to do with the big re-arrangement of tablets that happened last week? They moved the Android tablets from 2 aisles away from the mobile section to right on top of it, this putting them above the iPad 2 and perhaps right in the faces of those who would never have otherwise realized such things existed. Chances are this had SOMETHING to do with the low stock, but more likely we're seeing a bit more awareness of the Android tablet market on the whole.
What do you think? Fluke? Movement? Target magic?