How Target's Mobile Ecosystem works and how it could Improve

Welcome to Minnesota, Earth – Target Brand department store originating right here in my midwest place of birth, aiming for and achieving a spread across North America like a wildfire – and like any forward thinking place of business, they want to get in on the mobile business to keep their show on the road. Therefor they've created Target Mobile Store, or simply "mobile" by Target Brand and powered by Simplexity – this group, if you did not know, only handles online sales of cell phones and wireless service, thus you wont see "SIMPLEXITY" plastered all over the electronics department at your local physical Target location. Inside the store you'll find an endcap with four devices, a wall full of display units, and several aisles away you'll find two Apple displays, another aisle containing two Android tablets.
Nearly every single week, you'll find a new set of devices on sale with a 2-year contract attached on any of the 4 contract-based brands working with the Target brand. All four of the biggest mobile carriers are included, blue, pink, yellow, and red, the lot of them, then Target also carries off-contract devices as well. These off-contract brands (Virgin Mobile, for example) are displayed to the right of the main smartphone wall in a separate section that lets the consumer know that these devices aren't on par with the main four brands – not necessarily bad for either camp, but they certainly are separate.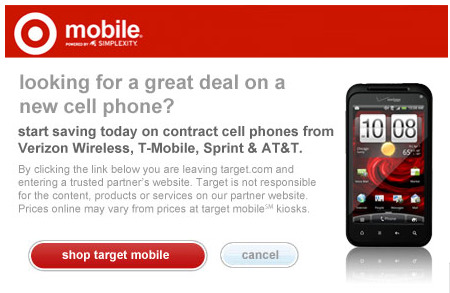 The endcap generally holds four smartphones, though if you take a look today you'll likely find three smartphones and an LTE USB modem from Verizon. At least seven manufacturers of devices are carried by Target, though those working with Android appear to be given the upper hand being shown at the top left of the cellphone collection, with brands like Nokia and BlackBerry being closer to the bottom right. As you browse the physical Target store (as we've been speaking about thus far) you'll find little differentiation between carriers of devices, instead showing all smartphones in a mixed configuration on the whole. The iPhone 4 is featured amongst these Android devices with a slightly different display – note though that none of these smartphones are working units, having instead simple behind-display printed images or nothing at all to show on their screen.
The iPad 2 is prevalently featured one or two aisles in and away from the smartphones. Aside the iPad 2 display is a similar format display showing off several iPod devices. While the iPod display is the same as the iPad 2 display (the original iPad has taken a back seat since the iPad 2 was released, but Target does still sell them online), the iPad 2 display has a working unit playing a display-only in-store demonstration video. Another aisle or two away is a display of two Android tablets with one or both of them having a clear plastic shield over them so that they may not be worked with by customers. This is also true of the iPad 2 and all of the iPods, each of these Apple products being shown behind a large plastic cover.
As far as promoting the Target brand THROUGH Mobile, check out this excerpt from the Target Annual Report 2010 for stock investors:
We are rapidly expanding MOBILE AND WEB SOLUTIONS for our guests, giving them greater convenience by allowing them to shop from just about anywhere in the world. Mobile Commerce Daily named Target "2010 Mobile Retailer of the Year."
In addition to being able to shop the Target Brand from the internet and have it shipped to your home, you can check out the Target Mobile app for several different platforms now, your Target addiction fully encouraged as the consumer grabs a weekly ad with little to no effort on their part. On this same note, the way the Target on mobile devices method is being promoted to stock investors, reports you'll find showing only the iPhone and the iPad 2, while online, customers are treated to Apple iOS devices as well as Android in the main promo images.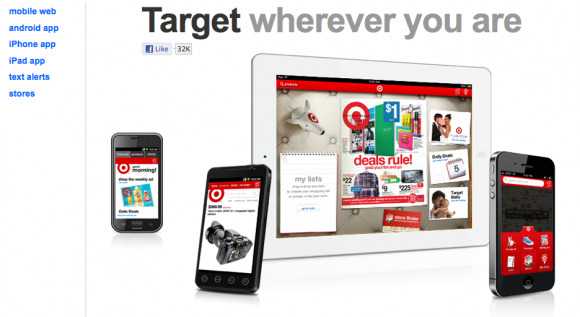 Designers working for Target are given press images of all of the mobile devices they'll be working with for advertisements and coupon announcements each week, and all devices are shown in their purest form with the carrier name of each device displayed on their screens — occasionally this rule is broken with a basic press-release-style homescreen shown off instead. On the whole, Target uses straight up Helvetica fonts in several different weights and colors (mostly red and black) to write about all of their products, mobile devices included.
Tablets
Back in June, yours truly took some issue with the way the two Android tablets, Motorola XOOM and Acer Iconia Tab A500, were being displayed. You can read that story over on Android Community if you wish, but here's the skinny: these two tablets were out, clamped by metal talons and available for the touching, but were not plugged into power sources of any kind. Thusly they were off, and if a person familiar with either tablet were to tap the power button they'd find that the tablets were either completely or nearly out of power, this resulting in what every Target electronics employee that I've spoken with over the past few months has described as little to no sales.
This is no way to promote any piece of gear, much more important is the on-state of these particular gadgets because tablet computing is still relatively new and, though everyone and their mother has likely touched an iPad before, Android tablets were (and still are) mysterious to the public. Since that time, Target has wised up slightly by actually having power cords running to both tablets. They now both show display-only videos – if you're lucky – though now there are plastic covers over both tablets so that the consumer cannot mess around with the tablet at will. Of course they've not taken the time to cover the power buttons again, so any hooligan can turn the tablets off then on again if they wish, revealing a ready-to-use yet inaccessible tablet computer to cry over.
In addition, the Samsung Galaxy Tab 10.1 is now available at your local Target location, but you wont find it on display. You can find it down the aisle in the glass-fronted and locked cabinet with the rest of the electronics that, in contrast with the Galaxy Tab, are available for the browsing in the rest of the aisle. How many Galaxy Tab 10.1 units do you think Target has sold in-store? Though they've improved their situation with power feeds so that they can be ON during the day, how many XOOM and Iconia Tab A500 units do you think Target sells in-store?
The iPad is a different situation. Though the fault of almost certain lackluster current and future Android tablet sales rest on both the shoulders of the manufacturers as well as Target in this case, Apple has provided the world with much more than adequate incentive for people to purchase an iPad 2 or an iPod of any sort. Apple has promoted the iPad 2 (and the original iPad) not as a tablet computer, but as an iPad. You may have a tablet computer, says society at large, but if you don't have an iPad, you simply do not have an iPad. The same is and has been true about iPods of all sorts since the beginning. An MP3 player is like wearing a piece of tire as a sandal compared to Apple's iPod, much closer to a high-quality hightop or otherwise classy footwear – cool and recognizable.
Smartphones
This is the point at which I'm not sure of the logistics of the devices Target is able to display (or not), but the chain being the top-class brand that it is, I have a feeling some weight could be pulled to increase the likelyhood of the following situation. Target, you've got all four top carriers willing to show their devices in your store, then in your other hand you've got a perfectly legit and well-working Target app for multiple platforms. Why do you not have, first of all, working smartphone units in the aisle like each of the individual carriers do in their mobile stores? Second, why do you not have working units with the Target mobile app running on them?
My only hypothesis can be that Target isn't making the revenue necessary to make these improvements to their smartphone section of the store, otherwise there's no good reason why Target can't pay for the insurance and training necessary to make these mobile devices display and work with the software they're packaged with run to the fullest. I don't buy a television from Target unless I see it showing me brilliant images on the wall, I'm certainly not going to buy a smartphone unless I can see it working in my hands at the tap of its display.
Wrap-Up
Target, you're not the only retailer in the market that does this. Market, if you want the mobile business to grow at a rate that's much greater than it is right this moment, you've got to show every man, woman, and child how these devices work, and you've got to do it at Target. Apple has taken the initiative and has working iOS devices in their Apple-centric stores, Android and the rest of the brands (for the most part) have working devices sitting in all manner of carrier stores, but to reach the everyday midwest-minded citizen, you've got to let them explore the devices inside their comfort zone, and their comfort zone is the big red living room: Target.