Tado smart thermostat adds HomeKit, SmartThings, hue & more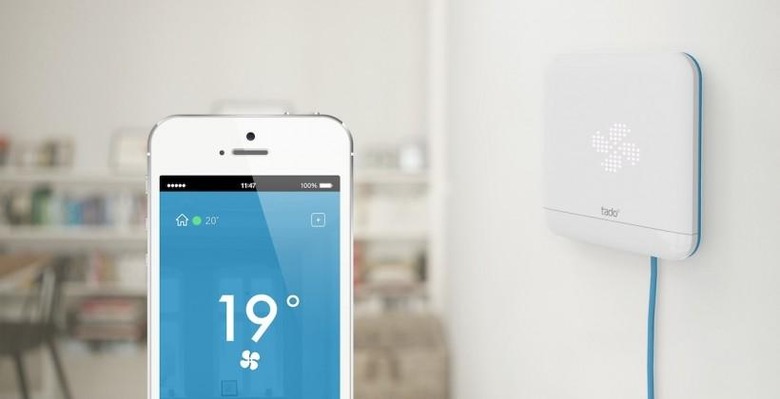 Smart thermostat Tado is reinventing itself as a smart home hub, adding Apple HomeKit support among other things, and taking on Nest and Honeywell's new Lyric in the process. Finishing its Kickstarter campaign today with $54k more than it hoped for, Tado started out as a way to easily control aftermarket AC units, but has already evolved into something that can connect with lighting, A/V equipment, and the cloud.
In its original form, Tado was to bridge a smartphone controller app with an IR-blasting box that could mimic an AC unit remote control. Using geofencing – spotting when users leave the home or return to it, based on the location of their phone – it would automatically turn the A/C off or on accordingly.
Since then, however, the box has gained some new features: or, at least, added some to the roadmap for its planned release in August.
With HomeKit support, Tado users with iPhones will be able to use Siri to control their AC. There's also IFTTT integration, for linking Tado to other services through the online "If This, Then That" system, along with SmartThings support.
Control over Philips hue and LifX light bulbs is promised, together with using the IR blaster to control TVs, surround sound speaker systems, and other devices that lack network-connectivity as standard.
Tado also intends to add Jawbone UP24 as a way of triggering presence, and has committed to building a Windows Phone app alongside iOS and Android.
It's an interesting approach, turning Tado into either a potential spoke or a hub in a smart home, depending on what other automation platforms are present. If the owner already has SmartThings set up, for instance, then Tado will just be another component in that system – bridging AC units with it – but those fresh to the Internet of Things could feasibly use Tado as the central part. We'll know more when it arrives later this year.