T-Mobile BlackBerry Curve 8900 goes on general sale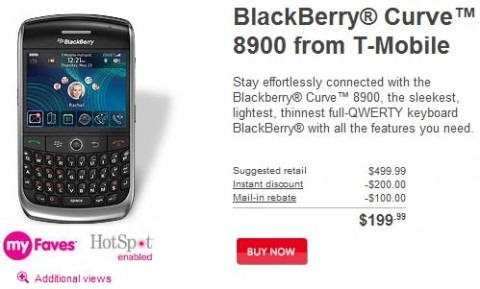 If you've been clutching your penny jar, waiting anxiously to buy the BlackBerry Curve 8900 and cursing your lack of a business account with T-Mobile, it's time to breath out.  The Curve 8900 is now available to all customers, not just enterprise ones, with a ticket price of $199.99 after a $200 instant-rebate (hurrah!) and a $100 mail-in one (boo hiss).
Obviously that's dependent on you taking out a new, two-year agreement with T-Mobile USA.  Then of course there's the BlackBerry service tariff on top of that.  It isn't going to end up necessarily cheap, but the 8900 is a slick little handset – as we found in our hands-on with it – and unless 3G figures highly in your priorities you're unlikely to be too disappointed with it.
Unfortunately, it looks like the rumored pricing for the Curve – which tipped an after-rebates price of $149.99 – was a little too ambitious.  Still, this ought to tide you over until the 3G Gemini arrives.