Surface Pro 3 has MacBook Air in sights with attack ad trio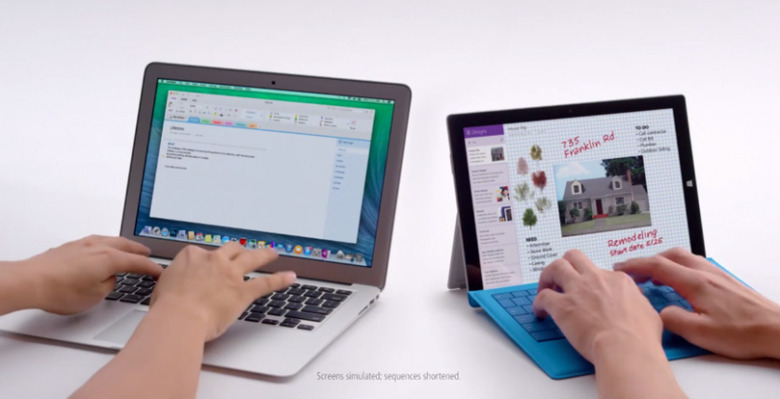 Microsoft hasn't been shy in calling out Apple in recent months, pitting Cortana against Siri in a recent advert, while calling out the MacBook Air from the get-go with its Surface Pro 3 launch. Now the OS X ultraportable is under attack again, with a trio of new Microsoft commercials attempting to demonstrate how a pen, touchscreen, and detachable keyboard are together more flexible than a regular notebook can be.
Dubbed "Power", "Head to Head", and "Cramped", the three adverts each play up the Surface Pro 3's combination of the hardware and software of a full Windows computer, but paired with its more unusual form-factor.
So, in one promo, Microsoft counts up the hardware and accessories you'd need to buy to match that with your OS X ecosystem, coming up with the Air, an iPad, and a paper notebook. The latter is unfair, perhaps, since there are plenty of third-party stylus options for iOS, and while the more precise models like Adobe's Ink & Slide aren't quite up to speed with handwriting recognition, there are still sufficient to write in purely digital ink rather than use paper and a pen.
"Power"
"Do not attempt" to remove your MacBook Air's display from the keyboard section, another Microsoft advert warns, running through the features of the two platforms. There are certainly signs that the 2-in-1 convertible tablet/notebook hybrid model is seeing a resurgence of sorts; last month, Best Buy's CEO warned that the tablet market is "crashing", but said the retailer had seen growth in dockable slates.
"Head to Head"
Still, Mac sales are strong and continue to out-perform the PC market, research suggests.
"Crowded"
We certainly found the Surface Pro 3 to be capable and surprisingly flexible, with strong pen accuracy and a cleverly designed form-factor that does encourage a broader range of uses. On the flip-side, there's something to be said for a really well-designed keyboard, and unfortunately the magnetically-attached 'board Microsoft uses isn't as good as the best of the Mac and Windows notebooks out there.
As ever, then, the result is in the eye of the beholder: would any of these new adverts persuade you to pick up a Surface Pro 3 instead of a MacBook Air or, indeed, some other computing device?