Microsoft smacks Siri in Cortana comparison ad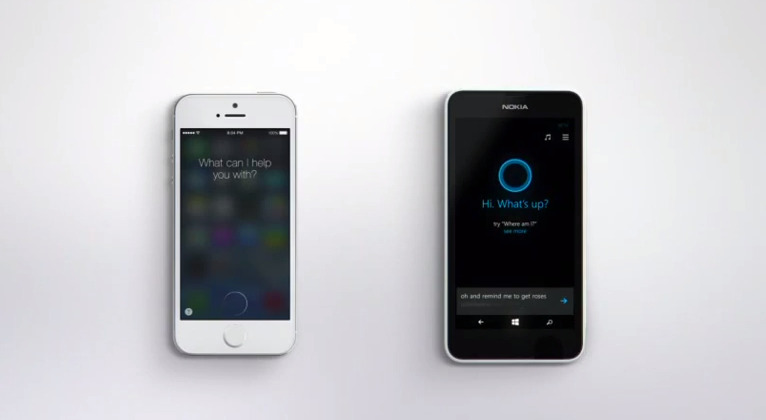 Microsoft may be playing catch-up with Windows Phone, but it clearly believes it has an ace in the hole with Cortana, pitting it against Siri in a new commercial. The ad isn't quite a side-by-side comparison, rather Microsoft's attempt to highlight exactly what a Windows Phone 8.1 device with its virtual assistant can do that an iPhone's counterpart service can't.
That includes features like geo-fencing, which allow Cortana to trigger reminders and alerts depending on where you are physically. If you need to buy certain items from the store next time you're there, Cortana can pop up a notification based on GPS.
Alternatively, you can ask your phone to remind you to discuss a particular topic when you next speak to them, and that will be flashed up on-screen when there's an incoming call from that contact.
Siri was the first of the broadly-available digital personal assistants for modern smartphones, but has come under attack from both Google and Microsoft in recent years. Google Now took a more data-driven, contextual approach, digging into Gmail and Google Calendar accounts to figure out where the user needs to be next and how they might get there.
Cortana hands-on:
Cortana, however, sits somewhere in-between the more reactive services of Siri and the proactive services of Google Now, and as a result is one of the stand-out features of Windows Phone 8.1, as we discovered in our review of the new OS version.
Microsoft's goal with the new commercial appears to be bringing greater attention to one of the perhaps lesser-known features of its platform, not to mention highlighting one of the more affordable devices it works on, the Nokia Lumia 635 we recently reviewed.
Update: It's been pointed out that Siri does, in fact, offer geofenced reminders, though they operate in a slightly different way to Microsoft's approach with Cortana. Apple refers to them as "location-based reminders" and they can be set for any address saved in the Contacts: so, if you arrive at the location assigned as "Home" you can have notifications pop up related to that.
For instance, you could have Siri remind you to call your partner as you leave work, triggered by moving away from the address designated as "Work". What you don't get is the ad-hoc location selection that Cortana supports – the ability to, say, set a reminder for Whole Foods (either a specific location or any you're nearby) based on a POI search – at least not in this current version of iOS.